Construction owners optimistic despite COVID-19 impacts – Nationwide study | Insurance Business America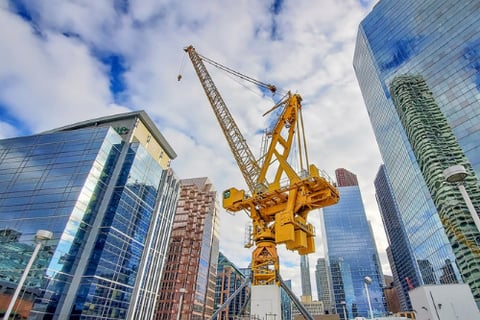 After nearly a decade of continuous growth in the industry, construction business owners saw steep declines to their companies' revenue, project completions and new bids, and workforce in 2020 due to the COVID-19 pandemic, according to a new study by Nationwide.
Nationwide's report revealed that seven in 10 construction business owners were negatively affected by the pandemic. However, although challenges remain in 2021, most owners were optimistic about the strength of the upcoming peak season and their business's ability to recover.
The study uncovered three themes for construction business owners and the commercial insurance agents who serve them:
COVID-19 delivered unexpected blows to construction business owners as well as exacerbating existing issues.
While construction business owners expect continued challenges, they are optimistic about the upcoming peak season.
Agents can increase their value to construction business owners now and position themselves for long-term growth.
"COVID-19's impacts have brought new and existing challenges to the forefront for many construction business owners," said Linda Stueber, senior vice president of middle-market commercial lines for Nationwide. "As the industry recovers, agents can grow their influence by not only counseling clients on their protection needs for changing operations, but also by sharing expertise to help them run their businesses more effectively."
Like many industries, the construction sector faced both direct and collateral impacts from COVID-19:
70% of construction owners were negatively impacted by the pandemic, with the biggest hits impacting total revenue (52%), their company's ability to bid on new projects (45%), and their workforce/employee headcount (37%)
More than one in five business owners lacked plans to help their business operate through economic uncertainty:

27% lacked proper plans to successfully navigate project site shutdowns and re-openings
24% didn't have a business plan to account for a potential recession
23% didn't have enough employees or subcontractors to meet project demand
Most construction business owners surveyed by Nationwide said they accelerated new strategies or reevaluated areas of their business to account for the impact of the pandemic, with nearly 90% changing their operations for business continuity or increased efficiency. The tightening labor market has also forced many construction owners to relax screening criteria for new hires, with 70% saying they have, will or may loosen new-hire screening criteria and drug-testing practices.
Near-term uncertainty is strong among construction owners, with 79% saying they were worried about meeting their 2021 revenue goals, and 76% reporting that they feared lower customer demand due to an economic recession. Despite these concerns, however, 84% said they were optimistic about the strength of the upcoming peak season and their business's preparation to meet increased demand.
85% of construction business owners have changed at least one of their insurance policies, but 75% are still worried about having the right policies in place to protect their business.
Most owners believe the economy and their company's performance will improve over the next year:

48% believe the economy will improve and 67% believe their revenue will improve in the next six months.
60% believe the economy will improve and 75% believe their revenue will improve in the next 12 months.
Construction-focused independent insurance agents have an opportunity to counsel business owners through operational changes and new exposures as construction business ticks up.
Read next: Construction insurance: Five-star nominees revealed
"Even more, assisting owners to implement new plans that protect against future threats, such as increased cyber or COVID-related liability exposures, is essential as the industry begins to rebound," Nationwide said.
The report found that construction owners had a high level of trust for their agents, and many reported depending on their agents to guide them through uncertain market conditions:
89% of construction owners said they trusted their agent's guidance and felt they could build a relationship over time.
87% said their agent regularly checked in to ensure their policy was adequate for their needs.
Half of construction owners engaged their agents over the last 12 months to:

Discuss or review coverage (54%)
Create a business plan to address the economic impacts of COVID-19 (51%)
Improve their business's safety sand loss control efforts (50%)
"Construction owners are looking to build long-term relationships with the agents who serve their businesses," Stueber said. "By opening a dialogue now to hear their clients' business needs and share expertise and counsel in the short term, agents can build stronger long-term relationships to be prepared to implement that counsel when construction owners are confident their business will improve."
Construction owners surveyed by Nationwide showed strong interest in receiving more resources and guidance from their agents, including:
Regular policy reviews (46%)
Information on the latest trends in their industry (43%)
Updates on cyber threats and cybersecurity measures (36%)