While privately held companies are largely in tune with emerging liabilities, most are critically underinsured, a new report from the
Chubb
Corp. found.
According to the insurer's Private Company Risk Survey, the reason these companies don't purchase the necessary insurance is because they believe they are already covered through their commercial general liability policies.
In fact, more than 50% of private companies surveyed told Chubb they chose not to purchase directors & officers liability, EPLI, errors & omissions liability and fiduciary liability insurance because they felt they were already covered through their CGL policy. Another 39% felt they were adequately insured against cyber liability without additional coverage.
All of this misconception leaves room for some critical education from—and possible commission to—producers.
Directors & Officers Liability (D&O)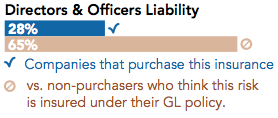 Chubb noted that many private company leaders mistakenly believe they are protected from personal lawsuits simply because their company is not publicly traded. However, that is not the case, and private companies typically carry just as much risk as public companies.
In fact, the average cost of a lawsuit against a director or officer for a private company is nearly $700,000, the report found.
This liability is also being borne out in court. According to Gerald Maatman of the employment firm Seyfarth Shaw, personal lawsuits against private company directors have skyrocketed in recent years.
"I think in the last three years, we've experienced more private and personal charges of discrimination than ever before," Maatman said. "I think that's more in the plaintiff's trick back now than ever before, especially with closely-held corporations."
According to Chubb, a full 27% of private companies experienced a D&O lawsuit in the past 10 years, as compared to 33% of public companies.
Employment Practices Liability (EPLI)
All companies, large and small, are at risk of an employment practices lawsuit, and yet only 30% of companies currently have a policy in place.
More than 22% of private companies surveyed acknowledged that an EPL lawsuit would cause "the most financial damage to the company," indicating an appetite for the coverage. However, Ann Longmore, executive vice president of Willis's North America Practice, said that appetite isn't being realized because risk management is in the wrong hands.
"The bad news is that most employers don't take advantage [of EPLI]," Longmore said. "The reason is the division of responsibility within the organization. Typically, HR departments are responsible for purchasing risk management materials, not the folks who purchase the insurance."
Targeting the right people, then, is key for producers who want to make a sale. So is targeting the right industry.
According to Maatman, the manufacturing and food service industries will be especially ripe for EPLI sales this year due to the recovering economy and the high rates of turnover typical in those sectors.
Errors & Omissions Liability (E&O)
Despite an increasing in awareness of potential errors and omissions lawsuits, Chubb found only a third of private companies hold E&O insurance.
While a full 55% of companies said they were contractually required to carry thecoverage. Of those, only half had purchased it.
Regardless of whether a company is required to carry E&O, any company performing a professional service for others can be sued. This could be a top selling point for producers, said Chubb.
Fiduciary Liability

A full three-quarters of private companies use outside services for employee benefit plans, yet only one-quarter hold fiduciary liability insurance policies, Chubb found.
Again, the reason is that most companies mistakenly believe they are covered under their CGL policy. A full 51% of non-buyers told Chubb their exposure for fiduciary-related liability cases was covered under their general liability policy. Another 21% were unsure.
However, Chubb forecasts that 28% of companies plan to reduce or eliminate employee benefits at some point in 2014 and another 25% are likely to be involved in a major acquisition, merger or sale—all of which increase fiduciary risk.
Cyber Liability

Despite the highly publicized cyber breaches into major firms like Target and Snapchat, just 5% of private companies currently hold cyber liability insurance.
Christine Marciano, president of Cyber Data-Risk Managers in New York, attributes this low coverage rate to overlap between cyber liability policies and CGL, professional, property and media liability insurance. For example, advertising injury liability covered under cyber liability policies is also present under the CGL.
That leads misconceptions that CGL, professional and media liability already cover cyber attacks, Marciano said.
"This is certainly not the case, as a CGL policy has many gaps as it relates to cyber risk and was not written to cover cyber events," Marciano told Insurance Business. "Several breaches within recent years have been battled out in court with insurers versus CGL policyholders."
Marciano also noted that there are "new endorsements on the way this year" to CGL policies that will exclude such incidents, making cyber liability a more obvious need for private companies.
Image Source: Chubb Corp.
You may also be interested in:
"Top 10 employment discrimination claims: EEOC"
"Key sector could supply big D&O sales, despite rate increases"