How is remote work impacting women in the insurance workplace? | Insurance Business America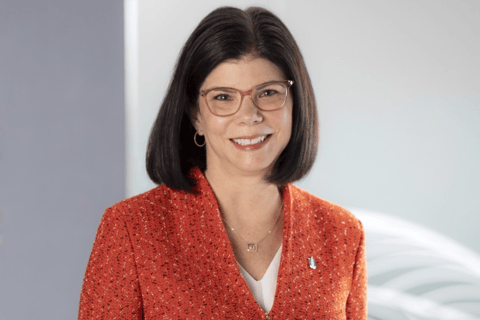 Amy Shore (pictured) has handled many teams, big and small, throughout her 30 years in the insurance industry. But she's less inclined to think of them as a monolithic unit and more as a group of unique individuals.
"Everybody comes to their job every day with a different set of circumstances in their life, with a different set of experiences and different hopes for their future," she told Insurance Business.
Register now: Join the Women in Insurance Summit in New York
As executive vice president and chief customer officer at Nationwide, Shore develops and executes strategies to maximize customer acquisition and drive retention. Previously, she served as Nationwide's president of P&C sales and distribution. Her leadership experience in the insurance industry has ranged across sales, underwriting, pricing, customer service, and general management.
"A team is made up of a group of individuals, so you must match and adapt to the individuals you have. Probably the biggest leadership lesson I've learned is to listen more and support each person as they need to be supported," shared Shore.
Shore is speaking at the Women in Insurance summit in New York on finding one's power as a professional. Connecting with and harnessing one's strengths is key to becoming a better leader, not least because it helps a leader see others' individuality.
"I'm excited about this event because I want to learn and hear how younger women perceive challenges post-COVID. Most of us are working in a virtual world. What degree of difficulty does work in a remote environment add to [women's challenges]?" Shore asked.
For Shore, how women can show up as their best selves in a remote environment is one of the most important topics for discussion at the New York summit. The World Economic Forum, citing researchers from Brigham Young University, noted that women were less likely to speak up in Zoom meetings and were systematically seen as "less authoritative" on the platform.
A survey by nonprofit group Catalyst in 2020 also showed nearly half (45%) of US women business leaders surveyed said it was difficult to speak up in virtual meetings. One in five women felt they had been ignored on such calls.
"I think women still face many of the same challenges they faced in the past, whether they're being dismissed, getting mansplained, or not having their voices heard. Those things didn't go away, but now you layer on top the stressors everyone has in their life and this new virtual workspace," she added.
The post-pandemic state of play shines a harsher spotlight on the age-old issue of work-life balance. "With COVID came a lot of changes that impacted women more than men. Bringing your best self to work and still managing the stresses at home – how has that changed, and are women feeling more pressure now than before?" Shore asked.
With fewer opportunities for face-to-face interaction, women may also struggle to reach the appropriate channels for support in growing their career. Even hybrid work leaves gaps for women who juggle family life with their jobs. Remote workers miss out on spontaneous events such as chance meetings in hallways, random chats in elevators, or casual brainstorming sessions in the office pantry – events that can often lead to advancements in their careers.
"When we were all together in a common physical location, you could say: 'You know what? I admire that leader. I'm going reach out to them and ask them to meet me for a cup of coffee so we can have an informal conversation and get to know each other.' I might be seeking a mentor or sponsor, and in an environment where I'm going see that person, it might be easier for me to make that ask," Shore explained.
But women shouldn't be underestimated as they navigate the new workplace. Like their male counterparts, female leaders can tap into their skills to make the technology work for, and not against them.
"It's hard to generalize because that's dangerous territory. But I do believe women are more intuitive. They can be more empathetic, more likely to read what's going on with somebody's facial expressions in the big Zoom group setting," Shore observed.
"You can use some of those powers of empathy and strong verbal communication skills to your advantage in a world where Zoom or Teams has democratized access to information."
Learn more about connecting with your power and other leadership strategies at the Women in Insurance Summit in New York on September 7 at Westin New York Times Square.
For more on the summit and how to register, visit newyork.ibwomenininsurance.com.