The top 10 most-expensive LTC markets revealed | Insurance Business America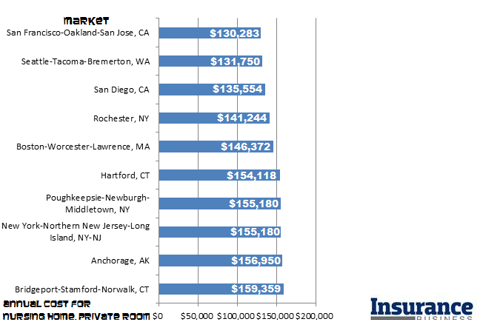 Long-term care insurance is shaping up to be a hot product as America's more than 77 million baby boomers prepare to retire. However, understanding the unique demands of the policyholder will go a long way in ensure producers aren't pitching blind.
According to Tom Riekse, Jr., managing principal at LTCI Partners in Lake Forest, Ill., long-term care insurance is still primarily "a product for the affluent" and producers need to be careful about who they target.
"The premiums can average $2,500 or $5,000 annually for a couple. You've got to be able to afford that to make that happen," Riekse said. "A prospect for long-term care will be someone in their 40s or 50s who is a planner, has some savings and has a good income. Be realistic in terms of who you approach with the product."
That advice is especially poignant in light of a new survey from New York Life. Highlighting the most expensive long-term care markets, the study reveals where individuals pay the most for nursing home care and thus, where high LTCI limits matter most.
According to the research, the following 10 markets cost residents the most in 2014.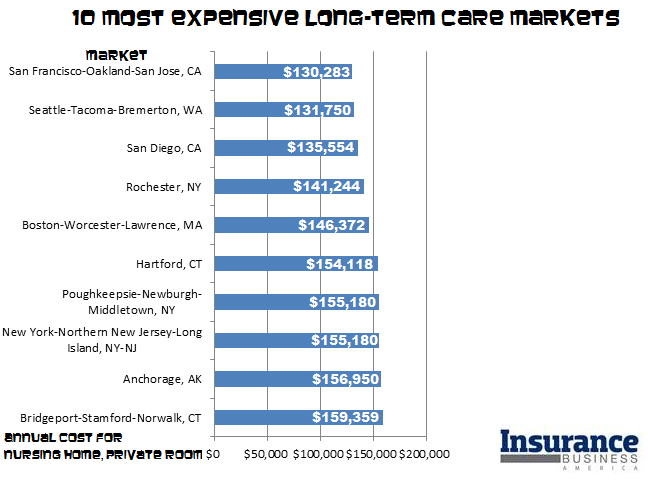 Driving up the importance of the numbers is the fact that an estimated seven in 10 Americans older than 65 will become cognitively impaired or unable to complete at least two activities of daily living during their lifetimes.
Additionally, the increase in at-home healthcare means another side of the issue has not yet been considered.
Here, costs are generally less expensive. The median hourly cost of homemaker services is roughly $18, according to a
Genworth
report. That figure rose just 1.4% in 2013, as compared to a 3.6% increase in the average cost of a private nursing home room.
Producers will need to anticipate these changes in their recommendations to clients as they make their decisions regarding long-term care insurance and other retirement plans in order to remain competitive.
You may also enjoy:
"Agents overlook LTCI tax deduction strategy"
"Gender-based pricing warrants new long-term care marketing"
"As boomers age, this coverage looks hot"