Telehealth claims skyrocket in wake of COVID-19 | Insurance Business America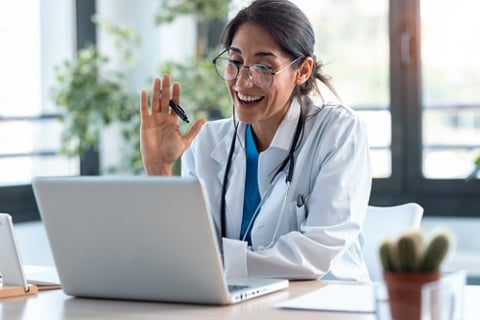 Insurance claims for telehealth have skyrocketed in the wake of COVID-19, according to new data from FAIR Health's Monthly Telehealth Regional Tracker.
Telehealth claim lines rose a staggering 2,938% from November 2019 to November 2020, rising from 0.2% of medical claim lines to 6.01%. FAIR Health's figures represent the privately insured population, excluding Medicare and Medicaid.
"Higher telehealth utilization from March to November 2020 in comparison with the same months in 2019 was likely a result of the COVID-19 pandemic, as patients and providers turned to telehealth as a way of reducing the risk of disease transmission associated with in-person visits," FAIR Health said.
Read more: Telehealth market to hit $53.1 billion by 2026 – report
Also of note in the findings were the top five telehealth diagnoses by volume. In November, COVID-19 appeared for the first time on one of the regional lists of top five telehealth diagnoses, ranking fourth in the Midwest. The appearance of COVID-19 on the list may reflect the spike in COVID-19 cases and the relatively fewer telehealth visits for other conditions like the flu, cases of which have been unusually low this season, according to FAIR Health.
Another rising diagnosis was exposure to communicable diseases – probably also COVID-related. Between October and November, exposure to communicable diseases jumped from number five to number two on the national list of telehealth diagnoses. It also rose in the rankings in every region except the Midwest, where it held steady at number three.
Mental health conditions remained the number-one telehealth diagnosis both nationally and in every region, FAIR Health said.