Grounded ship halts trade through Suez Canal | Insurance Business America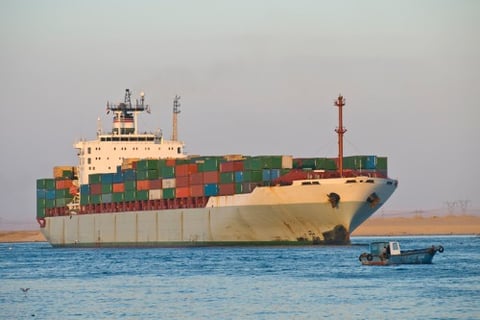 One of the world's largest container ships is blocking the Suez Canal, disrupting trade between Europe and Asia as authorities work to free it.
The 400-meter, 224,000-ton Ever Given, en route to Rotterdam from the Chinese port of Yantian, ran aground Tuesday during high winds and a dust storm, blocking the shortest shipping route from Europe to Asia, according to a Reuters report. GAC, a Dubai-based marine services company, told the news service that authorities were still working to free the ship on Wednesday.
About 30% of global container ship traffic passes through the Suez Canal each day, according to Reuters. The main alternative route between Europe and Asia, around the African cape, takes a week longer to navigate.
Photos posted on social media appeared to show the ship positioned diagonally across the canal, blocking it entirely, Reuters reported.
"Once we get this boat out, then that's it, things will go back to normal," said Osama Rabie, chairman of the Suez Canal Authority (SCA). "God willing, we'll be done today."
Rabie said the SCA was considering compensation for delayed ships.
About 12% of world trade by volume passes through the canal, according to Reuters.
Trade analytics company Russell said the grounded ship is carrying goods worth $89 million, but has the potential to create $40 billion dollars of trade disruption.
Russell's analysis showed that the potential disruption of the blockage will have a significant impact on retail, with the grounded ship carrying clothing items with an estimated value of $4 million. However, the wider potential disruption due to delayed shipments will also impact technology and automotive companies like Huawei, Airbus and Fiat Chrysler because of their exposure to commodities like integrated circuit boards that are exported from Yantian to Rotterdam.
Read more: Arch Insurance International develops transport and logistics division
"This disruption highlights that global trade has become dependent on these 'mega ships' and how any disruption in trade routes can leave many organizations and their reinsurers significantly exposed to business interruption risks," said Suki Basi, Russell managing director. "Coming on top of the global pandemic and recent disruptions to global auto production caused by other events, this latest blockage shows that insurers and their risk partners increasingly need to follow the money when assessing their underlying connected trade risks."
At least 30 ships were blocked to the north of the Ever Given, as were at least three to the south, Reuters reported. Several dozen ships were also seen grouped around the northern and southern entrances to the canal.