Technology tools help agents develop stickiness with their customers | Insurance Business America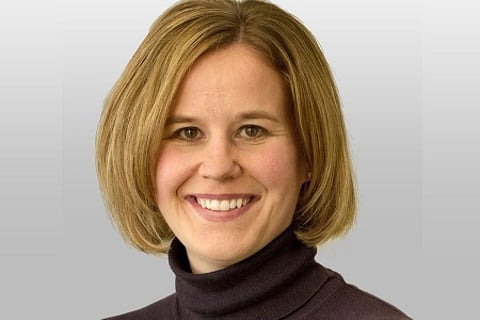 Insurance agencies have yet to fully capitalize on the many opportunities that digital technology offers to help them stay connected to consumers, while improving efficiencies and workflows, according to Applied Systems' study, "Digital Technology Adoption Benchmarks and Trends." The report found that 44% was the average for digital technology adoption at independent agencies in 2018, though one expert says the tide is turning, and has been for some time now.
"If you think about several years ago, the industry was a bit behind with what a consumer might experience in other industries, such as banking," said Kristin Hackney (pictured), executive vice president of customer experience at Applied Systems, and a speaker at the upcoming Leadership Exchange Summit in Chicago. "But now, through Applied's innovation, we have mobile apps for customers and employees, which enable customers to access their insurance information anytime, anywhere, [and] employees to access information while they're with a customer [during] off hours. We've also seen a real revolution in terms of insurer connectivity, and the ability to automate the exchange of data between brokers and insurers."
The evolution beyond the agency management system to help drive efficiency and growth across the independent agent market is significant, added Hackney, as automation and other technologies bring a wide range of benefits to brokers and agents. These include growth, as digital agencies will average higher revenue per employee than non-digital agencies, efficiency, as key processes in the insurance lifecycle are connected and automated so that employees can focus on more meaningful customer-facing work, and customer satisfaction.
"They can engage with their insurance agent when and how they want to, and that's really going to drive that engagement and stickiness with the customer," explained Hackney. "As an insurance agent, you want to focus not on the manual steps to write business, but really on being a trusted advisor to your customer, so how do you leverage technology to support that advice and really be a true risk advisor to your customers?"
Building trust between customers and their insurance agents is a critical benefit that's enabled through technology since consumers want to know that their data is secure and private, so using technology platforms that focus on that security can be key for insurance professionals. At the same time, some technologies help customers access self-service options.
"Think about the inefficiency of calling your insurance agent – making sure you call them during their business hours to request something like an update or a certificate. Being able to do that as a consumer in a self-serve fashion saves times for the customer and also frees up the agency from having to pick up the phone and do some of those more manual things," said the Applied Systems EVP. In turn, the customer can engage with their broker or agent how they want to, and they can also still pick up the phone and speak to a human being when they need that one-on-one advice.
With manual work being handed over to technology, agents can focus on what makes them valuable to customers.
"What tends to make insurance agents and advisors special is their expertise and their advice to their customers, and their ability to understand their customer's needs and then work with them to protect what matters most," said Hackney. "It's not 'I'm always going to be there 9 to 5 to pick up the phone when you call me.' It's 'engage with me when and how you want to' – that's going to become a commodity, so use technology and think about how technology extends what makes you special."
Pay attention, Hackney advises to brokers and agents, and take time to understand where the industry is going, and then find a great technology partner that can help you make the digital transformation and stay ahead of the competition.
"Consumers will find someone who has that blend of technology acumen and insurance expertise, and they'll go there instead," she told Insurance Business.
Kristin Hackney will be speaking about this topic and more at the Leadership Exchange Summit in Chicago on June 06. See further information or book your ticket here.