Traditional insurance city set to become disrupting insurance city | Insurance Business America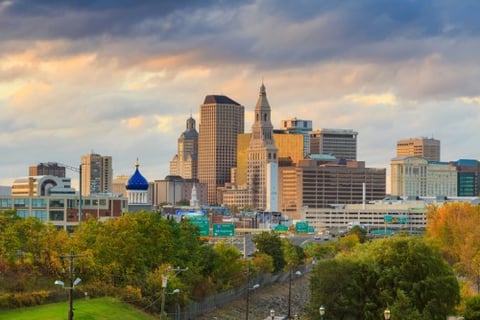 A half-dozen companies have teamed up as partners for an insurtech accelerator program in
Hartford
, Connecticut.
The insurance partners – Cigna, The Hartford,
Travelers
, USAA, White Mountains, and CTNext – will have direct access to 11 insurtech companies selected for the inaugural 2018 cohort of the Hartford InsurTech Hub.
The 11 companies were whittled down from an initial 1,000 applicants, and include two from India, one from Australia, one from Singapore, one from Canada, and six from the United States. Among the technologies they will bring to assist insurers are artificial intelligence (AI), big data analytics, cyber security, and smart home tech.
Erika Bothma, program director at Hartford InsurTech Hub, said it was important to pool talents from around the world for this accelerator cohort.
"If there's one thing we can be sure of, it's that exceptional talent will develop all over the world. We'd be remiss if we did not tap into the unique viewpoints that are often developed from analyzing situations from a fresh perspective," she said.
"After five months of scouting over 4,000 start-ups from 96 different countries (and 850 cities), the start-ups selected [were chosen from] 23 talented InsurTech start-ups [who] met in Hartford for three intensive Selection Days with Hartford InsurTech Hub's corporate partners, mentors, and investors."
And the chosen start-ups are all companies with models that should already be able to connect with, and benefit, the insurance companies with whom they match, she said – so results should be forthcoming.
'The start-ups we are welcoming into the accelerator program in Hartford have working prototypes that can easily be tested in pilot roll-outs with our insurance partners," she explained. "This makes for a quick turnaround from starting our program to developing true working relationships with insurance companies."
The 11 successful teams will relocate to Hartford for the start of the program in January, and will remain for three months, with access to the insurance partners. They will receive support, resources, and industry and investor connections.
"Hartford InsurTech Hub, together with our partners and other passionate individuals, will build a robust framework for entrepreneurs in Connecticut," Bothma said. "This change is invaluable to ensure that Hartford remains an insurance hub and leads the fast-paced disruption we're seeing in the insurance market."
Related stories:
Insurtech threatens more than half of global insurers – survey
Can tech help insurance stop being a 'grudge' purchase?