First-year employees are more at risk of workplace injuries – Travelers study | Insurance Business America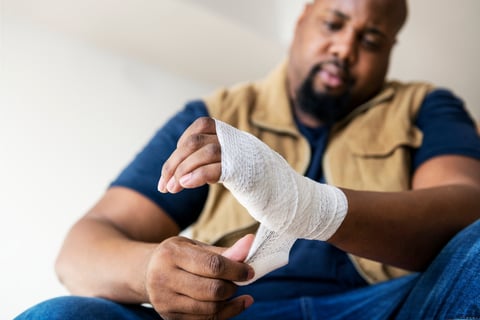 More than one-third of workplace injuries occur during employees' first year on the job, regardless of age or industry experience, according to Travelers claims data.
Travelers, the largest workers' compensation insurer in the United States, recently released its 2022 Injury Impact Report, which analyzed more than 1.5 million workers' compensation claims over a five-year period from 2015-2019. The study revealed that 35% of workplace injuries occur during a worker's first year on the job, highlighting the importance of comprehensive onboarding and training programs for employees, especially in the pandemic era where there's been considerable movement in the labor market.
"One of the things that our customers, business partners, agents and brokers rely on us for is insights into what's driving workplace injuries, so we can use those learnings for both prevention purposes and post-injury management," said Rich Ives, vice president, business insurance claims, Travelers.
"We know from our general practice that employees in a job for less than a year are [particularly exposed to] injury. What we wanted to do with the 2022 Injury Impact Report is quantify how much risk this cohort represents. With so much movement in the labor market right now – employees are changing jobs and businesses who reduced their workforce during the pandemic are now ramping up again post-COVID – so the number of people in a job for less than a year is increasing and will most likely increase further over the next year or two."
Read next: Learn about the types of business insurance that companies need
Chris Hayes, assistant vice president, Travelers Risk Control – workers' compensation and transportation, said it's important to consider the time-span of the study (2015-2019) and how new employees were overrepresented among the injured "in a stable job market" – before COVID-19 turned everything on its head.
"Now look at the current job market, where we've got so much turnover and people changing jobs frequently, and that risk goes up even more," he said. "That's the reason why we're making sure, as we talk about risk management strategies and employee safety strategies - the idea of engaging and supporting that first-year employee is paramount to everything."
It's tricky to pinpoint exactly why new employees are at greater risk, said Hayes. Often it's a result of "newness" and employees adjusting to a new work environment with a different pace, a different management structure, different daily expectations, and different tools or machinery. Every job requires a certain level of learning and development for new employees, Hayes emphasized.
"When we talk about onboarding and supporting employees, it starts before you bring that employee on," Hayes told Insurance Business. "Before anyone starts, employers must consider: 'What are the things we expect our employees to do, and are we doing them safely today? Are we setting the stage for our new employees to come in and succeed, because ultimately, their success is our success?' They need to understand how jobs should be performed, with safe processes and mechanisms, and they should do a critical analysis of every task on their job site to figure out: 'Do we have it engineered to be as safe as possible, and take as much of the risk out as possible?'"
As well as identifying new employees as a cohort at greater risk of injury, the Travelers 2022 Injury Impact Report also revealed the most common causes of first-year injuries, the most expensive claims, and the number of lost workdays due to injury.
The most common causes of first-year injuries were overexertion (27% of claims); slips, trips and falls (22%); being struck by an object (14%); cuts and punctures (6%); being caught in or between objects (6%); and motor vehicle accidents (6%). Meanwhile, the most expensive claims, accounting for just 8% of total claims but 26% of total claim costs, were amputations, multiple traumas, electric shock, and dislocations.
"The injuries that tend to hit first-year employees are not the dramatic injuries we think of when we think of workers' compensation," Hayes commented. "People think about severe falls, deep cuts or burns, or motor vehicle crashes – but the most common causes of loss are sprains and strains from overexertion, and slips, trips, and falls. It's those seemingly small things that add up to an immense strain on our finances and the workforce as these injuries accumulate."
Read more: Wins and losses in the workers' comp space
Travelers found that the restaurant industry experienced the most claims from first-year employees, with 53% of the claims involving the newest workers and representing 47% of total claim costs. The construction industry was a close second, with nearly half of all claims coming from those who were new to the job, driving 52% of the industry's claim costs.
Both of these sectors have experienced considerable labor challenges throughout the COVID-19 pandemic. Many restaurants had to either reduce their staff or close entirely during the height of the pandemic restrictions, which meant that many people who worked in the sector had to seek employment elsewhere. Now, the restaurant industry is trying to rebuild its workforce post-COVID, which means there are more new employees in the sector. Construction laborers have been in high demand throughout the pandemic, and that continues thanks to post-pandemic infrastructure spending.
"Whatever the risk was to new employees in the period of five years [prior to the pandemic], it has to be more now," stressed Ives. "That's why we really wanted to sound the alarm bells and increase the focus in this space, because it gives us an opportunity to double down on some of our investments around risk prevention, training, and onboarding."