Food service workers need support as tips drop amid COVID | Insurance Business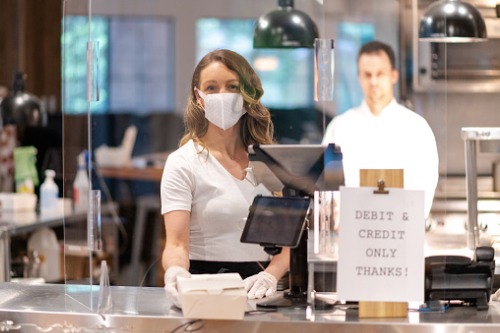 Restaurant workers have reported that they're afraid to enforce COVID-19 health and safety protocols for fear of losing out on tips.
The food services industry has been hit hard by the coronavirus pandemic. According to a recent survey carried out by the non-profit One Fair Wage and the UC Berkeley Food Labor Research Center, which quizzed roughly 1,675 food service workers in October and November, many food service workers are at high risk of contracting the coronavirus. Furthermore, many reported not having adequate health protection at work, and said they've been subject to more harassment from customers in recent months.
Find out more: Learn everything you need to know about AmTrust Financial Services
One issue of great concern for food services workers is the steady decline in tips throughout the pandemic. A huge 83% of workers surveyed said their tips had reduced in the last nine months, with nearly two-thirds of respondents reporting their tips had been cut in half. On a federal minimum wage for tipped workers of just $2.13 per hour, many food services workers do not want to do anything that will jeopardize their tips, including enforcing COVID-19 safety protocols.
Matt Zender, SVP of workers' compensation strategy at AmTrust Financial Services, said the onus is on employers to be "as supportive as possible" to their line staff in these challenging times. That means creating a workplace and running an operation that is compliant with CDC guidelines around the coronavirus, where employees and patrons are protected, and in the context of the food services workers survey, where workers feel comfortable and empowered to communicate and enforce any health and safety rules.
Read next: Workers' comp provider receiving more calls than ever on key issue
"Proper signage about COVID-19 precautions, for example, can allow a waiter or waitress to point to a well-positioned sign (on the door where customers walk in, or on the walls around the restaurant) and say: 'In asking you to follow the rules, I'm just doing my job.' Businesses need to understand that not supporting that is actually putting their employees in a perilous position where they're having to make individual decisions about how comfortable they are with their own safety," Zender told Insurance Business. "If the business assumes the responsible position and provides the proper documentation and signage, it allows the line staff to be in a more supportive position to customers, rather than an enforcement position."
The food services industry has done what it can to survive throughout the COVID-19 pandemic, following limited capacity rules and introducing health and safety measures like face mask requirements, plexiglass shields between tables, and touchless menus and payment. While these efforts are very well-intentioned, they will not eliminate the risk of COVID-19 transmission entirely. Patrons are allowed to remove their masks when sat at their tables to eat and drink, so potential exposure to COVID-19 – especially for restaurant workers – remains high.
Read more: What gig workers need to know about their workers' compensation rights
"In some cases, food services workers feel at risk and they find it difficult to balance the guidance from governmental entities, their employer, and the requests of the customer. Calculating exactly how to work out those three areas all together is not always simple," said Zender. "You may have a customer that's telling you they have a medical condition, and you've got an employer that's doing the best they can to educate you on how to handle that situation, and a government entity that's telling you what you need to do in that situation. How is it reasonable to expect that somebody working as a waiter or waitress, for example, is going to be in the best position to pull all that information together and handle the situation appropriately? That's asking an awful lot, and I have a great amount of sympathy for people working in this space because they're truly on the frontline and they're putting themselves at risk."
While there have been plenty of COVID-related workers' compensation claims coming from people working in the food services industry, it's hard for insurers to directly attribute cases to an employee saying: 'I was serving a customer, they refused to be compliant, and now I've got COVID-19.' But that customer non-compliance could factor in workers' compensation claims in a less direct way in the coming months – as a result of reduced tipping.
Zender commented: "The issue of how tip income might impact the way workers' compensation claims behave is going to be something insurers will have to think about in 2021. Insurers will have to analyze how the loss ratios will ultimately work out for these risks. As food services employees are taking on changing responsibilities, as they're having to be involved in the enforcement of COVID-related health and safety measures, and as they see their tips reduce, will that change the way a workers' compensation claim behaves?"