Workers' comp provider receiving more calls than ever on key issue | Insurance Business America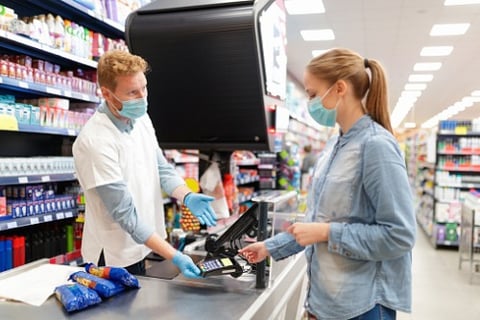 A research study carried out by the Harvard University School of Public Health has highlighted the association between SARS-CoV-2 (the virus causing COVID-19) infection, exposure risk and mental health among essential grocery retail workers in the United States.
Researchers found "an alarming infection rate" among workers tested at a single grocery store in Boston, MA, in May 2020. Among 104 workers tested for the cross-sectional study, 21 (20%) had positive COVID-19 tests, and 76% of those positive cases were asymptomatic at the time of testing. Furthermore, researchers found that employees with direct customer exposure were five times more likely to test positive for COVID-19.
The study, which was published in the BMJ journal Occupational & Environmental Medicine, also found a connection between exposure risk and mental health among essential grocery retail workers, with 24% of workers tested reporting at least mild anxiety and 8% reporting at least mild depression. Related to this, employees expressed concerns around the inability to practice social distancing consistently, and the risk of exposure by commuting to work during the pandemic on public transportation.
Read next: What gig workers need to know about their workers' compensation rights
Jeff Corder, vice president of loss control at AmTrust Financial Services, Inc., a leading provider of workers' compensation coverage for small businesses, said he's receiving more calls than ever from small business retail insureds who are seeking advice on how to protect their staff's physical and mental wellbeing. He said the volume of calls picked up before Black Friday, with retail business owners understandably concerned about the possibility of crowds taking advantage of Black Friday sales, thus making social distancing and COVID-related law and order difficult to uphold. With Black Friday now out of the way, the next big concern for the retail industry is the Christmas holiday.
"Everybody is on edge. The holidays are typically stressful for retail workers under normal circumstances. But now we have COVID-19 peaking in several areas throughout the country, and on top of that, there are dwindling supplies of essential goods [as people stock buy]. People are more on edge, and potentially more at risk of developing anxiety and depression, because of the heightened stressors that we're all dealing with," Corder told Insurance Business.
One important thing that retail businesses must do, regardless of size, is train their employees on how to diffuse stressful situations and confrontation. They must learn how to de-escalate situations, whether it's a customer who is abusing a member of staff because the shop is out of essential items, or even a customer who is refusing to follow store policy and wear a face mask. Corder stressed: "Retail associates must do their best to stay level-headed and de-escalate challenging situations. Then it's important for them to remove themselves from those situations."
Read next: Move to remote work has a bearing on workers' compensation coverage
Employee training for retail workers should go beyond how they navigate customer issues; it should also give them mechanisms on how to maintain their own physical and mental health in the workplace. Corder advised small businesses to make the most of the free educational resources and guidelines that are available online, including AmTrust's Retail Risk Report, which examines three years of retail workers' compensation claims in an effort to help agents and small business owners better understand the risks involved in the industry.
There are also great COVID-19 resources via the Centers for Disease Control and Prevention (CDC) website and other online avenues, through which insureds can gain tips and advice around how to manage COVID exposures and handle the stress of the situation. The critical thing with regards to employee mental health, according to Corder, is for small businesses to ensure their employees are aware of the help mechanisms that are in place, such as counseling (sometimes available via insurance), local hotlines, government assistance and so on.
"One recommendation that has worked well for some of our smaller retail insureds is the enforcement of multiple breaks in a controlled environment," Corder added. "They might provide a room, where an employee can go and sit and be quiet for five minutes. It's somewhere for people to get away from a situation, disengage from everything, relax and regenerate until they're ready to get back to work. It seems to be working well for our smaller insureds – we've had a lot of positive feedback around that."
At the end of the day, the most important thing for small business retail insureds in this stressful time leading up to the holidays is for them to "control the controllable," said Corder. They can adopt store policies based on CDC and local government guidelines to try to limit employee and customer exposure to COVID-19. That might include incorporating protective screens, wearing face masks, sanitizing and deep cleaning, and limiting numbers within premises. As for potential mental stressors, the key thing is for front-line retail workers to "de-escalate situations, stay calm" and composed, Corder added.