How wearable technology is changing the workplace safety game | Insurance Business America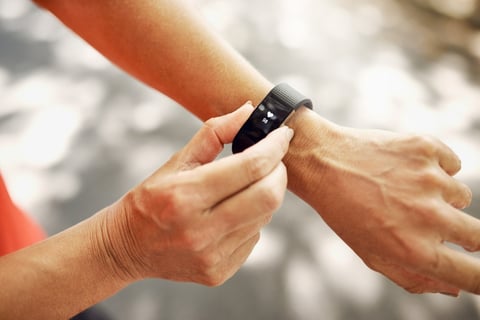 This article was produced in partnership with AmTrust.
Bethan Moorcraft of Insurance Business sat down with Woody Dwyer, director of loss control at AmTrust Financial Services, to discuss how wearable technology impacts the workers' compensation market.
Employers are increasingly turning to wearable technology and sensors to improve employee safety, manage risk, and reduce injuries in the workplace.
Wearable devices enable companies to evaluate activities, analyze ergonomics, and measure industrial hygiene and environmental conditions. These devices also track their employees' proximity to dangerous equipment, among other things – all with the goal of identifying potential problems with employees before they turn into workers' compensation claims.
The use of wearable technology to improve employee safety and mitigate workplace risk has "grown significantly" in recent years, according to Woody Dwyer, director of loss control at AmTrust Financial Services. In particular, wearable devices are being used in physically demanding industries like construction, warehousing and manufacturing to assist workers with movement, safe lifting, posture, material handling and danger proximity sensing.
"Ergonomists are some of the earliest adopters of wearable devices to determine ergonomic risk and reduce the potential for musculoskeletal disorders (MSDs)," said Dwyer, who is a certified professional ergonomist. "The risk is being identified from a data analysis standpoint, but also using vibration and haptic feedback to alert the employee that they may be moving at risk.
"Until about 10-years-ago, ergonomic assessments were done via in-person observational methods, and ergonomists would teach the safety committee members at a facility how to conduct assessments. It was very manually intensive, and there was the risk of inter-person unreliability when completing ergonomic assessments. But now, employers are using wearable technology because it reduces the potential for error in the assessments and it makes the process far more efficient. I can go out and put 100 sensors on a 100-person warehouse in the morning and have all of the data on every employee by the end of their shift."
Read next: The state of the workers' comp marketplace heading into 2022
The benefits of wearable devices are quite clear from an employer's perspective. With some upfront investment to acquire the actual equipment and online dashboard, followed by a well-implemented and managed wearables program that employees understand and embrace, companies can improve productivity and protect their employees' physical health and well-being. That effective risk management should help to reduce workplace injuries, putting companies in good stead with their workers' compensation insurers.
In recent years, many workers' compensation insurers have been evaluating wearable technology to determine how it can help with understanding and mitigating risks in the workplace. As the market matures and more employers adopt wearable devices, insurers will play an important partnership role in helping employers get the most value from the devices.
Dwyer commented: "First and foremost, carriers like AmTrust need to have people that can help customers understand the value of wearable technology and help guide them into making smart, data-driven decisions. We need to be able to support our customers with risk understanding and risk mitigation based on the feedback and data they get from the sensors."
As a leader in the workers' compensation space, AmTrust is also participating in the discussion around risk standards for the wearable technology industry. Dwyer is part of ASTM International's Subcommittee F48-06, which is developing standards and guides around exoskeleton technology. Eksobionic describes this technology as "personal assistive technologies that are designed to affect the body mechanically, reducing the load of physical work, like heavy lifting, while lessening the risk of musculoskeletal disorders." In providing the insurance perspective, Dwyer said the AmTrust team is "trying to be actively involved in that space to make sure these devices are built well, and the general public understands and can utilize them safely."
Watch: COVID-19 and its implications on workers' compensation insurance
"At AmTrust, we're looking at wearable technology that will effectively evaluate risk and be usable by our customers to make informed decisions and come up with strategies to reduce risk, whether that means redesigning the workplace or helping employees make behavioral changes to how they do their job. If our customers use devices that don't drive them towards risk reduction, then we won't see injury reduction," Dwyer told Insurance Business.
"Wearables are quite fascinating, and often the reaction is: 'Wow, this tech is cool.' But an employer just purchasing wearable technology because it looks cool and not utilizing it to make strong risk management decisions is where there can be challenges. Wearable technology does not replace a strong safety management program; it enhances it. If employers are going to implement a wearables program, they need to have good communication with their employees, they need to leverage the data collected to make a change, and they need to be prepared to implement a strong program that supports it."