A decade of growth | Insurance Business America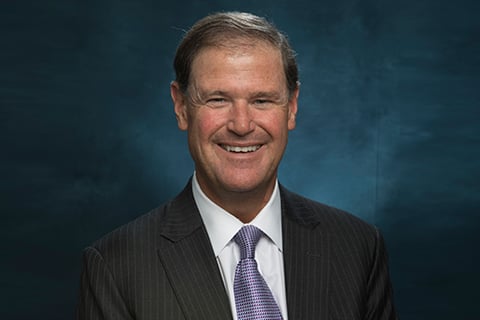 Thirty-three years ago, Tim Turner made a career change that put him on the path to becoming chairman and CEO of RT Specialty, one of the leading wholesale distributors of specialty insurance in the United States. The year was 1987, and Turner had already spent seven years working in law enforcement. After graduating from the Detroit Police Academy, he served on the Wayne County SWAT team before becoming an undercover narcotics officer for the Michigan State Police.
Yet when an opportunity arose to work for a small boutique wholesaler in Chicago, Turner decided he wanted to try something completely different. His first role in the insurance industry was as a broker assistant and later a casualty broker at A.J. Renner & Associates, a firm that specialized in the pharmaceutical industry. It proved to be an ideal jumping-off point for the rest of his insurance career.
"Alison Renner was a well-known, big-time broker in the pharmaceutical business, but she was probably better known for coaching, training and leading casualty brokers," Turner says, "so it was a very fortuitous start to my career where I had some of the best coaching that one could get."
His next career move came three years later, when Turner joined the Crump Group as a casualty broker and then took on the role of president for its Chicago office, building it out to close to $100 million in premium. However, when Sedgwick, which owned Crump, was sold in 1998, it was time to move on. Turner, along with several of his peers from Crump, moved to CRC Insurance Services.
"We ran CRC in Chicago for 11 years and built that office up to over half a billion in premium and developed not just the casualty division, but the property, professional auto and workers' compensation units as well," Turner says. He continued his leadership streak and was named national president, giving him the opportunity to oversee CRC's operations across the country.
Another shift in the marketplace prompted Turner's final career step. CRC was sold to BB&T (today Truist) just before the wholesaling game was turned on its head in the mid-2000s, when large global brokers started selling off their captive wholesalers. It became too difficult for a wholesaler to be owned by a retail broker as there were too many conflicts in the distribution model. A group of CRC leaders, including Turner, tried to buy CRC back from BB&T, but were unsuccessful. Luckily, Turner was about to cross paths with an insurance legend who would present him with another opportunity.
"At that point, I was lucky enough to meet the great Pat Ryan here in Chicago, and he, unbeknownst to me, had plans to open a large national specialty platform that included wholesaling, MGUs, MGAs and binding authority specialists," Turner says. "I left CRC in 2010 and never looked back. It's been a great run to work alongside arguably the greatest insurance executive and builder of insurance services businesses in the world."
Building out a team
Getting in on the ground floor of Ryan Specialty Group's wholesale broking division proved to be an invaluable experience. Turner had a front-row seat and key voice at the table as the organization grew over the next decade.
In particular, he learned the acquisition side of the business as RSG completed around 40 deals on a national and global scale. RSG identified driven individuals and businesses to partner with that shared a similar vision of establishing a multi-faceted broking and underwriting platform that could perform at a national level and compete in the wholesale space.
"Pat Ryan and I shared a lot of common principles in the business, and one of them was focusing on attracting the very best talent [of] specialty brokers and underwriters in the US," Turner says.
Securing a top-notch leadership lineup was another important part of RSG's growth. Today, the company boasts 45+ offices helmed by 45+ strong leaders, which has allowed RSG to staff its brands with top underwriters and brokers.
The work to build this strong foundation has paid off: "We've been able to grow by more than a billion dollars in premium every year for 10 straight years," Turner says.
Rising to the challenge
Alongside ensuring consistent growth, RT Specialty is also focused on developing new solutions and innovative approaches, especially in response to new challenges like the volatile litigation environment in the US and the difficulty of placing D&O and cyber risks in the current marketplace. The binding world is also experiencing change as retail clients demand high-speed electronic solutions, which has led RT Specialty to invest heavily in the binding authority specialty business. The pandemic has introduced even more hurdles into the insurance marketplace, and RT Specialty's teams are now also working on addressing the challenge of pandemic cover.
This rapidly changing insurance environment presents "an opportunity for the wholesale community, brokers and underwriters alike, to rise to the challenge," Turner says. "Our retail broking community needs our help – they need our expertise; they need creative solutions and depth and breadth across the country to handle the volume that's coming into the channel."
It will take a combination of talent and resources to meet the growing needs of retail brokers in the specialty space – but RT Specialty was built precisely with these needs in mind. With 15 practice group verticals and hundreds of brokers across the country, the company is ready to respond to changes in the flow and demand of business.
"We're focused on elevating our performance and execution for our retail brokers – they're our livelihood and our focus," Turner says. "We're 110% committed to being the best wholesale broker, MGU and binding authority specialist in the US."