A game plan for growth | Insurance Business America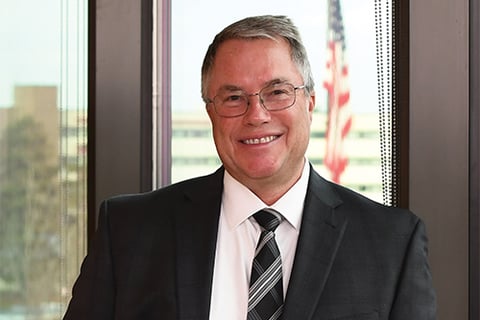 For Jeff Tagsold, chairman and CEO of Auto-Owners Insurance, the opportunity to work in insurance came completely out of the blue. While Tagsold was finishing up his senior year at Central Michigan University, the university sent his transcript to Auto-Owners because the company had let universities in the state know about two open positions geared toward graduates with a mathematics major.
Suddenly, Tagsold was holding a mail-delivered application from Auto-Owners in his hands, though this wasn't the first time he had heard of the insurance group. "One of my father's best friends in my hometown was a local independent agent, and all of our business and personal insurance was with Auto-Owners," he says.
As with previous Auto-Owners CEOs, Tagsold started in an entry-level position, beginning his career in the actuarial division and gradually working his way up the company's ranks. He eventually gained experience in underwriting and marketing and ran Auto-Owners' operations in Georgia for more than seven years. Finally, around a decade ago, Tagsold became president, and in 2018, he was named CEO and chairman.
"I accepted every position I was asked to take and had the good fortune to work closely with many key leaders," Tagsold says, adding that those leaders later saw he had the skills to take on leadership roles. "By accepting these moves, I demonstrated my commitment to doing what is best for Auto-Owners."
Embracing independent agents
During one of his roles as a marketing representative, Tagsold was tasked with visiting agencies to promote Auto-Owners. Seeing all of the other insurance companies' plaques on the walls and their manuals on the shelves of these agencies made him appreciate the extent to which insurers have to work to earn the business of independent agencies. Today, looking out at the organization from a CEO's perspective, Tagsold believes nothing drives more business to Auto-Owners than its employees and the relationships it enjoys with thousands of standout independent agents.

"We consistently demonstrate our 100% commitment to the independent agency system, paying generous commissions and not competing against them by writing directly," he says. "We are also blessed to have a wide array of products with competitive coverages and pricing, and great agency-facing automation, which allows them to do business efficiently with us."
Auto-Owners' approach to building relationships with independent agents even has its own tagline: "refreshingly human." That means that instead of hiding behind an automated answering system, agents have actual people available to talk to them, such as local marketing and claims representatives who regularly visit agencies.
"We've had a couple of sayings that have been around for years at Auto-Owners," Tagsold says. "One is 'bricks and mortar are cheaper than bureaucracy.' While most carriers are closing smaller offices, consolidating into large regional centers, we continue to do the opposite. This plays into the other saying that's been around for years – 'people do business with people they know, like, trust and respect.' It is much easier to earn that standing with agents when they can see you and talk with you, and that is best done through having a local presence."
Growth by numbers

Along with its approach to working with agents, Auto-Owners' growth strategy is also clearly paying off. In 2019, the insurer achieved its eighth consecutive year of profitability, thanks in part to its careful and conservative management of its exposures to natural catastrophes. The group achieved double-digit premium growth of more than $800 million.
But it wasn't easy to get there. Shortly after Tagsold was named president, Auto-Owners was midway through year three of four consecutive years of underwriting losses. Turning the company around required implementing many initiatives, and the actions taken to improve profitability back then are still working today.
"Our consistent, profitable results have enabled us to improve the competitiveness of our rates, leading to record growth in the past few years," Tagsold says. "When I became CEO in 2018, there were no significant changes needed. I have focused on sharing the story about our change from being unprofitable to profitable so we keep our focus on the game plan established years ago. This is very important because more than half of the active associates at Auto-Owners have never worked for the company when we were not profitable."

In recent years, Auto-Owners has added to its portfolio of companies through a handful of acquisitions and affiliations: Atlantic Casualty Insurance Company in 2016, the Concord Group in 2017 and Capital Insurance Group in 2019. These moves have paid off in several ways, including adding an excess & surplus lines option for independent agents via Atlantic Casualty.
"It's disappointing to have to tell an agent you don't have a program in place to insure one of their commercial customers," Tagsold explains. "We also recognized that we didn't have the necessary experience to start an E&S company from scratch, so an acquisition was the best way to proceed." 
Its affiliation with Concord and acquisition of Capital Insurance Group allowed Auto-Owners to expand into eight additional states, bringing the total number of states it operates in to 34. Previously, the Auto-Owners brand was entering states one at a time – a fairly slow and resource-intensive method. Tagsold found it was much more efficient and effective to partner with carriers that boasted well-established reputations and hundreds of existing relationships with quality agencies. Both Concord and Capital Insurance Group were also committed to operating exclusively through the independent agency system, a key mandate of Auto-Owners.
Building on years of success, the senior leadership team at Auto-Owners plans to keep executing on the game plan that's worked so far as they look into 2020 and beyond.
"We will continue to work with Atlantic Casualty, Concord and Capital Insurance Group, doing whatever we can to enhance their operations," Tagsold says. "With a little luck from Mother Nature, we hope to achieve an underwriting profit for a ninth consecutive year."