A relationship business | Insurance Business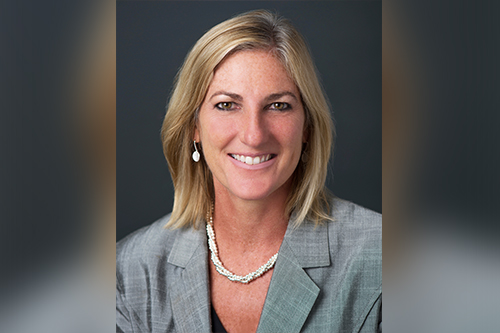 Reaching the executive ranks of one of the largest insurance companies in the United States doesn't happen by chance. While Lori Spoon, head of customer and broker engagement for North America at Berkshire Hathaway Specialty Insurance (BHSI), might not have always dreamed of working in insurance, her career has been one marked by intentional moves within global insurance behemoths that have propelled her to the top of the industry.
Even Spoon's first role in insurance was defined by her determination to succeed. In the 1980s, she was studying international business at DePauw University when she learned that Chubb was visiting the campus to recruit students. However, the global insurer wasn't recruiting for its international department, the area where Spoon wanted to work. Nonetheless, she continued to request a position in the unit and eventually succeeded – proving that if you want something, you need to ask for it.
"I don't know who I thought I was, but they opened up an underwriting position for international property & casualty and political risk in their Chicago office and hired me," Spoon recalls. "It launched what's become an intensely gratifying career."
From Chubb, Spoon went on to Johnson & Higgins (J&H) and later joined Marsh. "I spent 16 years between J&H and Marsh as an international broker," she says, "and that's where I learned about working closely with risk managers to understand what's on their minds, gaining deep understanding of their global risk and the challenges within their businesses and industries."
Then, in 2013, opportunity came calling – literally. While at Zurich as an SVP and broker relationship leader, Spoon got a call from a friend in the industry, who had gotten word from BHSI president and CEO Peter Eastwood that the company was looking to fill a customer and broker engagement leadership role. Spoon's name came up, and after the friend got the OK to share her interest in the role with Eastwood, Spoon received a call from Eastwood a few minutes later – and the rest is history.
Looking back on her career, Spoon says her deep passion for the insurance industry springs from its focus on relationships and the opportunities it presents to always be learning.
"It's an industry that is built on trust," she says. "I left the industry in 2005 [to work in finance], around the time of the Spitzer investigation [into brokers' contingent commissions] and came back three years later, realizing that the relationships that I had built up over time had tremendous equity. You're [also] constantly learning about industries, companies, geographies and risks. There's nothing more exciting to me than going on a plant tour, and I've toured a Listerine factory; I've gone on test drives for manufacturers testing anti-lock braking systems – understanding what our customers do and how they do it keeps us sharp."
Building out a business
Coming over to BHSI gave Spoon an opportunity to flex her broker and customer relationship muscles even further. She joined the insurance firm as its 40th teammate and has played an important role in building out the business, leading BHSI's customer advisory board, customer roundtables and the development of new customer relationships, in addition to driving BHSI's distribution strategy and relationships with retail and wholesale brokers.
Being among the first people in the door at BHSI has had presented a very unique opportunity, being able to have a voice in establishing the company culture. Spoon has also been there for most of BHSI's 'firsts.'
"We have had so many new milestones – we had our first customer on day two of our third week," she says. "But I have to say, the highlight of my career was hosting a table with a group of customers with Warren Buffett]. Engaging in a conversation with a group of risk managers and Warren was a bucket list experience."
From day one, designing the customer culture was "extraordinarily important" to BHSI, right up there with establishing BHSI's underwriting and claims philosophies, Spoon adds. "Everyone in the organization owns customer and broker engagement," she says. "At all levels of the organization, we prioritize spending time with customers and brokers. It's incumbent upon us to continue to listen and learn from them."
That's why starting the customer advisory board six months after BHSI was founded was so important – BHSI leadership wanted its services to be shaped by feedback and experiences from its customers and not just be based on its leaders' experiences. BHSI is currently on its third customer advisory board, each of which serves a two-and-a-half-year term.
Customer roundtables are another crucial component of BHSI's customer engagement strategy. They were implemented last year and have offered the BHSI team an opportunity to listen to and learn from risk managers. For 2020, Spoon had a goal to visit 29 different cities to conduct customer roundtables. The team got to six cities before the coronavirus hit, but Spoon was determined to stick to the plan. So far this year, the team has held 40 virtual roundtables, which have proven to be a valuable way to connect with risk managers and stay informed on their experiences and concerns.
Keeping customers happy
Despite the successes Spoon and the customer and broker engagement team at BHSI have had so far, the many risks facing companies today mean there's more work ahead.
"There's so much fundamentally as an industry that we can continue to do better with more traditional risks, and that's where we're playing the long game," Spoon says. "Change is difficult, and this is a significant divergence from the many years of a soft market, but how that [change] is managed and communicated is extremely important."
Helping customers succeed through crises and looming risks – including COVID-19, along with risks arising from climate change and a complex cyber landscape – involves communicating effectively with customers and brokers about lead times, explaining underwriters' understanding of each unique risk and providing options to customers. Thanks to the investment Spoon and BHSI have made in customer relationships, her team and the broader organization are able to deliver that high level of service.
"We are touching more customers and prospective customers than ever. Customer engagement is deeply imbedded in our culture," Spoon says. "It will always be a huge priority for us to create a differentiated experience for risk managers."