Florida agency on the trick to long-term success | Insurance Business America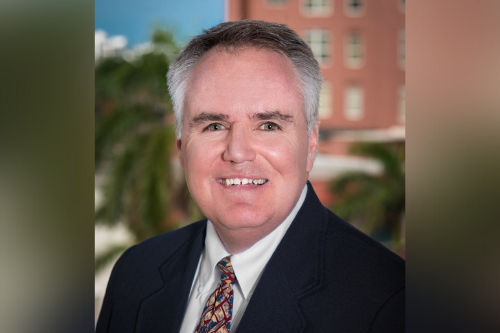 Purmort & Martin Insurance Agency has served its local community for more than 60 years. President and CEO Russ Bobbitt tells IBA how the agency has survived and thrived – and what's keeping its insurance experts on their toes.
IBA: How has the leadership of Purmort & Martin evolved during your six decades serving the community of Sarasota, Florida?
Russ Bobbitt: The agency started out as a very small shop opened by Paul Purmort and his two sons. A year later, Rick Martin joined, and it was renamed Purmort & Martin. Over the years, the agency grew, and then one of the brothers left and opened up an agency across town, but Purmort & Martin continued to operate. In 1997, I joined the firm, and in 2004, I became an owner with one of the found-er's sons, one of the founders and another agent. We purchased Mr. Martin's shares in 2007. In 2012, I purchased another partner's shares, and then in 2018, I bought out the last partner, so I became the sole owner.
IBA: How has the agency's book of business changed since you joined?
RB: We've always been primarily a property & casualty agency, so not really focused on life and health or benefits. We started out with a personal lines focus, and we've evolved more into having a commercial lines focus, but I'm trying to balance out the book, so we're rolling back to personal lines a little bit more.
IBA: What do you see as the key insurance issues facing clients in the Sarasota community?
RB: In Florida right now, we have a bit of a homeowner's insurance crisis, and there are a lot of factors that have contributed to it, [such as] low rates and [the fact that] over the past few years, we've had a number of hurricanes where carriers have had to pay out a lot of claim dollars. We also have huge amounts of litigation in Florida, and there are certain areas that pay what are called fee multipliers that are very detrimental to the insurance environment.
For commercial lines, we also have a hard-ening market here in Florida. Commercial auto has been a loss leader for a long time, probably for the past four or five years. One of the factors for that is we've got social inflation on some verdicts, where people are thinking that certain cases are worth more money, so they settle for more, and [we've also had] artificially low rates for many years.
We are also facing a challenge with management liability because of COVID, where employment practices liability and directors & officers coverages are very tough to get, and renewals have been coming in with high increases.
IBA: What do you think has helped Purmort & Martin stand the test of time thus far?
RB: The main thing that I attribute it to is always staying focused on the fact that the client is the number-one priority. It's embedded into our culture, it's embedded into the way that we communicate exter-nally, and it's embedded into the way that we operate every day.
We have a culture program that is called the Think program, which says that you always need to stop and think about the way you operate and how it affects others, being mindful of the way that they feel about something – primarily clients, but we're also focused on our employees and carrier partners.
"The client is the number-one priority. It's embedded into our culture, it's embedded into the way that we communicate externally, and it's embedded into the way that we operate every day" -Russ Bobbitt
IBA: How has that approach played out during the past year?
RB: We always need to put ourselves in our clients' shoes – we need to understand their thinking and be mindful of the way they're looking at things. I think that's very important – I think it's important for our staff and agents to understand that, and for our external salespeople to convey that, we always need to under-stand that people are going through different things than we are and that they don't see things the same way we do. We need to understand their points of view before we can convey our message and do our job – and that's serving them.
IBA: How is Purmort & Martin ensuring its long-term survival?
RB: The way you survive is to grow, and you can grow two ways – you can grow organi-cally or by acquisition. At Purmort & Martin, we're doing both. We're adding salespeople who are specializing in different areas, and they're helping with the organic growth. With their development, they then produce more business. We're very bullish on the future, as far as renewals go with our clients, because of the way that we handle our renewals and servicing our clients, but we also are going to continue to look to acquire agencies – gener-ally those that are smaller than we are – for acquisition growth. So we're going to use those two factors, and we're just going to keep pushing ahead.
ABOUT PURMORT & MARTIN INSURANCE AGE
Purmort & Martin Insurance Agency has been a part of the Sarasota, Florida, community for more than 60 years. It's one of the area's oldest locally owned insurance agencies, as well as one of its largest. The agency's mission is to provide independent business owners and individuals with professional advice on insurance products that meet their unique needs.Recently, the agency grew even further on the back of its acquisition of another local business, the P&C insurance agency Jeff DeJongh & Associates. DeJongh, who has more than 18 years of sales and management experience in the insurance, financial services, and medical and dental device industries, has joined Purmort & Martin as vice president of sales.