Flying high | Insurance Business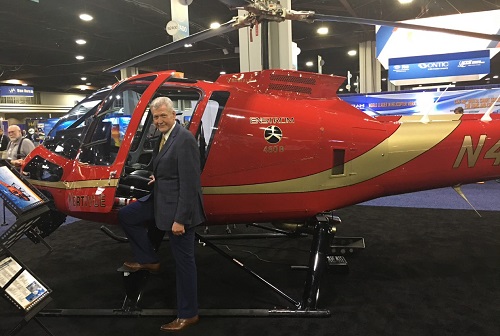 Jon Downey, president of AssuredPartners Aerospace, discusses how aviation insurance is currently evolving and what the future of this unique niche might look like.
IBA: How is technology affecting aviation insurance?
Jon Downey: It's a fascinating time, as previously there has not been a tremendous amount of focus on technology within the aviation insurance segment. The challenge has been that at many of the large insurance companies, the aviation niche is so small relative to their total writings that it's the last department to get attention, and they just haven't put the investment into technology.
Today, however, as aviation specialists, we've made great strides with online quoting platforms for those parts of the business that are somewhat commoditized, such as the high-volume, low-premium policies we see in owner-flown aircraft. In this regard we've developed Elevon, a subsidiary company based in Atlanta that created a clean-sheet policy administration system that is an outstanding technology solution for underwriters. We currently have one underwriting company participating in it, and we anticipate others will soon join in. What this does within the space of high-volume, low premium business is allow us to aggregate multiple carriers, so a broker has a single point of contact where they put their information in once and get quotes back from several companies.
IBA: What the major factor affecting aviation today?
JD: There is a growing shortage of pilots and mechanics. To fly an aircraft, you have to be a licensed pilot, and to work on one, you have to be a licensed airframe and powerplant mechanic … I recently attended a National Air Transportation Association town hall meeting, and the number-one topic was attracting new talent, as retirements of pilots and mechanics are on the rise, while new students in both fields are not keeping pace. Compounding this problem is the fact we don't have the military pipeline for pilots and mechanics we once did, as there are fewer veterans with aviation experience entering civilian life. To address this problem, virtually every segment of the aviation industry – from the airlines to business aviation – is stepping up efforts to attract and retain qualified talent.
IBA: Is there an area of insurance where you feel clients are underinformed?
JD: Cyber threats. From an insurance perspective, we break down the industry into two segments: general aviation and major risk airline business. General aviation is basically everything with the exception of aircraft manufacturer risks and airlines. Across the board in general aviation, commercial operations are fairly underinformed about emerging cyber risks. At the airline level, you see professional risk managers who understand that exposure and how to address it. However, it's a new concept for most general aviation operations, and as such, protection against cyber threats isn't yet a consideration for many customers in this space.
IBA: What are the areas in aviation insurance where clients tend to be underinsured?
JD: There's been an increase in the cost to repair aircraft, and the hangar keepers' liability limits clients are carrying haven't kept pace with the exposure. We have also found certain situations where the coverage hasn't been actively marketed and limits are no longer adequate. It depends on the area of risk – we've seen single passenger settlements go as high as $100 million, and clients may need to reconsider their current limits.
Agricultural aircraft used for aerial application of chemicals on crops is another example. These aircraft are valued at well over $1 million … and have underwriters thinking about them more. But the limits they are willing to put out for third-party property damage is capped at $1 million, and the chemical application coverage is capped at a half-million. This just isn't sufficient for many aerial application operators today. In fact, I'm familiar with an aerial application operator who, during this past growing season, hit a cell tower in Arkansas; the tower itself was $1 million, which was the most he could get for coverage. This is just one example of the problem, and it's one that needs to be addressed.
In that regard, we do see the conversation changing for insurers, clients and brokers. At AssuredPartners Aerospace, we're helping modify the landscape itself by consolidating around this small niche. Underwriters are seeing fewer and fewer risks, but in those risks, the exposure has gone up – yet they are capping what they are willing to cover. We're hoping to change this in order to better serve our clients.
IBA: What makes aviation insurance unique from a professional standpoint?
JD: Aviation is a segment of the industry that is built on passion. We pride ourselves on being a part of the aviation community, and I think that's very unique in the insurance business. In fact, I would say the majority of people involved in aviation insurance as producers or underwriters are pilots, mechanics or both. These people have a real passion for aviation, and they enjoy staying in front of the unique exposures and the risks associated with the industry. At AssuredPartners Aerospace, we always point out that we were aviators well before we were insurance professionals – and we still are. I believe that level of passion gives us a deeper understanding of our clients, which in turn allows us to serve them better.