One of a kind | Insurance Business America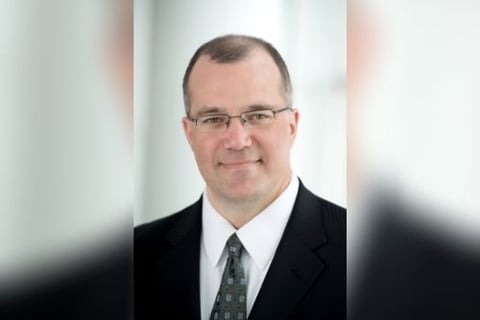 Michael Sicard, chairman and CEO of USI Insurance Services, isn't one of those insurance professionals with family connections to the industry, nor is he someone who learned about opportunities in the industry at a career fair and chose the insurance path. Nonetheless, Sicard's journey to insurance did set him up to appreciate the value of the industry.
"This world of business that I find myself in now is a far cry [from] the little single-wide trailer that I shared with my family when I was born," says Sicard, whose father passed away suddenly when he was young, leaving his mom to take care of three kids. "I see now, looking back, that it gave me a firsthand perspective of what our industry can mean when we're there for families and businesses that are going through tough times."
Sicard worked all the way through school, eventually attending Duke University and Harvard Law School. Upon graduating, he landed at McKinsey & Company, but because of a cross-country bicycle trip, he was the last new recruit to show up to the job, and everyone else had already picked their first-choice industries. The leftover sector was insurance, but Sicard quickly found out how much he enjoyed working in the space – so much so that after his time at McKinsey, he became COO, North America and member of the Global Executive Council at Willis (now known as Willis Towers Watson), which at the time was focused on combining different entities across geographies, post-mergers.
Sicard followed up his five years at the global broker with a stint at Vanderbilt University's Owen Graduate School of Management. In 2007, he was contacted about an opportunity at USI, which was going through similar challenges to Willis.
"USI was public and had done a series of transactions, and there was an opportunity to take the company private and bring the firm together," Sicard says. "That held for me a lot of appeal and interest, so that's when I joined USI as the chairman and CEO."
Leading a transformation
The next 13 years saw a massive overhaul of the brokerage. While some leaders might have seen roadblocks to success, Sicard saw a team that had the potential to be "extraordinary," with the vision and resources to build a company that was "truly different, better and special."
"It wasn't without its challenges – organically, the firm was declining, had low profitability, cash problems and issues, and we were entering into the worst economy to that time since the Great Depression," he says. As an acquirer of agencies, USI had many silos to break down that would transform the organization into a cohesive team, sharing expertise and solutions all the way across.
To bring USI into a new era, Sicard and the leadership team developed a value proposition, called the USI ONE Advantage®. He describes it like this: If a patient is facing a risky medical procedure, would they prefer to work with one individual doctor or "the entire medical community" who are all laser-focused on the patient's issues and related solutions?
"When the risks are high, and you have a choice of a fine individual doctor or a doctor standing on the shoulders of the entire medical community, I would always choose the latter," says Sicard. "That's what we do at USI – that's the ONE advantage."
The 'O' in ONE Advantage stands for 'Omni.' USI's size, scale and scope allows the firm to pull together all of its expertise to help clients navigate their unique risks, which is deployed via Omni, USI's one-of-a-kind knowledge and solution platform. Sicard describes it as "the Google-ization of every risk management and employee health solution ever created, and deployed in a single 24/7, Apple-easy, AI-assisted knowledge engine."
The 'N' in ONE Advantage refers to the network of resources available across the organization, while the 'E' reflects the enterprise huddle process – where, just like the entire medical community, USI pulls together its Omni knowledge and network expertise to customize insurance and risk advice for each individual client.
"Through the ONE Advantage, USI has brought a different and better set of ideas and solutions to an industry that has not historically been known for teamwork and innovation," Sicard says, adding that the value proposition is especially important today, considering that the challenges clients face in this risk-laden landscape could mean life or death for both businesses and individuals. "The stakes couldn't be higher, and relying on an individual's solo expertise creates the risk of having gaps in knowledge, expertise, solutions and innovations."
Putting people first
Clients have seen the benefits of the ONE Advantage, as has USI, which has achieved higher client retention rates and has grown its customer base by attracting new prospects who couldn't find a comparable approach in the marketplace. As the company grew – eventually quadrupling in size – its workforce also expanded. Sicard learned at a young age the importance of paying it forward, and he established a workplace that has been recognized in the insurance industry as one where employees can thrive.
Some of USI's programs that go beyond standard benefits include USI Cares, which steps in when team members and their families are facing difficult times, offering help without any obligation of payback. There's also the I'm With U diversity and inclusion program, which brings USI's teams together to understand each other, uncover individual biases and unify across the organization.
"Just like we'll never stop innovating for our clients, we'll never stop striving to create a truly special place for our people," Sicard says. This approach is supported by USI's unique capital structure – it is the only employee-owned permanent capital firm among the large brokers. USI has more than 1,000 employee-owners, "and it's personal for us," Sicard says. "We invest in people, innovation and talent, not with a short-term mindset, but to be leading for our clients and people 10, 15, 20 years from now."
While USI has certainly achieved growth over the past 13 years, 'big' was never the game plan – instead, it became the byproduct of being great at each individual client and team member interaction. Looking ahead, Sicard says, "We are looking to not be a player in the marketplace, but the go-to firm for continuous innovation of different and better solutions for today, 2021 and decades beyond."