Selective leader on pushing the commercial lines envelope | Insurance Business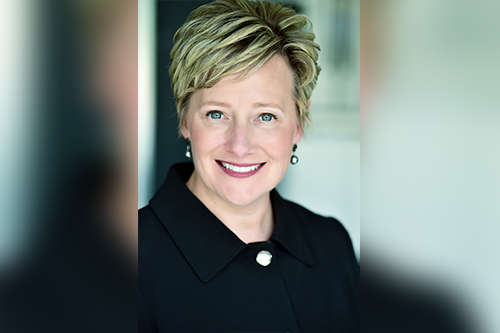 During her 19-year career at Selective Insurance, Brenda Hall has worn many hats. She's been part of underwriting teams and has had a say in strategic operations, business intelligence and advanced analytics, as well as marketing, training and development, and project management. Looking back on these experiences her current role as executive vice president and commercial lines chief operating officer, Hall says she's enjoyed every opportunity. "The saying is true – time does fly when we're having fun," she says.
Long before joining Selective, Hall took her first step into insurance while studying at a liberal arts university in Ohio, where she learned about openings in the industry at a campus recruiting event. Shortly after, she began working for a regional carrier as a marketing manager for commercial lines and, during the next seven years of her career, continued in various underwriting roles in standard lines of business for property & casualty and medical malpractice.
A new adventure came calling when Hall's husband took a job in Amsterdam and the pair moved overseas. The work didn't stop for Hall, though – during her time abroad, she earned a master's degree in business administration and management. Today, she remembers her time in Europe as an important learning opportunity.
"Living abroad was such an amazing experience," she says. "Looking back, it gave me valuable perspectives and insights into the role that culture and geography play in things like people leadership and, even within our business, in product development."
Hall later took a job as a senior underwriter in medical malpractice, but she was looking to put her master's degree and previous experiences to good use by moving into a management position. She was already familiar with Selective and was drawn to the company's unique field model, strong agency relationships and broad product offering.
"I thought Selective would be a perfect fit for my background as well as my career aspirations, so I connected with a former colleague of mine who was a regional manager at Selective at the time," Hall says. "My first role was as an underwriting supervisor for the state of Virginia. That was almost two decades ago – and the best move of my career."
Today, Hall leads commercial lines operations at the super-regional carrier, which has a corporate underwriting department and six regional underwriting offices that support its field model, in which local underwriters partner with agencies to write and retain business. The spirit of teamwork that Hall has been privy to as a leader at Selective is just one of the aspects of her insurance career that she appreciates.
"I have been very fortunate to have leaders [at Selective] who encouraged me to take risks, oftentimes stepping out of my comfort zone to take on new challenges," she says. "More importantly, the teams that I've been a part of have welcomed me in, and we have set out to accomplish more than we ever thought possible."
Pushing the commercial lines envelope
When it comes to innovating the insurance distribution model, Selective has been busy over the past few years. The carrier offers what it calls a "high-tech, high-touch" business model that brings together the field-based underwriting component with an insurance claims model backed by agency automation technology. To support this, Hall and her team have implemented integrated commercial lines pricing predictive models and a customer experience strategy, have built a robust reporting and analytics environment, and have deployed advanced analytics that have helped grow Selective's commercial operations.
Another highlight for Hall is the role she played in developing Selective's strategic business framework. "This was an effort in which we established a lot of focus and organizational alignment across the enterprise," she says, "and over a period of three years, we were able to deliver more than 70 key initiatives for the company."
Alongside these accomplishments, Hall has taken on an executive leadership role at a challenging moment for the insurance industry. Her top-of-mind objective remains driving profitable growth at Selective to ensure that the carrier continues to outperform the rest of the industry, as it has done for several years now. "Every year, the bar is raised," she says, "and we remained focused on meeting and exceeding that bar."
As a result, Selective is focused on both growing its market share with the help of its agency partners, as well as pinpointing internal improvement efforts to drive efficiency across commercial underwriting. Hall is also determined to maintain Selective's underwriting rigor as the carrier looks for opportunities to drive profitability in certain lines of business, such as property and auto.
Turning the corner
With a new year coming up, several of Hall's priorities have been given top billing due to the coronavirus pandemic. Living the company's value to 'Be the Best' has been especially important during this time, as has been keeping agency partners close to ensure that Selective continues to deliver the service excellence they've grown to expect. Looking to 2021, Hall says a focus on Selective employees and their health and well-being will be incredibly important. "There's no doubt that our people continue to be our greatest asset," she says.
Work is also underway to expand Selective's geographic footprint. "Our recent geographic expansion efforts in the Southwest absolutely exceeded expectations, and we were able to demonstrate our ability to add to our top-line growth," Hall says, adding that the plan is to develop a national model.
Last but not least, Selective's commercial team, led by Hall, is concentrating on the small business space. "We know small businesses have very unique needs, and we want to be there for them," she says. "We've made significant investments in customer experience in the past, and we provide our customers with everything from streamlined claims reporting and status updates to proactive communications that help them manage business challenges and insurance risks more effectively."