Standing out from the crowd | Insurance Business America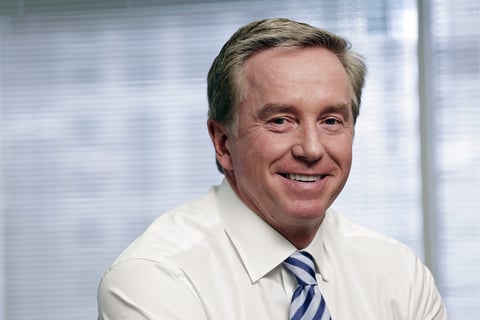 To say that Brown & Riding chairman Chris Brown got into the company on the ground floor would be an understatement. Brown had been working as an assistant underwriter in Los Angeles for just a year when an opportunity to join the national wholesale brokerage arose. It was 1985, and the brokerage, founded just five years prior in San Francisco, had fewer than 10 employees. Brown's job was to get the word out in Southern California about the new player in a challenging wholesale market.
"I was the new person in town, and it taught me about the importance of differentiation and doing something different than everybody else," Brown says. "I think it's one of the core themes that have driven me throughout my career."
Granted plenty of autonomy, Brown proved his worth with early successes in growing the business, though more challenging times lay ahead. The brokerage has always had a concentration in construction, but when the 1992 recession hit, it created "very painful conditions for us," Brown recalls.
"We were challenged to even survive, but I always like to look at the difficult times as really what helps to shape you and helps you understand who you are and what you're about. That helped to really shape the values of the company."
Team player
Brown & Riding's core values were cemented as it grew into one of the top 10 wholesale brokerages in the US by premium volume. In 1990, Brown became president of the company; in 2012, he took on his current role as chairman. During his formative years at Brown & Riding, when he was building relationships with retail brokers and other industry professionals, he realized that the wholesale side of the business was rarely being associated with quality.
"Some people viewed it as the segment of the industry you went to if you didn't have many other options, and I didn't want to be associated with anything like that," he says. "So it became a calling of mine to try to help raise the professional standards and quality standards not only within Brown & Riding, but also throughout the industry. If our standards are high enough, then they help to raise the bar for everyone else."
In addition to an emphasis on quality and professionalism, Brown also put a high priority on teamwork.
"I've always been a big believer in the power of people working together and cooperation within the wholesale brokerage business," he says. "Teamwork can be a pretty unusual thing, even today, so we set our company up to support teamwork in ways that probably most others haven't done."
That value is writ large in the company's ownership structure – it's 100% owned by 34 key employees, similar to a partnership. That shared interest in the success of the company goes a long way to help support Brown & Riding's culture of teamwork, Brown says. The company's leaders also encourage employees to embrace specialization as a core strategy.
"I'm thankful for the opportunity I was given and feel very fortunate to work with so many incredibly talented people at B&R," Brown says. "They embrace working together across offices and teams, and it helps everyone achieve more than we could on our own."
Navigating the market
In addition to developing its guiding principles, Brown & Riding has taken strategic steps to attain its position as one of the top wholesalers in the country. In 2010, the company merged with Seattle-based Alexander Morford & Woo. A few years later, B&R's leaders found another similarly minded company to merge with: Chicago-based Travis-Pedersen & Associates. These moves expanded the wholesale brokerage's geographic reach and clientele.
"It gave us a great platform to build on, and today we're double the size we were when we put the three companies together," Brown says.
The current M&A market is competitive and expensive, so while B&R's leaders are keeping an eye out for opportunities, they're also focused on creating an environment where people can kickstart and build their careers.
"We've recruited easily 100 kids out of college who started their careers with us," Brown says. "We also have a number of partners in the firm who all joined us at entry-level positions but moved up through merit-based efforts to becoming shareholders. We have a very good track record of developing people internally. It's important to us to strengthen and maintain the culture we have, and we think the best way to do that is having a robust internal training and development program."
Since he joined B&R three decades ago, Brown has witnessed a marked change in the reputation of the wholesale business.
"The marketplace views wholesalers now as a much more valuable and important piece of how business is transacted," he says. "I think wholesalers can provide a very cost-effective service and variable-cost option to retail brokers hiring their own internal experts. The wholesale marketplace does that much more efficiently. The challenge that exists is how do you provide a level of service, and give the retailers that trust and confidence in the wholesaler, without being part of the same company? The opportunity that I see is to provide a level of service and trust and confidence in what we do."
While mergers aren't on the top of the company's to-do list right now, B&R continues to focus on growth. Its retail broker clients are growing, too, and are looking for fewer wholesale broker relationships. As a result, Brown says, the company needs to have the scale to service those national clients while supporting its own employees.
"Growth is important to us, not only because it can help us better serve our clients, but also because it supports our ownership," he says. "As long as we keep growing, we will remain employee-owned and independent. That's our goal, and that ownership structure allows us to support the culture and values we've already established."