Music festivals contain 'virtually every risk imaginable' | Insurance Business America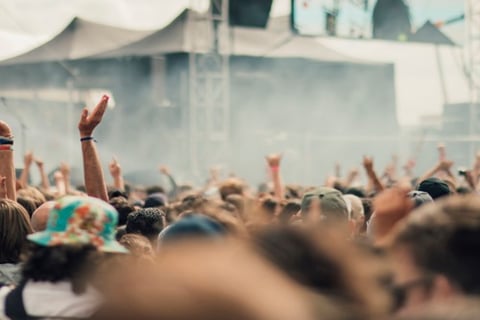 The countdown to music festival season is on. Star-strewn line-ups have officially been announced for the big-hitters like Coachella, Lollapalooza and SXSW – and thousands of festival fans are eagerly counting down the days until they see their favourite acts performing live.
While festivalgoers focus on the fun, the event organisers and operators are battling against a complex web of diverse exposures. Music festivals are unique in the sense that they have "virtually every exposure imaginable," according to Mike Kelly, media loss control manager at ProSight Specialty Insurance. They're different to many other live entertainment productions (such as concerts, motor racing, traditional sports, etc.) in the sense that they've evolved from relatively simple outdoor concerts with one or two stages to massive operations with diverse and increasingly complex ranges of entertainment.
"Modern festivals have as many as a dozen highly elaborate stages and a wide variety of peripheral entertainment such as carnival rides, parades of specialty vehicles called 'art cars' deploying pyrotechnic displays as they travel through the dense crowds of festival patrons," said Kelly. "Many festivals have enormous art installations and encourage festival patrons to climb to dizzying heights, and many are held near lakes, rivers or the ocean thereby presenting all of the challenges related to water safety. Severe weather is a significant concern for festivals where it may be necessary to deploy appropriate response procedures for high wind, hail and lightning. Many have campgrounds creating a circumstance where patrons' safety becomes the responsibility of the promoter 24 hours per day."
Modern music festivals can attract over 100,000 patrons per day. Therefore, they have virtually every exposure you might find in a town of a similar population, according to Kelly. This can include medical issues, assaults, exposure to excessive heat or cold and drug abuse. Such gatherings of large numbers of people have also become targets for mass violence and terrorism, but these types of catastrophe events – although highly publicised if they do occur – are not very common. Rather, the common loss trends at music festivals are consistent with those experienced in the general population.
According to Kelly, the most common losses to come out of music festivals include insect bites, minor cuts and abrasions from slips and falls, twisted ankles, food related illnesses, alcohol related illnesses and injuries from altercations. It's also quite common to have claims from the crew related to their use of and mechanical equipment or golf carts.
"Often times the news media infers that music festivals are to blame for a disproportionate frequency of drug related illnesses and deaths, but research has shown that the frequency of drug related incidents at many of the large festivals is not significantly different, and in many cases lower than that experienced in the general population," Kelly told Insurance Business. "Major festival producers have implemented policies and procedures where it is no longer easy to bring such illegal substances in to the festival. The deployment of drug sniffing dogs, roving plain-clothes law enforcement and a robust on-site medical presence has significantly reduced the number of drug related illnesses and deaths."
Festival promoters can minimise their exposure to allegations of negligence around drug or alcohol-related incidents by transferring their risk to properly insured third-party vendors and by implementing best-practice policies and procedures, such as comprehensive pre-entry inspections, to ensure the safety of festivalgoers.
"The major promoters prohibit patrons from bringing alcohol in to their festivals," Kelly added. "They employ licensed, insured professional alcohol vendors with staff trained and certified in alcohol awareness and professional security staff to check IDs to prevent underage drinking. As is the case with bars and taverns everywhere, individuals still become intoxicated, but the high level of security at the major festivals has a very positive effect on controlling this exposure. Utilising adequately insured third-party alcohol vendors can significantly reduce the promoter's exposure."
Experience is key when it comes to insurance brokers transferring risks for music festival clients, according to Kelly. He suggests brokers employ a certified safety professional with specific industry experience so that they can discern the difference between the promoters that are implementing risk control-related policies and procedures that meet or exceed industry standards and best practices from those that don't.
"It's therefore imperative to have the experience in the music festival industry to enable a clear understanding of what laws, codes and ordinances apply to these festivals in various parts of the country, and even more importantly, what industry leaders are doing to set the 'best practices' that all others should strive to meet," he added. "It's important for brokers and promoters to understand these standards and learn OSHA requirements and applicable laws."