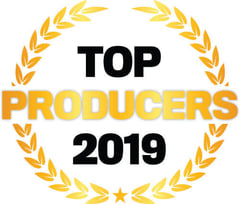 For the fifth year, Insurance Business America is singling out the best-performing insurance professionals from around the country. These 65 insurance brokers collectively earned $32.4 million in commission revenue in 2018, with six crossing the $3 million mark on their own. In celebration of those producers, IBA created the Platinum Producers Club, which gives special recognition to the individuals that are within the top percentile of all producers.
While the majority of this year's Top Producers are veterans with more than 10 years of experience, the 2019 group also contains several rookies who have proved that impressive results can be achieved within a few short years.
On the following pages, these producers share the keys to their career success, as well as the strategies they employed in 2018 to garner even more success over prior years.
Methodology
To qualify as a Top Producer, applicants must have achieved at least $750,000 in commission revenue in 2018, with at least 50% commercial P&C business and demonstrated YOY growth over 2017. Each nominated producer was required to provide specific details about his or her business to be eligible. Producers whose 2018 commission revenue exceeded the $3 million mark were named to the Platinum Producers Club in recognition of their impressive achievement.