Celebrating Terri Johnson – an industry trailblazer | Insurance Business Canada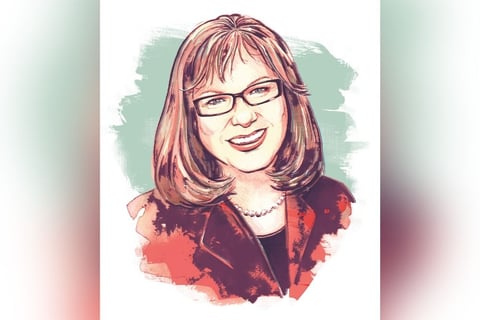 Terri Johnson was a "trailblazer" in the insurance industry. For those who had the pleasure of knowing her, she was incredibly passionate about education and community.
March 14, 2022, will mark the one-year anniversary of Johnson's passing, and some of her former colleagues and friends shared their memories with Insurance Business in the spirit of International Women's Day, which was earlier this week.
"I worked with Terri for many years. She really was one of our most exciting leaders, bringing an entrepreneurial spirit to the business," said Andy Taylor, CEO at Gore Mutual. "She was ahead of her time as a vice president and general manger for the western region in a period where the industry was predominantly male dominated in terms of leadership."
Johnson spent many years working in the industry and was a valued member of the Gore Mutual family for almost 20 years. She joined Gore in 1992 as a regional manager in British Columbia, and by 2010 she was the vice president of special projects for the organization.
Taylor explained that Johnson was a unique and meaningful senior leader, quite literally putting Gore on the map on the west coast.
"As a confident female leader, she quickly became a great role model for younger female leaders in our industry," Taylor continued. "Throughout her career, she was a constant mentor to our team, cared deeply about people, and was a very ambitious business leader."
Read more: Be an authentic female leader
Along with building an inspiring industry-leading career, Johnson highly valued education. From 1994 to 2015 she taught the CIP program and general insurance and risk management program at the British Columbia Institute of Technology (BCIT).
"Terri came in and did a fantastic job educating her students. Her class always had a pass rate higher than the average," said Shaun Sinclair, program head of general insurance and risk management at the BCIT.
"She was an inspiring teacher. Terri was one of those people you could always count on and was excellent at making sure her students were always looked after."
Johnson also served as president for the Insurance Institute of British Columbia (IIBC) in 1998 and continued to handle large project and committees in the years following. She even won 'Instructor of the Year' at the IIBC in 2006, and again in 2014.
Sinclair said Johnson was an impactful mentor, especially for any young woman coming into the industry, because she was able to share her experience and advice on how to be a strong female leader.
Outside of work and teaching, Johnson was very philanthropic, founding the BC chapter of the Women in Insurance Cancer Crusade (WIICC) and volunteering with Canadian Blood Services and Shoreline clean-ups regularly. Gore donated $500 to WIICC in Johnson's name, as her passion for the organization was well known.
Read next: Celebrating 25 years of WICC with $25 million
Gore Mutual and the BCIT have worked together to help honour Johnson's legacy, creating a bursary in her name – The Terri Johnson Memorial Endowment – in the amount of $50,000 to support students in the general insurance and risk management program at the BCIT. The first disbursement will be awarded later this month.
"Terri was constantly giving back which is why we're excited to set up a bursary in her name at the BCIT," said Taylor. "She was an incredible female leader and did everything she could to support her students and watch them thrive as future leaders."