How Kiwis can get the most out of their travel insurance | Insurance Business New Zealand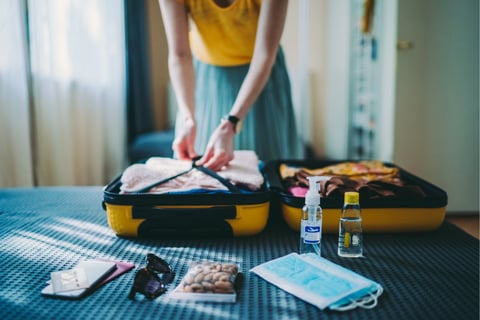 As border restrictions ease and more tourist destinations reopen across the world, travel-thirsty New Zealanders are leaping at the chance to visit other countries once again, recent travel insurance statistics indicate.
Several insurance providers have reported a surge in demand for international travel policies in the past few months as many Kiwis appear bent on satiating their wanderlust.
Read more: Travel insurance data reveals Kiwis snapping up trips abroad
Southern Cross, NZ's largest travel insurer, saw policy sales to neighbouring Fiji soar 2,000% month-on-month after the country announced plans to relax entry requirements last April 7. Other popular destinations included the US and the UK, where sales jumped more than 300% and 240%, respectively. Overall, the company's sales of international travel insurance policies rose 288% in March compared to February.
Tower Insurance, meanwhile, recorded not only a jump in demand for international travel insurance during March but also a significant drop in sales of domestic policies.
In February, almost a third of travel insurance policies taken out were domestic and about 14% were for Australia. The following month, however, policies for Australia climbed to 19%, with those for New Zealand dropping more than half to about 14%. Policies for cover in Fiji, the UK, and the US also increased.
The huge spark of interest in international travel does not come as a surprise given the relaxation of border rules. But the world is still in the midst of a pandemic and given the situation, Kiwis planning on travelling overseas have additional factors to consider, including airline requirements, COVID-19 regulations in transit and destination countries, and arrangements for their safe return. As a result, securing travel insurance has never been more important in the current environment, according to industry insiders.
Read more: Leader navigates "most challenging period in travel insurance history"
What does travel insurance cover?
Insurance providers offer a range of policy options, but according to consumer advocacy non-profit organisation Consumer NZ, travellers would be better off taking out comprehensive insurance policies, which the group described as "as important as your passport or plane ticket."
"Accidents can happen while you're overseas – even if you're visiting a 'safe' destination," the consumer rights group wrote in its guide created in partnership with the Ministry of Foreign Affairs and Trade. "If your trip goes south, you could be saddled with an enormous bill for medical, legal, and other expenses. The New Zealand government won't bail you out."
"That's why comprehensive travel insurance is crucial. It covers your medical costs and personal liability. It can also compensate you if your belongings go missing or you need to cancel or change a travel booking," the consumer rights group added.
Read more: Most interesting travel insurance claims revealed
But for travellers who can only afford a budget policy, Consumer NZ advised them to make sure insurance covers medical expenses and liability. The organisation also cautioned that travel insurance "doesn't cover every eventuality" and there are certain conditions that must be met before an insurer pays out.
Here's a sample comparison of what comprehensive and basic policies cover based on data compiled by the group.
Benefits

Maximum cover limit:

comprehensive policy

Maximum cover limit:

basic policy

Your health if you're injured or fall sick

Medical expenses

Unlimited

$250,000

Dental expenses

$3,000

$500

Funeral expenses

$25,000

$10,000

Your belongings if they're lost, stolen or damaged

Luggage – total

$25,000

$5,000

Luggage – per item

$1,500

$750

Electronic equipment (e.g. cameras)

$2,500

Nil

Your bookings if you have to cancel or change your trip

Loss of deposit (e.g. non-refundable flights)

Unlimited

$5,000

Additional expenses (e.g. if you need to return home)

Unlimited

$5,000

Missed connections

$15,000

$500

Your liability if you accidentally cause damage

Personal liability

$2.5 million

$500,000

Rental vehicle excess

$6,000

$1,000
Source: Consumer NZ
What does travel insurance exclude?
However, there are also several exclusions. According to Consumer NZ, travel insurance may not provide coverage for the following situations:
Medical expenses
The policyholder is taken to a private hospital instead of a public one
Injury or illness was caused by a medical condition suffered before travelling
Injuries sustained while drunk or on drugs
The policyholder waits until they're back in New Zealand to treat an injury or illness suffered on the trip, unless advised by the insurer
The policyholder suffers a complication late in their pregnancy, which requires them to cancel the trip or seek overseas medical treatment
The purpose of the trip is getting medical or dental treatment, also called medical tourism
Personal belongings
The luggage was left unattended in a public place such as an airport terminal or hotel lobby
Valuable items, including jewellery, were stowed in the cargo hold of a plane, train, bus, or ship
The luggage was stored overnight in the rental car or if the policyholder failed to lock it in a secure compartment such as the car's boot
Bookings
The policyholder fails to check in at the scheduled departure time or obtain the necessary visas for the trip
The policyholder is aware of a specific risk that might cause the journey to be cancelled, abandoned, or shortened before they took out cover
The tour is cancelled because not enough people signed up
The transport or tour provider goes bankrupt
Personal liability
The policyholder recklessly or purposefully causes damage (for instance, while they're drunk)
The policyholder is made to pay an enforced fine rather than compensation
Travel insurance and COVID-19
In the wake of the pandemic, many insurance providers have added COVID-19-related policies to cover coronavirus-related costs. Coverage, however, varies between insurers which is why experts advise Kiwis looking for travel insurance to carefully read the fine print before purchasing.
In an interview with Stuff, insurance ombudsman Karen Stevens warned travellers that while most travel insurance policies now include new COVID-19-related cover, coverage is limited and not all costs caused by pandemic travel disruptions are covered.
"Travel insurance won't cover cancellation of travel if it's because of a government directive," Stevens said. "This means anything set in place by the government, for example, lockdowns, closure of borders, or blanket quarantines that limit leaving or returning to New Zealand because of [COVID-19]."
Policies also do not cover cancellations resulting from fear of contracting the coronavirus, she added.
Some insurance providers, like Southern Cross, offer coverage only to fully vaccinated travellers.
Read more: How the top 10 New Zealand travel insurers are handling coronavirus
How Kiwis can get the most out of their travel insurance
Much like other types of policies, travel insurance provides financial protection in the event something goes wrong. Coverage details vary from policy to policy, that is why experts advise travellers to review the fine print carefully before purchasing.
To find out how Kiwi vacationers can get the most out of their travel insurance policies, Insurance Business referred to several consumer finance groups and industry insiders for practical tips and advice. Here's what they say travellers should do:
1. Shop around and compare travel insurance quotes
Comparison websites provide a quick and efficient way to shop around for travel insurance as these give travellers almost instant access to different policy features and prices.
Travel insurance comparison site Comparetravelinsurance.co.nz said vacation-goers would be "amazed" at how much quotes can vary, adding that they can save up to 60% by comparing premium prices and purchasing directly from travel insurance companies.
"Offers by travel agents or airlines usually have commissions added on," the firm explained. "Doing your comparison online will allow you to compare loads of travel insurance quotes in seconds. The idea is to choose the best cover for your needs at the best premium."
Consumer NZ, meanwhile, surveyed premiums for comprehensive travel insurance policies offered by 15 companies and found that quotes could vary by up to $440.
"That's a night of five-star accommodation in New York City," the group said.
2. Get the right type of cover
Consumer NZ also recommended that travellers take out comprehensive travel insurance if they can afford to because although "more expensive… [this type of policy] has higher cover limits and provides cover in circumstances where budget policies don't."
For those who have multiple trips pencilled in, they can save money by purchasing a multi-trip policy, which covers unlimited trips within a 12-month period. The drawback, however, is that each trip is restricted to a maximum period, according to the consumer advocacy group.
Read more: Insurer reveals most expensive travel insurance claims
3. Take out travel insurance as early as possible
According to Tower Insurance, the sooner one takes out a travel insurance policy the better.
"Buying your travel insurance as soon as you book your tickets means you're covered if something disrupts your travel, like a delay or cancellation," the Auckland-based insurer wrote on its website. "If you take out travel insurance after you've booked your trip, there is usually a waiting period before the same protection comes into effect."
4. Be upfront and honest about the information you provide
Insurance companies expect travellers to provide accurate information when purchasing insurance. This includes disclosing any pre-existing medical condition and previous claims. Failure to do so may result in a claim being rejected.
"It's important to tell your insurer about any medical conditions you have when you arrange insurance and any ailments that develop before departure," Consumer NZ shared in its guide. "This information is important to insurers, even if you're willing to forego cover for the ailment."
"You also have a duty to disclose other factors that might influence either an insurer's decision to cover you or the terms of your cover. For instance, you tell your insurer about insurance claims you've made in the past, including claims that were denied," the group added.
Read more: Insurer refuses to pay out to traveller who chose to skip flight
5. Keep an eye out for discounts
Insurance companies offer several discounts that can help policyholders save on their hard-earned cash. These include purchasing an annual multi-trip policy if going abroad several times a year rather than buying a single-trip policy each time they leave.
"Some insurers offer loyalty discounts for pre-existing members," Comparetravelinsurance.co.nz shared. "Also, check whether your employer has a group deal with an insurance company as you may be entitled to a favourable rate through them. Group discounts usually apply for 10 or more travellers."
6. Don't just settle for the cheapest policy
"Cheapest is not always the best" is a recurring theme for each industry insider Insurance Business checked out.
"Cheap isn't always cheerful," according to Tower Insurance. "There are some cheap policies out there that give you good coverage for the price. But if you want comprehensive coverage, like unlimited medical expenses, or if you want to travel with expensive jewellery or electronics, read the policy wording to make sure you choose cover that suits your needs."
The insurer also reminded travellers to check the limits of their policies and understand what is excluded so they do not feel short-changed at claim time.