Are electric cars cheaper to insure than petrol or diesel vehicles? | Insurance Business UK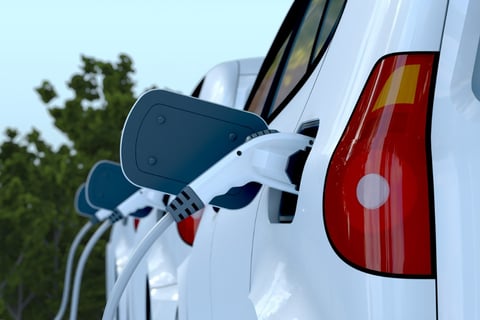 In a bid to achieve net-zero emissions, the UK government has announced in late 2020 that it is ending the sales of new petrol and diesel cars within the country's borders by 2030. And while the uptake of sustainable alternatives has yet to kick into full gear since, the ban has certainly pushed up demand for electric vehicles (EVs).
Data gathered by the Society of Motor Manufacturers and Traders (SMMT) – the motor industry's trade association – has revealed that one in six new cars purchased in the UK last year were electric as many motorists shift to greener modes of transportation. The advantages of choosing this type of vehicles, however, go beyond just environmental preservation.
What are the benefits of electric vehicles?
One of the biggest barriers preventing British motorists from switching to EVs is cost. Being a relatively new technology, there is often an assumption that electric cars are more expensive to own and insure than their conventionally fuelled diesel and petrol counterparts.
Read more: Which are cheaper – electric cars or petrol cars?
But while it is true that the upfront purchase price of a brand-new EV is often higher, drivers of this type of vehicle can achieve several financial benefits in the long run. These include:
1. Lower fuel costs
The largest savings drivers make in the adoption of electric cars comes from charging the vehicles, which costs less, instead of having to pay for petrol or diesel, according to LV='s latest electric car cost index.
Data gathered by the insurance giant shows that EV drivers pay just £467.40 on average to charge their cars annually, based on driving 8,000 miles, while those who use petrol and diesel to fuel their vehicles pay £1,199.40 to cover the same mileage – a £732, or 61%, difference.
If motorists have an electricity tariff with a reduced off-peak overnight rate, then the annual cost of charging an EV is reduced even further to just £180.59, the firm adds.
Read more: Study breaks down electric cars against their petrol equivalents
2. Tax exemptions
Because they produce zero emissions, electric vehicles are exempt from road tax and congestion charges. Drivers will also be paying just 1% benefit-in-kind (BIK) tax.
Owners of petrol and diesel cars, on the other hand, are required to pay £155 in car tax from the second year of the vehicle's purchase onwards, apart from a one-off first-year rate, which varies depending on how much carbon dioxide (CO2) the car produces. These first-year rates can reach £2,245 for the highest polluters, according to consumer rights company Which?, but can go as low as £10 for more eco-friendly vehicles.
3. Access to government grants
The UK government is offering up to £2,500 in financial assistance for buyers of electric cars worth under £35,000 under the Plug-in Car Grant (PiCG). More than half of all EVs available on the market – including the Fiat 500e, Hyundai KONA Electric, Mazda MX-30, Nissan Leaf, Peugeot e-208, Renault Zoe, and Volkswagen ID.3 Pro – are eligible for this discount.
Read more: Electric vehicles – what brokers need to know
Electric vehicle owners can also access a range of government-sponsored benefits for installing electric car charging points in their homes such as the Electric Vehicle Homecharge Scheme (EVHS) for flat owners and tenants, and Energy Saving Trust Home Chargepoint Funding for Scottish residents.
4. Lower maintenance and servicing costs
Because electric cars typically have fewer moving parts than their petrol and diesel equivalents, they are less likely to break down as they age and are also much cheaper to maintain. Average annual maintenance costs, which includes a service and replacement tyres and brakes, is almost £200 less expensive, according to LV='s index.
Are electric cars cheaper to insure?
Whether a vehicle is electric or not may not "necessarily be the main thing insurance providers consider" when determining premiums, according to the price comparison website Compare the Market. It adds that because electric cars "have historically been more expensive than petrol and diesel models, [this] naturally makes them more expensive to insure."
But the company expects the electric car market to boom, especially with the impending ban on the sale of new diesel and petrol vehicles, and when this happens, the firm anticipates premium prices for EV insurance to drop, making this type of vehicle cheaper to insure.
Read more: LV= busts common myths on electric cars
Data gathered by LV=, however, indicates that insurance for electric cars is already less expensive. The insurer's electric car cost index shows that premiums on average are cheaper for the EVs analysed at £297 compared to their petrol and diesel rivals at £310. Insurance is also cheaper on seven of the 13 vehicle pairings, with some cars, including the ID.3 and Vauxhall Corsa-e, substantially less costly than their internal combustion engine (ICE) equivalents by 22% and 33%, respectively.
The least and most expensive electric cars to insure
To find out which EVs have the least and most expensive premiums, Compare the Market averaged all quotes supplied to its customers who compared car insurance on 2021 plate models between March and May last year. According to the price comparison website, "average premium" in the table below represents the mean average of the top five cheapest prices given to a customer where they had clicked through to buy.
Here are the top 10 cheapest and costliest electric vehicles to insure based on the company's calculations.
Least expensive electric cars to insure

Rank

Brand/Model

Average premium

1

Renault Zoe Iconic R110

£230

2

Škoda Enyaq iV 60 Nav ecoSuite

£257

3

Hyundai Kona EV Premium 39kWh

£259

4

Mazda MX-30 100th Anniversary Edition

£261

5

Fiat 500 Electric Icon

£262

=6

Peugeot 2008 EV Active Premium

£264

=6

Citroën ë-C4 Sense Plus

£264

8

Škoda Enyaq iV 80 ecoSuite

£270

9

smart EQ fortwo edition one

£271

=10

Mazda MX-30 SE-L Lux

£276

=10

Nissan Leaf e+ N-TEC

£276

=10

DS DS3 Crossback EV La Premiere E-Tense

£276
Source: Comparethemarket.com
Most expensive electric cars to insure

Rank

Brand/Model

Average premium

1

Tesla Model-S Performance AWD

£4,087

2

Ford Mustang Mach-E First Edition 88kWh AWD

£3,339

3

Tesla Model-X Performance Ludicrous AWD

£3,320

4

Audi Q4 e-tron S Line Edition 1 35

£2,619

5

Volkswagen ID.3 City 150

£2,444

6

Mercedes-Benz EQC 400 Sport

£2,230

7

Audi e-tron Vorsprung Quattro 50

£2,208

8

Porsche Taycan Turbo S

£1,685

9

Audi e-tron Sport Quattro 55

£1,608

10

Porsche Taycan 4S 79kWh

£1,591
Source: Comparethemarket.com