BAE Systems global director on the five trends shaping the evolution of insurance fraud | Insurance Business UK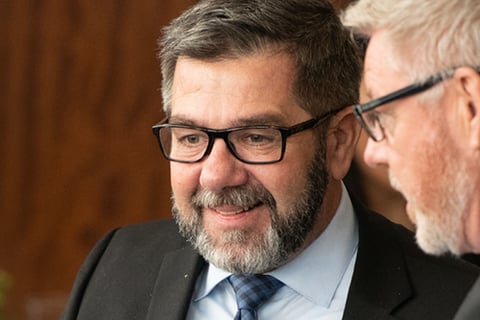 "Much the same, yet completely new." This was the subtitle of BAE System's report into 'Insurance fraud trends in 2020' and an effective summary of how the fraud landscape has changed. Discussing the report with Insurance Business, the global director for counter fraud analytics and insurance solutions at BAE Systems, Dennis Toomey (pictured), outlined the five core trends shaping the evolution of fraud within the insurance sector, as identified at the Global Insurance Fraud Summit held earlier this year.
While attending the event, he said, he was pleasantly surprised by the energy and enthusiasm of the attending organisations and by their keenness to share information globally about their best practices. A mutual concern for many within the sector has been the inconsistency of a common definition of what insurance fraud is, and the hesitancy of law enforcement agencies when it comes to detecting, deterring, and prosecuting fraudulent activity, so this kind of collaboration has proven critical.
"Fraudsters are continually evolving and adapting and we're seeing evidence of these crime groups collaborating across borders. So, if we don't collaborate as an industry, if we don't figure out a way to share intelligence and share information then we're never going to be able to keep up with them. Collaboration is extremely important right now."
Read more: Allianz and BAE Systems on insurance fraud during the coronavirus
Outlining the key trends evolving in the insurance fraud space, Toomey said that first and foremost there is currently a new era of fraud investigation unfolding. When insurance was first being investigated in the late 80s and early 90s, a lot of former law enforcement personnel were brought in as they knew how to build evidence cases and work with the system to help identify fraud.
"Things have changed quite a bit since then," he said. "Now it's a different type of investigator that's needed as the investigations are more online-focused and involve ways of gathering evidence that weren't around back in the early days of fighting fraud. What BAE is doing is recognising those changes and making sure that our user interfaces and the technology that we provide to our customers is accessible and user-friendly."
The significance of social media is the second trend which requires examination, he said, and today's investigators must acknowledge the crucial role that social media channels present as a source of data intelligence. Consumers must be educated on the dangers of putting their personal information online and advised on how to take care when it comes to these channels.
"One of the things we have noticed during COVID-19 is an increase in cyberattacks," he said. "Many organised crime gangs are used to the physical world where they can cross borders and be out on the streets and smuggle drugs or engage in other activities to keep their revenue flowing. But now that there is such extensive monitoring of the movement of people, some of these criminals are becoming more cyber related, and they're looking for ways to exploit the data and systems of other people."
Toomey also emphasised that, while ransomware has always been an issue for carriers and organisations, this danger has become further complicated by the fact that criminals are now stealing this data, rather than simply blocking it and shutting down a business's systems. There's huge reputational harm for insurance carriers that comes with the threat of making such information public, especially concerning sensitive databases such as those containing the private health information of clients.
Read more: DCI Edelle Michaels on her new role as head of the IFED
A third trend is how converging fraud and risk calls for the collapse of silos, and Toomey noted that insurers need to be conscious of the risk posed, whether these are within departments or interdepartmental, as they can enable fraudsters to execute their scams. The collapse of silos is something which is being seen throughout the market as the role of consortiums begins to evolve. The growing value that consortiums offer the insurance industry is the fourth trend, he said, as these provide insurance companies with a clear viewport of all transactions and highlight suspicious activity across multiple carriers.
"Consortiums are becoming much more needed, especially when you're thinking about cross border activity," he said. "And that's one of the main reasons that we put together this Global Insurance Fraud Summit because many regions have consortiums and they're sharing industry data within those, but they're not sharing it cross-borders. And if we are going to really have an impact on the global fight against insurance fraud, we're going to have to figure out the best way to share intelligence while staying in compliance with data regulations."
The fifth trend being spotted across the space, he said, is how the introduction of more insurance products will lead to different types of fraud. Fraudsters are always searching for new ways to evolve so, as a new insurance product comes out, they are immediately looking for ways to disrupt it. From autonomous cars to the Internet of Things to new forms of pet and travel insurance, there are multiple opportunities for disruption and many insurers do not put enough consideration into the ways that new products can be impacted by fraud.