Allianz and BAE Systems on insurance fraud during the coronavirus | Insurance Business UK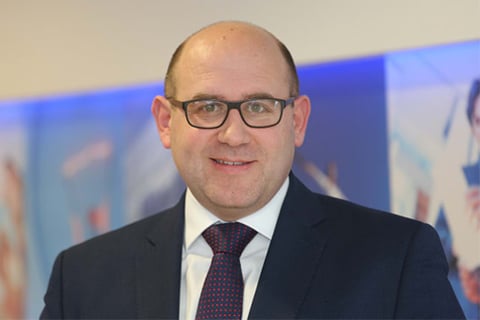 The COVID-19 pandemic has affected the insurance industry in a myriad of ways and not all of the resulting changes have been negative. Whether it's the increased flexibility and uptake of remote working arrangements and the broader understanding of the benefits of such initiatives, or the decrease in road accidents reported during the lockdown, these positives should not be overlooked.
Read more: Direct Insurance Group makes permanent work from home switch
Fraud, unfortunately, has proven to be an area that does not rest even during a global pandemic and, as noted by James Burge (pictured above), fraud manager at Allianz Insurance, tough economic times invariably mean an uptick in insurance fraud. Alongside more opportunistic fraud, such as policyholders faking claims or exaggerating the nature of a loss, the sector might expect to see an increase in liability and casualty fraud as businesses come under greater stress.
"While the UK's roads have been emptier and made crash for cash scams much more difficult to stage, there are still concerns about organised fraud," he said. "Unfortunately, there's already evidence that the fraudsters are shifting their operations, with the latest scams using hooks such as government payments and fines for breaking lockdown rules to exploit fears about COVID-19. There have also been reports of criminals knocking on doors with offers of help with shopping or prescriptions as a means to target the elderly and vulnerable."
The insurance fraud director of financial services for BAE Systems, Chris Andrew (pictured below), outlined how both in the UK and globally there appears to be a reduced level of claims in the areas traditionally associated with such activity. The flip side has been that other areas, including the travel insurance industry, have been hit exceptionally hard. The robust stance taken by many insurers when it comes to policy conditions on business interruption claims has led to group actions and lawsuits taken out against the likes of Hiscox and other insurers.
"It will be interesting to see how these play out as they could have a detrimental effect on the industry," Andrew said. "I think that these can affect the loyalty element of insurance. If people begin to distrust the insurance industry, they can become inherently disloyal and may take opportunities to recoup money that they feel they're either entitled to or that they've lost as a result of the pandemic."
One of the key challenges facing the insurance sector is that some insurers are simply not able to validate claims to the full extent that they usually would, Andrew said, particularly as some of their employees don't have full access to their usual systems. Insurers are under enormous pressure at this time to give excellent customer service, which means making quick decisions, but these must be made accurately, through the utilisation of fraud detection technology that works in real time.
Burge also highlighted this issue, outlining that while it is more important than ever to ensure that genuine customers' claims are settled as quickly as possible, it is also essential to keep tight control on fraud. Allianz's aim is to ensure that prevention and detection happen as early in the journey as possible and the insurer is utilising in-house data scientists to identify fraud patterns as well as looking into machine learning to build models which will spot suspect claims.
"Our skilled fraud teams are also key to investigations and we've only recently strengthened our application and claim fraud teams to ensure we have a greater collaboration," he said. "Data is a valuable tool when it comes to striking this balance. Simple data checks can validate the policyholder's identity and weed out those that might need further investigation. Safeguards are also in place to prevent account takeover, with a series of validation checks run behind the scenes whenever a customer requests a change of bank account."
Both Burge and Andrew emphasised the need for collaboration and information sharing to help raise awareness of insurance fraud. Insurance companies should be sharing intelligence with other insurers in their locations, with insurers from other countries and with the wider public, Burge said. Alerting the public to the risks and the type of the fraud that they might encounter, will help prevent them falling victim to a scam or ghost broker while working together with the rest of the insurance industry offers practical examples of best practice.
"The unprecedented nature of the COVID-19 pandemic means these are challenging times for insurers and their policyholders but, by working together and sharing intelligence, the insurance industry will guarantee it's even more challenging for the fraudsters," Burge said. "Collaboration can help us beat the fraudsters. By working together through bodies such as the Insurance Fraud Bureau, we're able to identify the cheats and protect genuine policyholders. Sharing intelligence will ensure that we learn from each other and are able to close down any new rackets quickly and efficiently."
In the UK, the Insurance Fraud Bureau (IFB) has been in existence since 2006 and BAE Systems is its technology partner for counter-fraud. This means the business is responsible for analysing the data provided by insurance companies and disseminating the information received regarding organised fraud from this to all UK insurers. The IFB culminated in the set-up of the Insurance Fraud Enforcement Department hosted by the City of London Police, which is another insurance-funded initiative which works very closely with the IFB and other law enforcement agencies to ensure that insurance fraud does not go unnoticed and that fraudsters are brought to justice.
"In the UK, we have a pretty robust infrastructure of collaboration between insurers when it comes to premeditated, organised fraud," Andrew said. "And that's worked well now for the last 14/15 years, and it continues to evolve as the market changes, particularly with digitisation and digital transformation programmes that are arguably making it easier for individuals to commit insurance fraud. From a UK perspective, I think the collaboration is really good. Is there room for improvement? Yes, but there's always room for improvement as, typically, we are always one step behind the fraudsters. But the collaboration in the UK is, I think, probably the best in the world."