BIBA Young Broker Award goes to Partners& exec | Insurance Business UK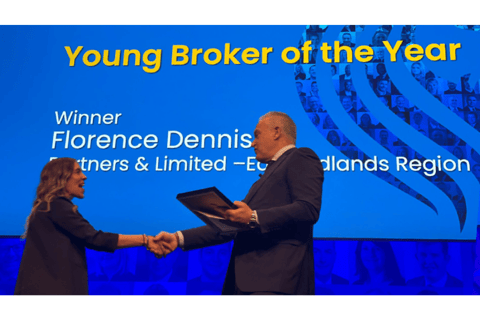 Partners& lead client adviser Florence Dennis (pictured) is BIBA's (British Insurance Brokers' Association) 2022 Young Broker of the Year.
Judged by independent insurance professionals, the BIBA Young Broker Award recognises the performance of member brokers aged 35 and below. Dennis, receiving the award during the BIBA Conference 2022 in Manchester, bested Matt McCall of Raw Material Cover Limited and New Dawn Risk Group's Francesca Vernon.
"The candidates were fantastic, and all deserve recognition for their efforts and achievements which put our industry in a strong position for the future," said BIBA chief executive Steve White. "The judges were really pleased to see Flo re-apply and take the top award after initially entering in 2016; we all believe that she is one to watch rise through the profession."
The CEO added: "Francesca has since joined BIBA's international & wholesale brokers' advisory board on the back of her impressive award entry demonstrating how today's young brokers are already having a positive impact on the sector.
"Matt was a breath of fresh air who is not afraid to do things differently and push against the status quo. He has recognised the exciting opportunities that the industry has to offer, and we look forward to watching his business grow."
Encouraging commitment to the future professionalism of insurance broking, the award looks at sector participation, aside from career progression and professional development.
Meanwhile, BIBA will be holding its 2023 conference and exhibition on May 10 and 11, still at Manchester Central.
"The overwhelming support from brokers, exhibitors, and sponsors has been incredible over the last two days here in Manchester," stated White. "It has been a joy to see our insurance community come together again to meet friends and contacts, old and new, after such a challenging couple of years.
"I would like to thank everyone who made the decision to join us and make this such a successful conference, and I look forward to seeing you all back here again next year."