Broker Network – what's next? | Insurance Business UK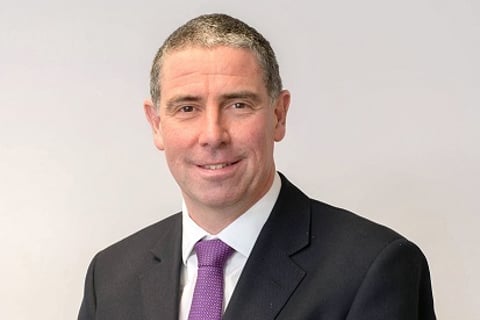 The fashionable spa resort of Harrogate in North Yorkshire proudly holds the title of the "happiest town in the UK" – and it was the power of positivity that shone through as it hosted last week's Broker Network conference.
From a captivating political discussion with broadcaster Andrew Neil to an inspiring motivational lecture from Jim Lawless, which saw an auditorium packed with brokers imitating horse riding in front of their peers, to a Gala Dinner with a beach theme that witnessed break dancing replaced with a new genre – "broke-r dancing" – there were positive vibes throughout the event, but none more so than from the network's CEO Andy Fairchild (pictured) who took the opportunity to explain just how important a role brokers continue to play in the UK insurance landscape.
"Seventy-nine per cent (79%) of commercial insurance is still written through a broker, and of the 5.7 million SMEs in the UK, 35% insure directly or through a bank, but 65% still insure through us or through a broker called a price comparison website.
"So yes, we still dominate but some of these shares are changing over time, of course. But there are opportunities too: 35% of SMEs have business interruption cover – but that leaves a lot under-insured, and the under-insurance question is one that I know many continue to comment strongly on. It's something for us to get hold of."
Fairchild split the figures into brokers with 0-20 employees, 21-100 employees and 100+ (the latter referring to barely any Broker Network members). From five years ago, the market share for the "big boys" has slipped from 59% to 48%, prompting Fairchild to question if they have a "lack of focus?" Meanwhile for brokers in the 21-100 range, market share has jumped from 20% to 28%, while smaller brokers have also enjoyed growth from 21% to 24%.
"We are winning," Fairchild concluded.
Focusing in on the Network's business, the CEO outlined how revenues have moved on from a period of decline – with like for like growth in revenues now at +13%.
"Broking written premium has gone from nothing to now £180 million," he said. "Our net promoter score has gone from -3 to +60 – it is bordering on world class. Our premier member growth is at +13% - remarkable symmetry with the +13% growth of the network. When you grow, we grow."
However, the number of members hasn't changed – that figure still stands around the 550 mark.
"We do move out about 20 members a year and bring in 20 new members a year," Fairchild explained. "We have asked a number of people to leave the network because we didn't feel their profile was right. But I promised we wouldn't make a big land-grab for members and we haven't.
"What's next for Broker Network Partners? We'll fill in our geographical gaps with 12-15 powerhouses and further strong support from our insurer partners. The message is - don't think you're too small for this. If this is the right time for you, we're ready to have that conversation."
Read more: Broker Network beefs up Partners division.
Offering further positivity for brokers, Fairchild explained that the often-beleaguered area of personal lines – in which brokers have fallen victim to everything from the "red telephone" to price comparison websites – appears to be moving back in the broker direction.
"We sense attitudes in personal lines are changing – we're seeing some market repositioning and noise from insurers on how they want to sell personal lines with us and our distribution," he said. "The models with price comparison websites are starting to get tired and difficult to manage. We have intimate knowledge of our customers and we've still got 25% of our written premium on personal lines despite all the onslaughts that we've seen over time.
"As such, we're going to launch a refreshed personal lines panel – on private car, on household and on commercial vehicle, with Ageas, AXA, Zurich and Markerstudy – you'll get fundamentally, significantly advantaged pricing through the software houses. But the big difference is that this pricing now is going to be insurer hosted pricing instead of countrywide products – developing countrywide products now is expensive and takes time. Insurers are hosting the pricing themselves meaning you get bang up to date products, insurers can change their prices quickly and respond to market changes."
Fairchild concluded that the Network's mission is still to support brokers throughout their growth stages – "it always was, it still is, and I promise it always will be," he said. Despite the barrage of competition, and the doom and gloom naysayers, the party atmosphere at the conference suggested that much like the residents of Harrogate, brokers still have plenty to smile about.