Chief executives discuss the future of insurance broking | Insurance Business UK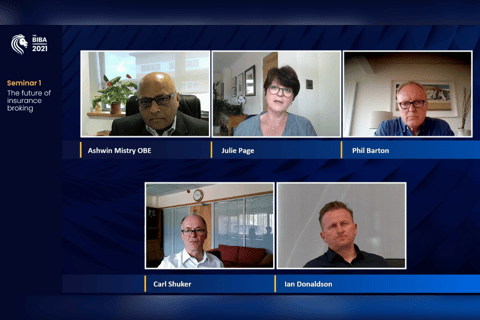 When you get a panel of senior broking leaders as eclectic and experienced as the one at the recent BIBA seminar on 'The future of insurance broking' together in one room or, as in this case, on one screen – it would be a waste not to explore the full range of opinions and expectations they hold. Chairing the discussion, Ashwin Mistry (pictured top, left) OBE, executive chairman of Brokerbility, seized the opportunity to quiz the assembled panel on the hot-button questions being asked by insurance professionals across the UK.
Read more: What does the future hold for insurance?
One such question touched on how the COVID-19 crisis has changed the expectations of insurance customers and whether the value of insurance brokers has been demonstrated during the pandemic. In response, Ian Donaldson (pictured bottom, right), CEO of Atlanta Group, noted that there are increased expectations around brokers being more flexible and more available. This means being there for customer according to their timeframe and not just within the standard nine to five office hours, he said, because that nine to five day has shifted across many industries. Donaldson's main focus, therefore, is on making sure that his team is there to offer the right advice and to be clear and transparent at all times, via any accessible channel, be that telephony or digital.
"I think our investment in digital and data has made us very accessible at a time of real need," said A-Plan CEO, Carl Shuker (pictured bottom left). "Our average call answering time never dropped below 20 seconds which meant we were accessible in ways that consumers didn't expect. I'm just delighted with the way our teams have responded. And as Ian said, we're building proper relationships with our clients and treating them like humans, rather than just policies. And that is good for us, and for our colleagues, and for the business."
Adding to the discussion, Phil Barton (pictured top, right), CEO of Partners&, stated that the pandemic had emphasised the role of the broker as the conduit between the insurance contract and the client. It had highlighted the need for brokers to work harder to enable clients to understand what they're actually buying, he said, and this advice piece is the key part of any discussion about the future of insurance broking.
Read more: CII appoints Aon UK CEO as president
The broking model is inherently unique, added Julie Page (pictured top, centre), CEO of Aon UK, as the level of engagement that brokers have with clients is much longer and greater than other elements of the insurance ecosystem. Brokers occupy the space where advice and understanding must flow through both ways, she said, and if there's one thing COVID has shown it is that words really matter.
"The words in policy wordings have been the conversation of the last 12 months," she said, "and I think many, particularly smaller ones, who buy without that engagement, are getting confused at just the name of the product, let alone the words that sit behind it. So, we have a very meaningful role in making sure that our clients know what they're getting and why they're getting it."
Read more: Atlanta Group reveals acquisition of Marmalade
Mistry also raised a question on the minds of individuals across the entire spectrum of insurance services – is the hard market warranted now that insurers have repaired their balance sheets? Donaldson addressed this first, highlighting that it's not a case of 'all or nothing' but, rather than this, change is warranted in some markets but not in others. Different insurers have different approaches, he said, with some enjoying good ratios in this period in the motor segment while taking a hard hit in other areas like property.
"Those with these varying books of business are challenged," he said, "while with an overall motor book, not so much. But I think a hardening market is not a bad thing overall, anyway, given where we've been pre-pandemic."
Corrections that have occurred in the market have been deep, Page said, and it has been difficult for clients to deal with, but there's no denying the need for some degree of correction. She noted that the degree of the correction needed is variable, however, and emphasised that it depends largely on the product and the market in question.
"But we have a very, very competitive marketplace," she said. "So you can be sure that at the point at which the market feels it can start to bring it back down again, it will do so. I just think there has been a 'peak issue' that been difficult to manage with clients."