Dive In launches with a bang | Insurance Business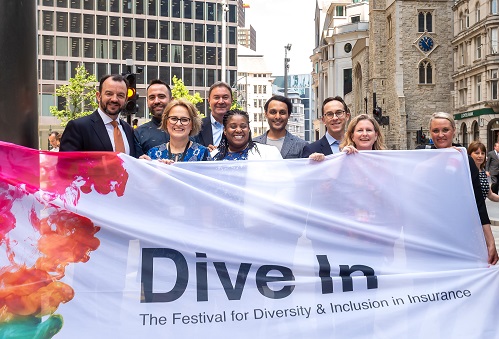 If you were standing outside Lloyd's of London at around 1:10pm on Thursday, you would be forgiven if you thought you had stumbled on a new hip street festival.
A large crowd of people were standing around drinking (free) coffee, watching drummers standing on the steps of the infamous 80s building.
Then, as the drumming finished, suddenly a siren could be heard, and young adults streamed in from the crowd to start dancing to pop music. The routine had onlookers in awe as the teens performed multiple styles of dance and even pulled off some backflips.
So, what exactly was going on at Lloyd's?
It was, of course, the launch of the fifth Dive In Festival, designed to promote diversity and inclusion in the insurance industry. And this year the event ensured it made some noise to draw attention to what will be the biggest festival yet.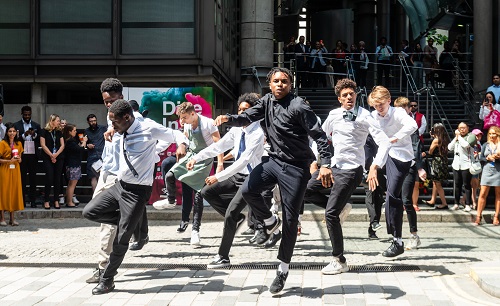 Pauline Miller, head of talent development and inclusion at Lloyd's and part of the Dive In central committee, has been on board from the start of the festival and seen it explode.
"It's just grown from year one in London with 1,700 participants to now our fifth year in 33 countries," she said.
Countries represented in 2019 include Saudi Arabia, Australia, Japan, Bangladesh, South Africa, the United States, Slovakia, Bermuda and Taiwan. Nigeria, Bahrain, Turkey, Oman and Indonesia are all also hosting events for the first time this year. The UK events will be held from September 24-26.
The festival has come a long way since 2015, when it started from conversations happening as part of the Inclusion at Lloyd's group.
"We signed up some 60 firms to give a mandate around inclusion at Lloyd's, which was really a mandate to act," Miller explained. "The five-year plan at the time was really to engage that commitment, so year one was about getting commitment, year two was about raising awareness."
Asked if there was any pushback on trying to get Dive In off the ground, Miller said that 'no', there wasn't - that organisations realised that diversity and inclusion was something that they needed to be better at.
What was surprising, she explained, was more how rapidly the festival was able to expand and how quickly everyone in the industry jumped on board from year one.
"I don't think there were any barriers or resistance to having a diversity festival," Miller said. "I think what was probably more shocking was how big it became just in that very first year.
"The escalators and the lifts being branded - I don't think anybody had really seen something like that. Tickets sold out in a matter of hours for some of the events."
Now, for 2019, in London alone there's too many events to count over the three-day festival. But what are Miller's top picks?
"I'm really excited that we have Sir Trevor McDonald, I have to say," she said. "He is a legend in his career, he's tackled lots of different things in his own career but has seen lots of different things.
"So, to have him interviewing Lloyd's CEO John Neal, along with some other CEOs - that is really powerful to have that dialogue and discussion around what we need to do to maintain that momentum, maintain the visibility of diversity and inclusion. Because we are making progress."
She's also excited to have Ben Cohen, the founder of the Stand Up Foundation, coming back, as well as Zoe Lyons heading the comedy night.
But one of the biggest things, Miller said, was parterning with the Bank of England for a CEO dinner.
"A huge highlight for us this year is a CEO dinner. It's hosted by the Bank of England and the governor will be providing the opening remarks," she explained.
"I think that when you are able to partner with the Bank of England to talk about diversity and inclusion, and to celebrate the work that we've done in the Dive In space, for me that says that we truly are at that point that we can really shift the dial."