"I'd be a hypocrite not to get involved" | Insurance Business UK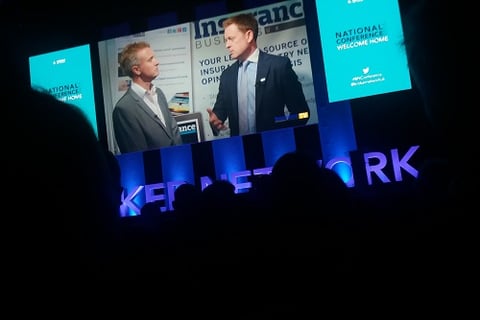 It's getting close now. October 10, 2019 is little over a month away – and that's the date that Insurance Business brings its worldwide roadshow Women in Insurance event to London for the second successive year. It's an event that has earned industry-wide praise and has already made stops this year in places like Toronto, Auckland and Sydney, while over the coming days it visits Chicago, New York and San Francisco.
This time around in London, the event promises to be bigger and better than ever before – now introducing an awards element to cap the day's proceedings. Still if there is one definite "area of improvement" for the event it's that in 2018 not enough men got involved. That's why this time around the likes of Jason Groves and Christopher Lay of Marsh will be joining the speaker line-up, while among the panel of judges for the awards ceremony is none other than Bravo Group CEO Des O'Connor (pictured above) – a firm champion of the cause.
"I'd be a hypocrite not to get involved when I am the father of four daughters – Hannah, Ella, Niamh and Kayleigh," he said. "I want to pave the way for them to be in a progressive and safer workplace. That is my duty to them.
"All I think you can need to know is that mindsets can't change overnight. By hosting awards, it will raise the profile and get things on the CEO/leadership agenda as quickly as possible. Hopefully it will get to a point where you don't need a 'women in insurance awards'– where it will just be an 'insurance awards.' But for now, it's a necessary step to keep raising the agenda of the female workplace."
Still while events like these exist to put the issue in the spotlight, it's another thing altogether to put those inspiring words into action. Yet O'Connor believes it can be more straightforward than it seems.
"In terms of our decision making around who we hire and who we promote it's through the lens of being talent focused and talent led," he said. "My first three appointments on to the Bravo executive committee were female promotions - Bethanny Ash, Clare Wakeford and Susan Adcock - because they were the best at what they do within the group.
"I think we take a progressive, balanced approach to recruiting in general – the more diverse workplace you have, you're going to get better idea generation, differing and more balanced viewpoints. We know BIBA, the ABI, the CII are driving change in the marketplace with forward thinking and I think as a company we are right up there with them. From our population of nearly 800 people, 54% are women and our executive committee is 40% female. Ultimately, talent prevails."
Still, for the average broker – perhaps even one within the Bravo Group's own Broker Network – if you have a successful business made up of just male employees, why should you consider change?
"Like everything in life it's balance," O'Connor responds. "If you have a small broking house in Leamington Spa, 10 employees with 10 males - it doesn't feel right. Same with having 10 70-year-olds. With any great team you need balance. All great teams have a diversity and spread of viewpoints and ideas.
"I've seen it in the past. In previous businesses – I had eight great years at Gallagher and worked with some really high-profile females there - when you surround yourself with a strong female presence, they have an alternative view that can bring some balance to the egos in the room. They can look at scenarios through a different lens and can provide a more balanced response to a crisis situation or an opportunity."
But how do businesses actually go about attracting that female talent? How can brokers break the mould and the stuffy image that exists of them all being middle-aged men in suits?
"You have to develop a track record first," O'Connor said. "Validate that you have a progressive way of working and how you treat women in the workplace – starting by promoting from within.
"Make an effort too, to cast your net widely – interview males and females, treat them all fairly. If you're promoting your female talent, it's a talent focused agenda as opposed to a gender biased agenda which will be appealing. Start with how you recruit, evolve it with how you treat your female talent and then you have a greater chance of bringing in more talent."
Ultimately, O'Connor believes that the insurance industry is genuine in its efforts to make changes – despite the recent negative headlines surrounding alleged sexual harassment issues at Lloyd's of London. But there is still a long way to go.
"If you look at the FTSE 100 – it was a surprise to me that there were only around six or seven CEOs," he said. "You have more chance of working for a CEO called Steve than you have of being a female CEO. It's quite stark.
"Obviously though, it doesn't happen overnight – but I think it's definitely changing. In the insurance market we have really strong, progressive leaders – it's talent first, gender nowhere. Of course there's a long way to go – but it is improving, definitely."
Why don't you get involved in the movement? Join us at the Women in Insurance Summit on October 10.