Think the CII and PFS are heading for divorce? Think again | Insurance Business UK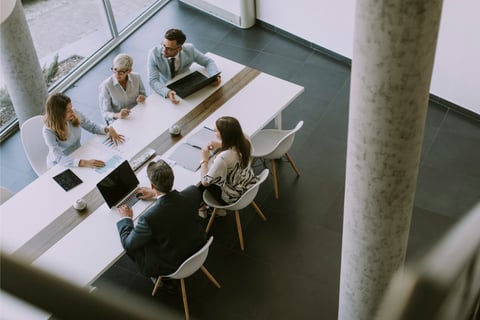 The Chartered Insurance Institute (CII) and Personal Finance Society (PFS) remain at loggerheads over a controversial board "flood" move, but its member leadership is under no illusions that full-fledged divorce (amicable or otherwise) is an option, attendees at a Friday PFS webinar heard.
"It's not a discussion," Gordon Wilson, PFS member director, said of any potential split amid a tense standoff.
"I don't think there's a pathway, I don't think the articles [of association] allow it, and I don't think it's in the interests of PFS members, given that we rely on the CII for the chartered status and for the SPSs [status required by the financial regulator]."
PFS members are consulting on a CII move to take majority control of the former's board due to what the parent organisation has claimed are governance failings. The row has led to allegations of financial mismanagement and bullying against the latter.
"It's got to be about control and money," Wilson said.
PFS campaigners have called for an extraordinary general meeting (EGM), and they could be edging closer to a 2,000 letter advisory meeting trigger point. Around 1,500 individuals had written in as of Friday, according to webinar figures. The virtual event itself pulled in at least 400 questions, according to PFS panellist comments.
It may not be the golden EGM ticket, but as of Friday 2,000 individuals out of 40,000 members had responded to an ongoing PFS survey, launched last week, on the changes, according to the PFS member representatives. That responses have outstripped the number of those for the CII's 2021 wider membership consultation "demonstrates the passion" existing within the smaller organisation's membership, said panellist Sarah Lord, PFS past president and board advisor.
Failings and finances
During the webinar, PFS representatives repeatedly said that they had not been shown evidence or received an adequate explanation of the "governance failings" alleged by the CII, with finances a hot button topic.
In response to an audience question, PFS member director Vanessa Barnes said that were the PFS to recall a £10 million sum held by the CII, something that would require board agreement, this could have "catastrophic" consequences for both organisations.
"I wouldn't seek to do anything that would cause that potential catastrophe," Barnes said.
Since 2021 and into 2022, the CII has approached the PFS with multiple "loan requests", attendees heard. An initial request for the PFS to serve as a bank loan guarantor for the CII was made in the same March 2021 meeting in which the PFS board was asked to consider deregistration and told that its CEO role would not be filled. Subsequent requests followed, for values of "varying amounts", Lord said.
The PFS, acting on legal and accountant advice, was unable to sign off a loan request because information provided "at times was inconsistent", while key considerations included "sensitivities around the repayment of the loan", Lord said.
Dragging the profession into "disrepute"
The rift was said to be "causing significant damage both to the CII and PFS" by PFS CEO Don McIntyre, also on the webinar.
"I also feel this is bringing the profession, of which you are all members, into disrepute," McIntyre, who has been in post since last August, said.
"I completely feel that this has to stop and we have to move forward."
If both parties don't get back to the table and negotiate, McIntyre said that the damage could "eventually be irreversible."
CII CEO Alan Vallance, who like McIntyre took up his post in August, reiterated assertions that there are no plans to deregister the PFS and maintained that the board shakeup was due to subsidiary governance failings.
"The preferred step has always been to sit down with PFS representatives, work through the details of all of those governance issues and find a … way forward," Vallance said in an introductory speech.