What are the new insurance fraud trends to be aware of? | Insurance Business UK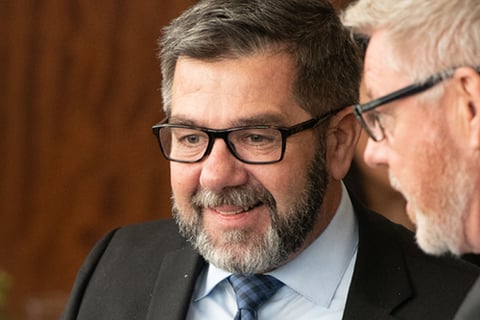 Forget Gordon Gekko's assertion about money, Dennis Toomey (pictured), the global director for counter fraud analytics and insurance solutions at BAE Systems, can attest that it is in fact insurance fraud that never sleeps. This is perhaps why this year's Global Insurance Fraud Summit, which involved 40 speakers from 28 countries enjoyed a record number of attendees.
The number of countries taking part is close to double what it was last year, he said, and highlights one of the key messages of the summit – that it doesn't matter where you are in your fight against insurance fraud, it only matters where you're going.
"The vision of the Global Insurance Fraud Summit is to convene industry organisations, consortiums, insurance fraud and crime bureaus, regulators and thought leaders from around the world in one location to really formalise the global fight against insurance fraud," he said. "We bring them together to give them the opportunity to network, collaborate and share intelligence to figure out ways to better fight insurance fraud."
Over the four-day conference, an enormous variety of topics on everything from the regulatory landscape surrounding the issue, to the impact of COVID-19, were deliberated on by senior figures in the insurance fraud space. Discussing the key takeaways from these discussions, Toomey noted that the five key trends highlighted as shaping the evolution of insurance fraud at last's year's summit still ring true today.
The difference is, he said, that further trends have also arisen in the intervening time, one of the biggest of which concerns telemedicine and the rise in virtual appointments in the healthcare industry. This is a particular concern in the United States where telehealth visits have gone through the roof during COVID-19, which is opening the health insurance industry up to a range of regulatory concerns including whether a doctor is licensed to operate in the state that they are working in, whether privacy is being protected adequately and whether the consumer is being safeguarded.
"One of the other key things is an increase in auto theft and fire," Toomey said. "Something that happens when the gross domestic product numbers go down, is that fraud goes up, and that's typical. And in the UK, in 2008, they saw a 7% increase in fraudulent activity while the GDP went down in double digits. So now, with this recession being one of the worst that most of us will have seen, we're expecting a lot more fraud to happen. And when we say a lot more fraud, we're talking about that whole fraud continuum - from opportunistic, to organised or premeditative."
Read more: Allianz and BAE Systems on insurance fraud during the coronavirus
The dire financial straits of the COVID crisis and the recession will drive a lot more people to commit opportunistic fraud, Toomey said, where claims are padded and losses are exaggerated by people attempting to keep their head above water. On the other side of the spectrum, there remains a similar pattern of staged accidents and organised fraud which is not going to go away. He noted that organised fraud appears to be becoming more sophisticated, with cross-border techniques being utilised, and that telemedicine may help propel that.
"All the same old fraud is still going to be there, from staged accidents, to arson to property, and it's even more likely now in commercial residence due to the impact of COVID," he said. "With all these businesses going under, we're thinking that the industry trend is going to be an increase in those types of fraudulent activities."
Read more: "Insurance fraud can often be seen as a victimless crime"
A central aim of the global summit, he said, was to devise a strategic global plan to combat insurance fraud that includes regulators and law enforcement personnel. Collaboration is not simply a means of preventing and fighting insurance fraud, it is the very best way to do so. The presence of so many countries at the summit, Toomey said, was recognition of the reality that insurance fraud is not localised within any individual country and that to operate in a silo is a losing battle.
"Every country that attended was more than willing to share best practices and knowledge, and to participate [in discovering] how we are going to operate in the future when it comes to sharing intelligence and investigating the types of fraud that we're going to be seeing and are currently seeing," he said.
"Trends that are happening in the United States may not be happening in Europe, or South Africa, or the Asia-Pacific region and vice versa. So, if we can have some way to communicate and collaborate like this, to be able to share those trends, to watch for things that are travelling across the globe back and forth, it's going to have the biggest input. Because the most important thing that we're trying to get out of this is how can we make it as difficult as possible for these fraudsters to take advantage of our industry? And the only way we're going to answer that is if we do it with a united front."