What UK homeowners need to know about flood insurance | Insurance Business UK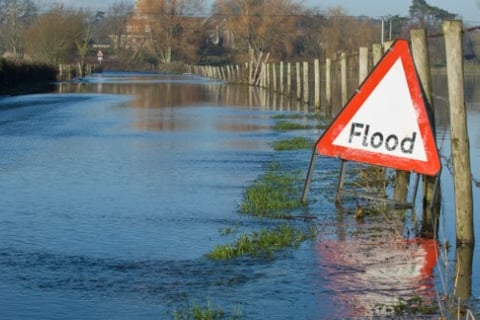 A rising number of UK homes now face a greater risk of flooding as climate change continues to trigger an increase in catastrophic weather occurrences – a trend that experts expect to carry on in the future.
In England alone, there are more than 5.2 million properties exposed to flood risk, according to data from the Environment Agency (EA). The non-departmental public body predicts the figure to rise in the next few years due to increasingly volatile weather.
Separate research conducted by insurance giant Aviva in 2020, meanwhile, revealed that about 14% or one in seven homes across the country were at risk of flooding. A more concerning finding, however, was the lack of awareness homeowners have of the danger they were facing.
The study found that more than two-thirds, or 67%, of Brits living in flood-prone areas were unaware of such risk. Only a tenth of the residents surveyed were aware of the potential hazard, while the rest believed their properties were at low risk of flooding.
Read more: Revealed: 10 areas in the UK with highest climate-related flood risk
How can homeowners know if their properties are at risk?
UK homeowners can access various online resources to find out if their properties are residing in flood-prone areas. The websites are administered by different departments across the country, namely the EA in England, Natural Resources Wales, the Scottish Environment Protection Agency (SEPA), and Rivers Agency in Northern Ireland.
To get an outline assessment of the flood risk of their properties, users just need to go to the department's webpage and key in their postcode in the search box. The results page will show if their homes are exposed to:
Surface water flooding
Flooding from rivers or the sea
Flooding from reservoirs
Are all floods the same?
According to Aviva's report, one common misconception people have about floods is that they are all the same. The insurer then detailed the different types of flooding experienced in the UK. These are:
Surface water flooding: Also known as pluvial flooding or flash flood, this is often caused by heavy rain, or when excess water cannot be absorbed quickly enough often due to blocked drains or concrete driveways and roads. This is the most common type of flooding in the UK, affecting more than one in ten (12%) properties.
River flooding: Also called fluvial flooding, this usually happens when a body of water, like a river, bursts its banks because of heavy rainfall. When river floodwater enters a home, it can be deep and take a while to subside, which means the drying out process can take longer. It may also contain sewage, so affected items must either be disposed of or decontaminated.
Coastal flooding: This occurs when extreme weather and high tides lead to a rise in sea levels and tidal surges, overtopping coastal defences. Seawater can cause significant damage to buildings.
Groundwater flooding: This is a result of the water table becoming saturated that the ground cannot absorb any more water. The water then rises causing a flood. Groundwater flooding often takes a long time to build up and is less common in the UK.
Read more: LV= GI, think tank urge government to ban home developments in flood-risk areas
What does flood insurance cover?
Given the risk, it is important for UK homeowners to get some form of protection. Most buildings and contents insurance policies provide flood cover as a standard inclusion. Flood insurance covers the home and its contents against water damage typically caused by heavy rainfall, a river or canal bursting its banks, and storms and high tide.
Under buildings insurance, flood cover typically includes the costs of drying out the property, removing debris, repairing the home and its permanent fixtures and fittings such as kitchens, bathrooms, toilets, sinks, and internal doors.
For contents insurance, coverage includes the cost to repair and replace furniture and furnishings, electrical goods and equipment, and other personal belongings. Some policies offer cover for goods stored in outbuildings, but only up to a certain limit.
Flood cover may also pay out accommodation expenses should policyholders need to evacuate their properties due to flooding.
What is excluded from flood coverage?
Flood insurance typically covers water entering the home from outside. Water escaping from inside the home such as those from burst pipes, leaking appliances, washing machines, and overflowing toilets is often excluded, although some insurance companies provide coverage as optional extras. Many of these issues may also be covered by the "escape of water" section of a home insurance policy.
Read more: Flood Re chief: 'Climate change is a real risk now'
What is Flood Re and how does it work?
Previously, Brits living in high flood risk areas found it difficult to get coverage or had to pay exorbitant premiums to secure one. This changed in 2016, with the establishment of Flood Re – a government-backed reinsurance scheme that gives homeowners in flood-prone areas access to affordable buildings and contents insurance.
To date, about 90% of home insurance providers use Flood Re to take on high-risk customers, according to the consumer information website Which.co.uk. These include Admiral, Aviva, AXA, Churchill, Direct Line, Halifax, HSBC, LV=, Lloyds Bank, More Than, Nationwide, and Privilege.
Not all types of properties, however, are covered by Flood Re. Commercial properties, homes built from 1 January 2009, and blocks of more than three residential flats are among the exclusions.
How much does flood insurance cost?
One of the biggest factors that impact the cost of flood insurance is the property's proximity to water. According to the comparison website GoCompare, premiums for a home insurance policy with flood cover for those who live within 150 metres of water average £196. The price goes down to £155 if the building is 400 metres away. For properties between 150 and 400 metres from the water, homeowners typically pay about £175.
Read more: How flood risk impacts home insurance premiums in the UK
How can homeowners safeguard against flooding?
Which.co.uk listed two ways experts say UK homeowners can protect their properties from flooding – often called "resistance" and "resilience" measures. Flood resistance measures refer to changes that homeowners make to the properties to keep water from entering, while flood resilience measures refer to changes designed to reduce the damage floodwater does once it gets inside the property.
Some flood resistance measures include installing flood barriers or flood-proof doors, airbrick covers, and non-return valves into drainage pipes to avoid sewage back-up into the house.
Meanwhile, among the flood resilience tools homeowners can use are water-resilient paints and plasters, raised electrical sockets, and pumping systems.