How flood risk impacts home insurance premiums in the UK | Insurance Business UK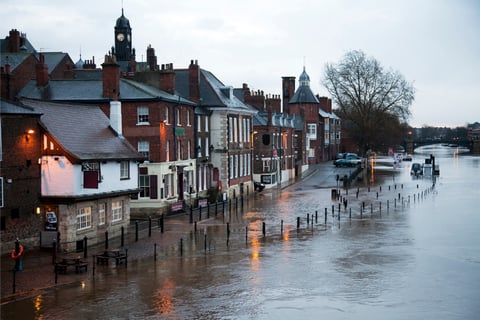 One in six properties in the UK is at risk of flooding, according to data gathered by the British Insurance Brokers Association (BIBA) – a figure that the organisation expects to rise with climate change triggering an increase in catastrophic weather occurrences in the past few years.
The situation has raised concerns among the country's homeowners, many of whom fear the potential impact the worsening weather-related events will have on their properties.
In a recent survey, Compare the Market has found that more than two-thirds, or 67%, of respondents were worried that climate change would increase the risk of flooding in their homes.
Read more: Flood Re chief: 'Climate change is a real risk now'
The price comparison website polled 2,004 UK homeowners last month, with almost a fifth of those interviewed saying that they have experienced flood damage. Despite the risk, survey results have shown a gap in some homeowners' knowledge about their vulnerability to flooding, with 23% of respondents admitting they have not checked to see whether they live in a high flood-risk area.
"We are already seeing the effects of climate change on British weather," said Mubina Pirmohamed, head of home insurance at Compare the Market. "Severe weather events can be devastating to homes and damage can cost thousands of pounds to fix."
"With storms and flooding becoming more frequent, it's a good idea to review your home insurance policy and we would urge homeowners to check if they are living in a flood-risk area," she added.
Who is at risk of flooding?
UK homeowners can access various online resources to find out if their properties are standing on flood-prone areas. The websites are administered by different departments across the country, namely the Environment Agency in England, Natural Resources Wales, the Scottish Environment Protection Agency (SEPA), and Rivers Agency in Northern Ireland.
Additionally, the Environment Agency has created different flood zone categories, although these are designed primarily to aid local planning and only refer to flood risk from rivers or the sea, and not all rivers are included.
Flood zone 1: These are areas that have been shown to be at less than 0.1% or 1:1000 chance of flooding in any given year.
Flood zone 2: These are areas that have been shown to have between 0.1% and 1% (1:1000 and 1:100) chance of flooding from rivers and between 0.1% and 0.5% (1:1000 and 1:200) chance of flooding from the sea in any given year.
Flood zone 3: These are areas that have been shown to be at a 1% or greater probability of flooding from rivers or 0.5% or greater probability of flooding from the sea.
Read more: Is the tide turning when it comes to flood insurance?
What causes flooding?
According to Compare the Market, although some areas are more likely to experience flooding, it can happen almost anywhere if there is enough rainfall. But apart from heavy rain, floods can come from a range of sources, including:
Rivers: Can cause flooding when a watercourse is overwhelmed by too much water draining into it.
Coasts: A combination of high tides and storms can cause flooding.
Surface water: Caused by heavy rainfall and one of the most predictable types of flooding.
Sewers: Causes flooding when sewerage systems are overwhelmed by heavy rain or become blocked.
Groundwater: Flooding happens when water in the ground rises above surface level, it is more likely in areas with chalk or sandstone bedrock.
What kind of protection does flood insurance provide?
Most buildings and contents insurance policies provide flood cover as a standard inclusion. Flood insurance covers the home and its contents against water damage typically caused by heavy rainfall, a river or canal bursting its banks, and storms and high tide.
Under buildings insurance, flood cover typically includes the costs of drying out the property, removing debris, repairing the home and its permanent fixtures and fittings such as kitchens, bathrooms, toilets, sinks, and internal doors.
For contents insurance, coverage includes the cost to repair and replace furniture and furnishings, electrical goods and equipment, and other personal belongings. Some policies offer cover for goods stored in outbuildings, but only up to a certain limit.
Flood cover may also pay out accommodation expenses should policyholders need to evacuate their properties due to flooding.
Read more: New flood plan revealed – insurance industry reacts
Previously, Brits living in high flood risk areas found it difficult to get coverage or had to pay exorbitant premiums to secure one. This changed in 2016, with the establishment of Flood Re – a government-backed reinsurance scheme that gives homeowners in flood-prone areas access to affordable buildings and contents insurance.
To date, about 90% of home insurance providers use Flood Re to take on high-risk customers, according to the consumer information website Which.co.uk. These include Admiral, Aviva, AXA, Churchill, Direct Line, Halifax, HSBC, LV=, Lloyds Bank, More Than, Nationwide, and Privilege.
Not all types of properties, however, are covered by Flood Re. Commercial properties, homes built from 1 January 2009, and blocks of more than three residential flats are among the exclusions.
How does flooding risk affect home insurance prices?
In Compare the Market's survey, 16% of respondents who purchased home insurance in 2021 lived within 400 feet of water. Based on the survey results, their home's location increased home insurance premiums by an average of £28, or 15%, compared to those who lived further away from water.
The average home insurance premium for homeowners living closer to bodies of water cost £198, with the cheapest premium priced at £163, 11% more expensive than for those living further away who typically pay £145.
Read more: Insurance industry 'much better prepared' to help flood-hit customers
How can homeowners protect against flooding?
Which.co.uk listed two ways experts say UK homeowners can protect their properties from flooding – often called "resistance" and "resilience" measures. Flood resistance measures refer to changes that homeowners make to the properties to keep water from entering, while flood resilience measures refer to changes designed to reduce the damage floodwater does once it gets inside the property.
Some flood resistance measures include installing flood barriers or flood-proof doors, airbrick covers, and non-return valves into drainage pipes to avoid sewage back-up into the house.
Meanwhile, among the flood resilience tools homeowners can use are water-resilient paints and plasters, raised electrical sockets, and pumping systems.