Zurich Insurance UK calls for an end to promotion of balcony barbecues | Insurance Business UK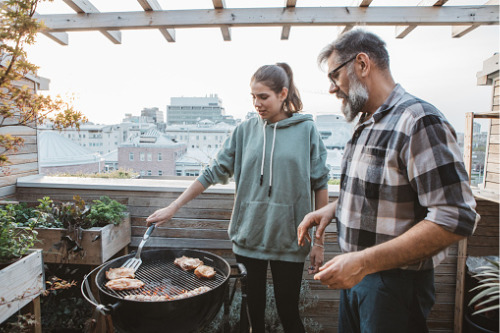 So come on, admit it? How many of you have ever held, or attended, a balcony barbecue?
It seems harmless enough – a few friends together, good company, good food, and a great way to take advantage of that rare UK sunshine. However, according to Zurich Insurance, our social nature may be clouding our judgement – with just four balcony blazes costing a whopping £9 million in damage last year.
The insurer has warned that the majority of balcony fires are caused by barbecues and discarded smoking materials with fires quickly spreading to neighbouring flats and sometimes entire buildings. Indeed with nine million families across the UK now living in flats, and London alone reporting 550 balcony fires in the last three years, the company is now stating that "barbecues should never be used on balconies under any circumstances."
"Fires not only put people's lives at risk, they also destroy homes and irreplaceable personal possessions," said David Nichols, chief claims officer at Zurich. "The £210 million which Zurich paid out for fire damage to properties last year doesn't include the emotional turmoil and disruption these events cause.
"This is why we urge people to think twice and avoid using BBQs or smoking on their balconies. Just a small ignition source, or persistent heat over a period of time can start a fire. This can happen hours after the residents have gone to bed. What's more worrying is the number of companies marketing barbecues which claim to be specifically designed for balconies. In our view these products should be banned as there is no such thing as a safe balcony barbecue."
Indeed the insurer has gone as far as to call for Government intervention after reporting a 48% rise in fire claims in 2019 compared to the prior year. Having been involved in The Independent Review of Building Regulations and Fire Safety by Dame Judith Hackett, following the Grenfell Tragedy, it now wants a "radical rethink of the whole system" including:
"Extending the combustible cladding ban to the entire external height of all residential and non-residential buildings.
"Introducing a property-safety building regulatory baseline to ensure that residents can not only escape but also have a home to return to.
"Introducing a publicly available property database to ensure that property owners, the wider public, and Fire & Rescue Services understand how a property was constructed."
It believes a programme of investment in house building can kickstart the economy and also be used to ensure more modern methods of construction are employed.