Eco activist group targets Convex Insurance boss over coal mine project | Insurance Business UK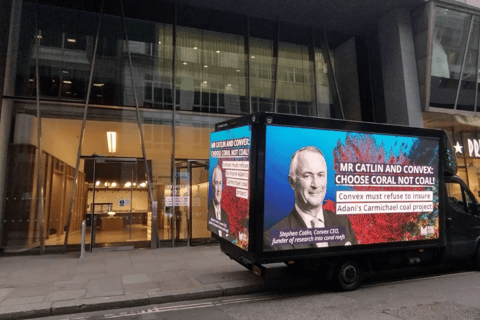 Convex Insurance chief executive Stephen Catlin has been targeted by environmental activist organisation Market Forces for continuing to provide coverage for the controversial Adani Carmichael coal mine project in Australia.
The group staged a protest at a London event attended by reinsurance professionals from across the globe using an advertising van to play a satirical video slamming the insurance boss and his company for their actions.
The move is the latest attempt from Market Forces to pressure Convex into ruling out underwriting the Adani Carmichael coal project, which the activists describe as "one of the most environmentally and socially destructive projects on Earth."
Read more: Travelers Europe rules out coverage for controversial Adani coal mine
Previously, the group published the video on different social media platforms, including Twitter, LinkedIn, and YouTube. Convex needed legal action to have the video removed, according to the activists.
Market Forces claimed has that the Adani Carmichael project "will emit 4.6 billion tonnes of CO2 — equivalent to more than eight years of Australia's annual greenhouse gas emissions — and unleash proposals for even larger mines in the Galilee Basin."
"If all these mines go ahead, the Galilee Basin alone could produce over 5% of global carbon emissions by 2030. The scale of the mine is so vast that it puts global climate targets in danger," the group added.
Mia Watanabe, UK campaigner for Market Forces, said: "Convex is trying to censor a video about their involvement in financing dirty coal projects, so we've brought the video to their doorstep to show them that they have nowhere to hide."
Read more: Climate activists target Lloyd's with a tipper truck
To date, 106 companies have ruled out underwriting the project, including 42 major insurance providers, the latest being Ascot, the organisation said.