Romero Group unveils first-ever swoop | Insurance Business UK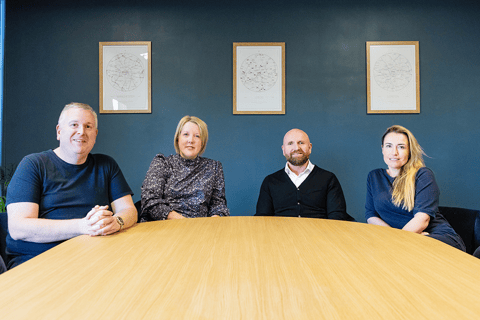 Independent broker Romero Group, which prides itself on not having external debt or investment, has made its first-ever acquisition.
In a strategic move aimed at expanding its holistic service proposition, Romero Group has snapped up human resources, employment law, and health & safety specialist Sentient Group for an undisclosed amount. The goal is to further accelerate growth by, among other things, cross-selling Sentient's complementary offering.
"It's a really exciting time for us to welcome Sentient into the Romero Group," said Romero Group managing director Simon Mabb (pictured leftmost), whose camp also announced the company's financial results. "We continue to see clients value the breadth of services we're able to provide them in-house, and the alignment between our businesses made this acquisition an easy decision to make.
"This natural fit will help us supercharge our growth and continue delivering exceptional service to our clients with the talented Sentient team. Despite there being challenges in the market, this feels like a really exciting time for our business and our teams."
Romero Group, with its headquarters in Leeds, reported gross written premium of more than £110 million – of which, over £12 million was new business – for the financial year ended May 2022. The firm's turnover grew by nearly 24% to £19.7 million in the period, while group earnings before interest, taxes, depreciation, and amortisation jumped 38% to more than £8.1 million.
"Since the inception of our business over 25 years ago, we have been laser-focussed on growing organically and investing in our people to do the best for our clients," declared group founder and chief executive Justin Romero-Trigo (pictured second from right beside group director Victoria Romero-Trigo). "I'm incredibly proud of how far we've come as an organisation, underscored by the impressive financial results we're announcing today (December 7).
"This is all down to our incredible team, and the clients that put their trust in us year after year. But we don't take this success for granted, and we invest in our growth to give us the freedom to adapt to what our clients, staff, and communities need. That's why I'm so pleased to have the freedom to invest in wellbeing and our charitable giving, thanks to our true independence."
Meanwhile Sentient director Fiona McQuillan (pictured second from left) talked about the timing of Romero Group's swoop.
"As Sentient approaches its 20th anniversary, this felt like the perfect time to join forces with Romero Group and benefit from their diligent drive for organic growth," she said. "We have ambitious plans to refresh our brand to help us showcase the fantastic work our team can do to support the wider Romero Group and contribute to the expansion of this great organisation."
Sentient is joining Romero Group businesses Romero Insurance Brokers, Club Insure, JSV Events, and We Are Wellbeing Ltd. Founded in 1997, Romero Group employs more than 250 people across eight offices in the UK.