The changing role of the broker in SME insurance offerings | Insurance Business UK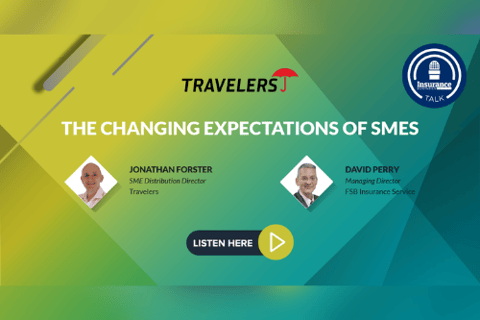 Taking the temperature of the small-to-medium-sized enterprise (SME) market is difficult given the variety of businesses that make up this space – making it all the more important to have organisations and associations working to provide insight and analysis into the ever-shifting requirements of SMEs.
Listen now: The changing demand for advice over price from SME insurance customers
Joining Jonathan Forster, SME distribution director at Travelers Europe in a recent episode of IB Talk David Perry, managing director of FSB Insurance Service highlighted the recent findings of a survey undertaken by the organisation to pinpoint the key pain points impacting the market at this time. Around 500 members responded to the poll, he said, providing a strong cross-section of the market and, unsurprisingly given the hard market, three-quarters of them are seeing price increases.
Read more: SMEs are borrowing more cash to pay for insurance premiums – report
"We're seeing a lot of that but more worryingly, a quarter of them said that they'd seen cover reductions, and a third said that they had experienced restrictions and additional terms on their policies," he said "[Another] stat that came out of that which we were quite pleased to see was that 75% of SMEs, according to our poll, still use an insurance broker. So, they're still going somewhere to find out what they should be doing and where they should be spending their money."
The team at FSB Insurance Service is seeing a marked appreciation for an "advice above price" proposition among SMEs, Perry said, especially since the start of COVID-19. These businesses are more focused on what exactly is covered by their policies, and where misconceptions might arise in terms of coverage. FSB is fielding increased calls from insurance brokers around coverage areas that are of interest to their clients – centred around new areas of coverage, such as cyber.
Read more: Travelers Europe weighs in on the cyber risk facing financial institutions
"SMEs are realising that this isn't such a simple purchase as, say, buying household insurance," he said. "There are a lot of insurtechs out there that are doing a great job. But still, at its heart, the SME product, even if it's aimed at the micro end of the market, is still quite a complex product, and businesses are complex. And brokers add, in our view, a significant value in that distribution."
Exploring how SMEs are adapting post-COVID, Forster noted that Travelers Europe is seeing much more of interest in understanding coverage from clients, as conveyed by their broker partners. The team is seeing a significant shift towards quality, he said, with brokers now more interested than ever in coverage and value - though that is not to negate the importance of price which, of course, remains vital.
"SMEs are sometimes more interested in keeping the lights on rather than what coverage they've got," Forster said. "But that is changing particularly in areas [such as] where businesses are importing [after] the changes of Brexit. And, in the last 18 months, we've seen a massive shift to working from home, which is now turning into hybrid working.
"And what does that mean going forward, when workers will potentially be moving from working from home 100% of the time, to two to three days a week? What does that mean in terms of the risk profile? And not just that, but [it's also around] the health and safety of workers who are working from home, and their mental health. New risks will start to emerge."
Adding to this, Perry highlighted that the key to having longevity as an SME business that has survived and prospered is through diversification. They've changed their model to adapt to circumstances, he said, and the team at FSB Insurance Service are seeing lots of businesses who have moved to carry out their proposition differently in response to COVID. Certain premises-based businesses are now operating on a delivery-based model, while others have changed suppliers or even opted to become producers themselves.
There have been cases where SME owners who were selling to a local audience from a bricks and mortar premises have suddenly discovered a huge worldwide market for their product via internet sales, he said, which leads to further complexities around things like territorial limits and jurisdictions. When an entrepreneur is trying to keep their business going and keep on trading, they might not even consider that they need advice on such topics, or that they are no longer sufficiently covered, which is where having the right coverage and advice on that coverage becomes so critical.
Addressing the idea that insurance does not register high on the agenda of SMEs, Perry highlighted that most of the colleagues FSB Insurance Service speak to maintain that SMEs are continuing to renew their policies and purchase new policies. Any SME owner that has spent a long time building and evolving their business is very connected to that business, he said, and they work to protect it.
"So, there's a very sensible approach to continuing to buy insurance," he said. "The piece of advice that we're really trying to get out there, over and above everything else following the last 18 months, is that your insurer, your underwriter bases their assessment of your risk on what you do. And if the last time you told them about that was 18 months ago, and now you're doing different things, remember that their 'passport photograph' of what you do is 18 months old. So, it's really important to talk to your advisor and get it to the top of the agenda, just to make sure you are properly covered and that your insurer knows exactly what you're doing now."
Listen to more of David and Jonathan's insights into the changing expectations of SMEs here