Freeing insurance data from siloes – why brokers stand to benefit | Insurance Business UK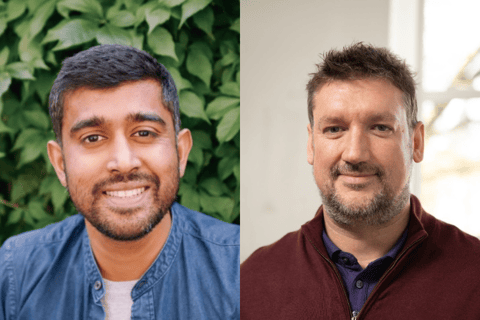 A digital transformation across the insurance industry is helping unlock troves of data from insurer's legacy systems and improve pricing and underwriting.
This process doesn't just benefit the insurers themselves, but also has positive effects down the insurance value chain, a CEO told Insurance Business.
"Insurance companies and brokers use similar datasets to make decisions," said Amrit Santhirasenan (pictured on the left), co-founder and CEO of hyperexponential (HX), a London-based software-as-a-service company that counts Aviva, Conduit Re, Canopius, and Longtail Re among its clients.
"A broker who needs to structure or price a reinsurance contract, for example, will have a very similar set of challenges as the reinsurance company," said Santhirasenan at the Insurtech Insights Europe conference.
"The goal is to make sure that when they work together and trade risk between them, they have the best data and tools at their fingertips."
HX's web-based platform, Renew, is built to harness small, sparse, and fragmented datasets and help companies create and adapt models quickly.
"Historic data remains very siloed, embedded, and distributed within our clients' landscape. So, we are focused on helping make it easier for clients to have a coherent data asset going forward," Santhirasenan said.
Pricing a top priority in digital transformation initiatives
Insurers' top digital transformation priorities have remained pricing, claims, and customer service in the past five years, according to analysis by HX.
Pricing became a more urgent priority between 2019 and 2021, unsurprising given turbulent market conditions amid the pandemic. Insurers need powerful data insights to support better pricing strategies and boost profitability.
There are still immense challenges for insurance companies in extracting data from legacy systems. But Santhirasenan argued that technology can accelerate the process of making all data more accessible in the long run.
"Each day a company uses a new system, they are accumulating fresh data that's much easier to tame," the CEO said.
"Over time, the balance of data that's locked in old legacy systems and data that sits in a modern system that can be extracted easily evens out. The data becomes much more accessible in aggregate."
Barriers to the pricing tech transformation
Despite progress across the insurance landscape, culture, education, and training remain hurdles for companies adopting new technology.
"One of the biggest challenges is getting people to engage and understand what the cutting edge looks like. We want to break down the barriers to show it's not as scary or as difficult as it looks," Santhirasenan said.
"I think so many people are tired and fatigued after years of challenging and failed projects, that they can't see modern platforms are much quicker, lower stress, lower risk, and have a shorter time to-value proposition."
Tom Chamberlain (pictured right), VP of customer & consulting at HX, said rapid tech transformations in insurance are changing more than the data processes themselves.
"The transformation side is becoming much easier [to accomplish] thanks to technology stacks. Back in the day, companies had transformation projects that would take five-plus years and may have to go on longer than that," he said.
"You can do so much more, more quickly. But it's also not just about technology, but it's changing the culture to be data-driven."
New partnership with Lloyd's syndicate
HX continues to expand its market reach, announcing a new partnership with Inigo, a specialty insurer specialising in high-risk, high-capacity insurance and reinsurance lines such as political violence and terrorism, aviation war, and energy liability.
A fast-growing Lloyd's syndicate, Inigo works exclusively with the broker intermediary market to serve some of the world's largest commercial and industrial enterprises. It plans to integrate HX's platform with its internal systems, including its underwriter workbench and policy admin systems.
Renew enables easy API integrations with third parties to enable data-driven decision-making. Following integration, Inigo expects to enjoy faster model development, reducing time to market.
Inigo's chief information officer, Erdal Atakan, said HX's "scalable and flexible solution" would help the insurer carry out its digital and technology strategy.
Do you have any thoughts about this story? Let us know in the comments below.