DUAL North America makes dual appointments | Insurance Business America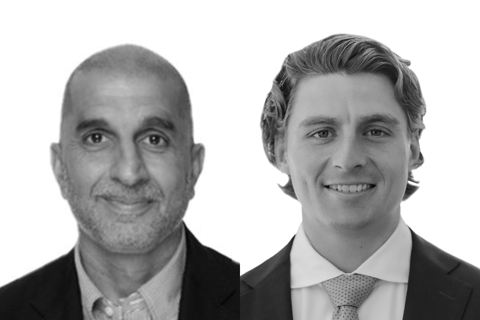 DUAL North America has made a pair of new appointments. Ranjit Jaswal (pictured left) is the company's new chief risk officer, while Luke Wolmer (pictured right) is its new senior vice president of actuarial and data analytics.
Jaswal, who worked for more than 25 years in the international financial services industry, has held consulting and corporate risk roles at market-leading companies such as Swiss Re and EY. Before he joined DUAL North America as chief risk officer, Jaswal was the managing partner for Mazars US, where he led the financial services consulting practices.
In his new role at DUAL North America, Jaswal will spearhead the company's risk and compliance operations, working with stakeholders at DUAL and the Howden Group to develop enterprise risk management strategies. As the newest member of DUAL North America's leadership team and risk committee, Jaswal will also identify key emerging risks and the appropriate responses regularly, which he will then report to the rest of the DUAL North America leadership.
Jaswal will be working from the company's New York office and reporting to John Johnson, DUAL North America CEO.
Wolmer joined DUAL late last year as senior vice president of actuarial and data analytics, supporting the company's underwriting teams in North America. Before this, he served as the property and casualty analytics lead for the North America market for Swiss Re.
Wolmer brings more than a decade of industry experience to his role, which requires him to lead, oversee, and develop actuarial services for both new and renewing programs. This includes pricing and reserving analytics and new product development. Wolmer will also guide DUAL North America's divisional leads as they set the direction of their book.
"As we continue to grow, these new roles are imperative to our success and ability to deliver on promises to our partners." said Johnson. "With operations across 19 countries internationally and 26 diversified underwriting divisions domestically, a deep understanding of our business is critical. Ranjit's guidance on potential risks to our businesses will be key in achieving long-term goals as we continue to expand and the wider market continues to evolve."
Johnson added: "Gaining insight from data is central to our continued profitable growth and Luke's actuarial expertise will be invaluable to this. Both Ranjit and Luke are excellent additions to our team whose sector experience will help ensure we are on the right track to be the premier insurance underwriting organization in the U.S."