Former insurance broker accused of fraud, charged with 90 counts | Insurance Business America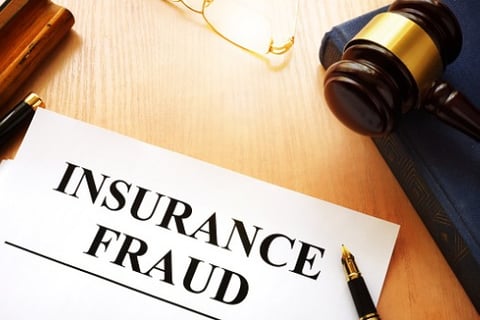 An ex-insurance broker from Lake Forest, California has been charged with 90 counts – which include grand theft, theft from an elder, fraudulent insurance benefit claims, assisting in a false claim, making false entries in records or returns, and forgery – for allegedly stealing more than $180,000 through a fraud scheme.
Karen Marie Dondanville, 53, also faces sentencing enhancements for property damage exceeding $65,000 and aggravated white-collar crime between $10,000 and $500,000.
MyNewsLA.com reported that Dondanville pleaded not guilty to the charges earlier this week.
According to court documents, Dondanville had her license revoked by the state in November 2019.
She is accused of pocketing $183,074 in "payments, insurance premiums and return premiums from 32 customers through the use of fraud, misrepresentation and forgery," from January 2012 through January 2020, California Department of Insurance investigator Braelyn Velasco said in court papers.
Dondanville allegedly offered her customers fraudulent insurance documents, which allowed her to bill them for excessive premiums. In some cases, she also allegedly used the sham documents to provide proof of insurance to mortgage companies when the customers had none, Velasco added.
Velasco also said that despite receiving her customers' premium payments, Dondanville allegedly "failed to remit all — if any — of the premiums to the victims' insurance companies, thus depriving the victims of their insurance benefits and exposing them to potential uncovered loss."
"Dondanville manipulated victims' insurance policies in order to steal premium refunds," the investigator purported. "Dondanville changed victims' mailing addresses on insurance policies to her own mailing address without the victims' knowledge or authorization."
MyNewsLA.com said that three of Dondanville's alleged victims were older than 65.
On top of forging documents, the former broker was also accused of forging her victims' signatures on documents she submitted to insurers; documents which requested the victims' policies be canceled, and the premiums refunded back to her. An investigation also found that Dondanville had submitted insurance applications for victims' properties that had falsified information, in an attempt to steal premium refunds.
The California Department of Insurance also alleged that Dondanville "substantially exaggerated" the property dwelling of a victim in order to increase the policy's premium.
"Once the insurance company received the premium from the victims' mortgage account, Donadanville requested the insurance company lower the dwelling amount and issue a premium refund, which Dondanville would divert to herself," Velasco explained.
Despite getting her license revoked, Dondanville allegedly continued to do business as a broker. But earlier this year, the California Department of Insurance adopted an Administrative Law Judge's proposed decision, which affirmed its cease-and-desist order against Dondanville and ordered her to pay a penalty of $20,000 for illegally transacting insurance without a license.