Insurance commissioner accused of trying to solicit bribe from billionaire | Insurance Business America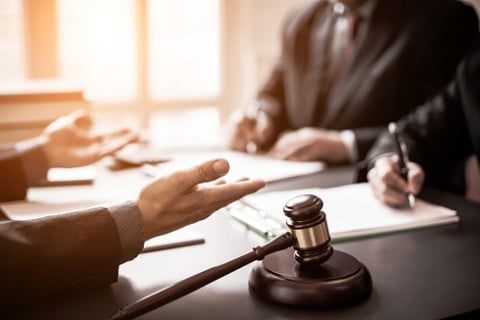 Nearly a year since billionaire financial entrepreneur Greg Lindberg and some of his colleagues were accused of bribing North Carolina insurance commissioner Mike Causey, Lindberg's lawyers are now accusing Causey of entrapment.
Lindberg and his associates John Gray and John Palermo, together with then-GOP chairman Robin Hayes, were charged April last year for attempting to wire nearly $2 million in bribe money to fund Causey's reelection campaign. An indictment said the four men promised the money in exchange for Causey removing a deputy insurance commissioner who was investigating Lindberg's Durham-based business.
Read more: Insurance boss charged with attempting to bribe insurance commissioner
Causey was aiding federal investigators in early 2018 by wearing hidden recording devices which recorded his conversations with Lindberg and his associates. Those recordings were revealed during the case's trial held this week.
But Lindberg's lawyer, Paul Johnson, argued that Causey had been repeatedly seeking private conversations with Lindberg. The defense also further alleged that the insurance commissioner had entrapped Lindberg and the other three.
Charlotte Observer reported that the defense team kept referring to a comment Causey made to Lindberg in March 2018. During that meeting, the two had discussed how the insurance department could hire Palermo (who, at the time, was still working for Lindberg) to serve as the regulator for Lindberg's company.
"I guess what I'm trying to say is what's in it for me?" Causey asked Lindberg during that conversation.
When asked by Johnson for an explanation about why he made the comment, Causey said that he did it "at the direction of the FBI agents."
"I did not ask for $2 million or $3 million or 50 cents. I asked, 'What's in it for me?' And the response came from Greg Lindberg," the insurance commissioner testified.
Johnson also argued that if Causey had transferred the regulator overseeing Lindberg's company, the change would not be "official," and thus would not count as bribery. Lindberg's camp cited a precedent in which the US Supreme Court overturned the trial court's conviction of former Virginia governor Robert McDonnell, who had been accused of bribery. The Supreme Court made its decision after ruling that McDonnell's actions were not "official acts."
US District Judge Max Cogburn Jr. did not agree with the argument.
"When someone does an act in their official capacity and it affects the people of North Carolina ... I think that's an official act," the judge said.