Mid-sized businesses' top risk concerns revealed | Insurance Business America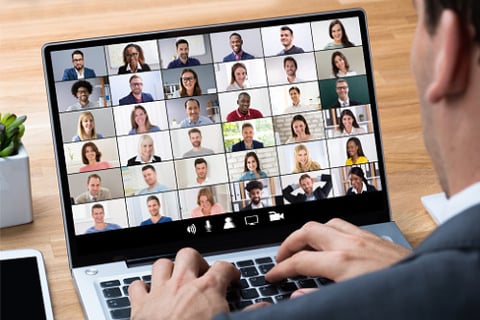 Financial, digital, business interruption and pandemic concerns are the top macro risks for mid-sized business leaders, according to a new report from QBE North America and the Association for Corporate Growth (ACG). When analyzing specific risks, or micro risks, employee-related issues were a common theme, with six of the 10 top micro risks involving employees, QBE found.
"In today's environment, it's no surprise that leaders we surveyed expressed a variety of worries about their employees," said Tom Fitzgerald, president of QBE North America's specialty and commercial insurance business. "They're concerned about how to attract and retain talent, how to keep them healthy and safe, how to pay for the rising costs of employee benefits, and how to combat internal bias and a lack of a diversity framework. They are also concerned about heightened risks of fraud and cybersecurity with so many employees working from home."
The second annual Mid-Sized Company Risk Report surveyed executives in a variety of risk management roles at companies with $200 million to $3 billion in revenue. The report discusses the macro and micro risks that most concern executives at mid-sized companies, whether companies have risk management plans in place to address those risks, and their top needs for reducing risk exposure.
When respondents were asked about their top needs for reducing risk exposure, "risk management advice customized to my industry or business" ranked highest at 56%, followed by "insurance products more customized to my business's needs" at 48%. The percentage of mid-sized companies saying they had unmet needs related to understanding and reducing their risk exposure increased to 67% this year from 58% in 2020. Interest in interacting with an insurer's loss/risk control department also spiked year over year, with four out of five respondents now "very interested" in doing so.
"Mid-sized companies are operating in one of the most challenging risk environments in recent history, and their leaders are becoming more demanding in their approach to risk management," Fitzgerald said. "They are seeking customized solutions, a greater understanding of their needs and more interaction with their insurers. We are committed to helping our mid-sized business customers and broker partners predict, prepare for, and protect against risks with solutions tailored to their unique situation."
Key findings of the report include:
While COVID-19 is still considered a top risk by business leaders, only 46% of companies surveyed have a mitigation strategy for pandemic-associated risks.
Concern about climate change has grown significantly as a macro concern since last year. The study found that concern about behavioral change and pressure from eco-friendly stakeholders has increased significantly. However, climate change is still at the bottom of the list of concerns and least likely to have a mitigation strategy.
Two-thirds of mid-sized businesses reported unmet needs related to reducing risk exposure. "Digital assets protection/coverage" topped the list at 17%, followed by "risk management expertise provided by industry" at 15%. Both were up significantly from last year.
Among the middle to bottom third of the macro risks respondents cited as most concerning, there is a gap between the level of concern and having a mitigation strategy in place. Little to no gap exists among respondents' top concerns, indicating that mid-sized companies may not have the resources to address any but their most pressing risks.
There was an overall rise in business interruption concerns this year, with "fragile supply chain risks" and "facility shutdowns" identified as the top macro risks in the category.
Regulatory/legislative risk saw the largest spike of any macro risk, jumping from eighth last year to sixth in 2021. "Changes in regulations" topped the list of regulatory/legislative concerns this year at 40%, rising to be the second-highest macro risk overall.
In litigation risks, "wage/hour violations" rose significantly as a top concern, possibly thanks to companies putting greater demands on existing employees during the labor shortage.
Read next: QBE North America, Flyreel team up to help homeowners
"By documenting the risks facing mid-sized businesses along with gaps in mitigation efforts, this research highlights areas where companies stand to benefit from outside capital and expertise," said Kathryn Mulligan, content director for ACG's Media Group. "ACG members are dedicated to driving growth in the middle market, and this report's findings further underscore the vital role for investors, insurers, and advisors in helping companies navigate an increasingly complex risk environment."