Revealed – The most and least expensive US states for renters' insurance | Insurance Business America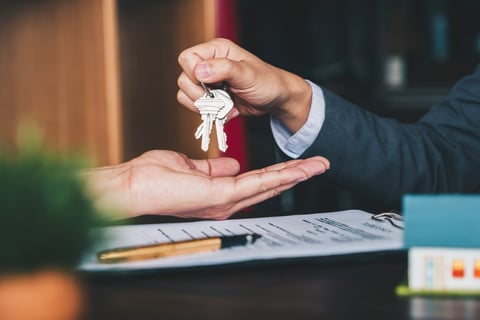 The number of renters in the US taking out insurance has been rising steadily in recent years, according to data gathered by the Insurance Information Institute (III).
In its most recent consumer poll conducted in 2020, the III's figures showed that 57% of all tenants in the country have purchased renters' insurance – the highest ever recorded in the biannual survey and more than double those in 2012 when the institute began compiling the metric. The 15% jump between 2018 and 2020 was also the largest two-year increase recorded by the organization.
California topped all states hosting the highest number of insured renter households with more than 3.8 million. The state was followed by New York with about 2.6 million and Texas with 2.3 million. Florida, with over 1.6 million, and Illinois, hosting almost 800,000 covered tenants, rounding up the top five.
The US is home to nearly 45 million tenant-occupied households, according to the latest census, and based on this figure, the III's survey findings indicate that more than 25 million of these households carry renters' insurance.
But despite the high number of insured homes, a separate study conducted by insurance giant Assurant has found a glaring knowledge gap about what tenants believe were covered by this type of policy.
Read more: Only 50% of renters realize there's affordable insurance tailored to their needs
In its 2019 consumer insights benchmark, the insurer revealed that of the 50% of respondents who had bought renters' insurance, a whopping 97% were unaware that they would be protected if their dog bites someone and 81% did not know that a rug ruined by an overflowing toilet would be covered. About 84% were also unaware that renters' insurance would pay out if a guest trips and breaks a bone while inside the rental property, and 57% did not know that coverage included temporary housing if a home was made uninhabitable by a fire in their neighbor's apartment.
Moreover, of the respondents who did not have renters' insurance, many said that the coverage was not offered to them, while some assumed the premiums would be too expensive. One in five of those surveyed also believed that the landlord would take the blame if something went wrong in their units and close to a third of respondents had underestimated replacement costs if an incident did occur.
What does renters' insurance cover?
Most renters' insurance policies offer four basic types of coverages, according to NASDAQ-listed personal finance company NerdWallet. These are:
Personal property: Covers personal belongings such as clothing, smartphones, furniture, jewelry, and other household items lost due to specified perils. These events include fire, hail, explosion, civil commotion, damage caused by vehicles, smoke, vandalism, theft, accidental discharge of water, volcanic eruption, and freezing.
Liability: Pays out for lawsuits and other legal expenses stemming from injuries to other people while on the rental property. Also covers damages to other people's property that the policyholder is responsible for.
Loss of use: Covers hotel stays, restaurant meals, and other living expenses should the policyholder need to relocate elsewhere because the rental property is under repair.
Medical payments: Often grouped with liability, this coverage pays out for a guest's injuries on the property, regardless of who is at fault.
Read more: Top renters' insurance providers in the US
Apart from these standard inclusions, renters can customize their policies with endorsements that add more coverage but often at an extra cost. These include:
Replacement cost: Pays the cost of replacing lost items with new ones.
Scheduled personal property: Covers items that are worth more than the policy's limit. These can include expensive jewelry, watches, and artworks.
Identity theft: Covers expenses associated with identity theft, including credit monitoring services, legal fees, and document replacement.
Water backup: Pays out for damage if the property's sink, toilet, or other drain backs up, sending water gushing into the unit.
Pet damage liability: Covers clean-up or repair costs for damages caused by pets.
What does a renters' insurance policy exclude?
Just like other policies, renters' insurance has exclusions. Here are some items that are not included in this type of coverage.
The physical building, which is covered by landlord's insurance.
Flood damage, which can be covered by purchasing a separate flood insurance.
Earthquake damage.
Bedbugs, mice, or other infestations.
Roommate's belongings, unless the policy is shared, which not all insurance companies allow.
Vehicular damage or car theft, which are covered by auto insurance.
Read more: Renters insurance: Your opportunity to protect your stuff
How much does renters' insurance cost in the US?
To find out which states have the most and least expensive renters' insurance premiums, NerdWallet gathered and analyzed 2021 rates for all zip codes and carriers in all 50 states and Washington D.C. The firm then based the quotes on a policy for a 30-year-old tenant living in a two-bedroom apartment with $30,000 in personal property coverage, $100,000 in liability coverage, and a $500 deductible. The hypothetical tenant was also a non-smoker and has a good credit history.
Read more: Revealed – The most and least expensive US states for home insurance
Based on NerdWallet's data, the average renter's insurance premiums in the US cost $168 annually or about $14 monthly. Rates can be higher or lower depending on the state. Here are the states where premiums cost the most and the least, according to the personal finance firm's analysis. The figures are up to date as of December 2021.
The most expensive US states for renters' insurance
| | | |
| --- | --- | --- |
| State | Average annual premiums | Average monthly premiums |
| Louisiana | $262 | $22 |
| Georgia | $243 | $20 |
| Mississippi | $228 | $19 |
| Kansas | $225 | $19 |
| Alabama | $222 | $18 |
| California | $217 | $18 |
| Arkansas | $214 | $18 |
| Oklahoma | $210 | $17 |
| Michigan | $201 | $17 |
| Texas | $197 | $16 |
| Massachusetts | $192 | $16 |
| Florida | $191 | $16 |
| South Carolina | $188 | $16 |
| Arizona | $179 | $15 |
| Connecticut | $172 | $14 |
Source: NerdWallet
The least expensive US states for renters' insurance
| | | |
| --- | --- | --- |
| State | Average annual premiums | Average monthly premiums |
| Wyoming | $101 | $8 |
| Iowa | $110 | $9 |
| Vermont | $110 | $9 |
| North Dakota | $116 | $10 |
| Pennsylvania | $116 | $10 |
| Nebraska | $122 | $10 |
| Wisconsin | $122 | $10 |
| Alaska | $123 | $10 |
| South Dakota | $123 | $10 |
| Idaho | $133 | $11 |
| Missouri | $134 | $11 |
| New Hampshire | $135 | $11 |
| Ohio | $135 | $11 |
| Utah | $138 | $11 |
| Washington | $140 | $12 |
Source: NerdWallet