Waste haulers face insurance woes amid driver shortage | Insurance Business America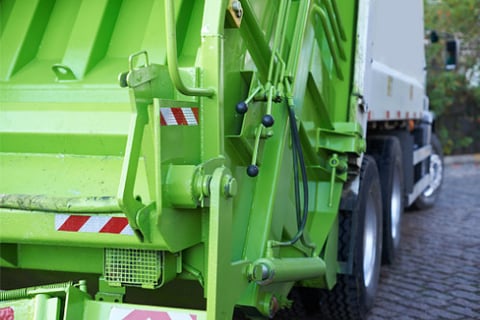 The United States generates more municipal solid waste than any other country worldwide. Modern lifestyles have triggered a huge uptick in waste production in the US since the 1960s, causing an increase in demand for waste management companies and waste haulers. Over the decades, waste management companies and private investment firms have bought up hauling businesses regularly thanks to their profitability, the robust economy, and ideal selling conditions. But fast-forward to 2021 and what was once a booming business is now an industry wracked with challenges.
The waste hauler industry, like other commercial auto operators, is dealing with a driver shortage. The Solid Waste Association of North America (SWANA) has attributed this driver shortage issue to a number of factors, all of which are also apparent in the over-the-road trucking industry. The causes include: competing demands for trucking services due to industry growth; aging workforce; low wages; low industry participation by females; tightening of eligibility requirements; and the many impacts of the COVID-19 pandemic.
Not only is the drive shortage causing problems for the waste hauler industry from an operational standpoint, but it's also presenting issues from an insurance perspective, according to Matt Andrews, associate managing director at Amwins Program Underwriters in Camp Hill, PA.
"Waste haulers are under pressure to hire drivers to keep their fleets in operation, and with the current driver shortage, they may be tempted to hire somebody that they wouldn't normally consider – and that's something that insurers will take into account when underwriting the driver pool," said Andrews. "That's where we have to be more creative as underwriters in terms of figuring out how we can insure an account if they do have to alter their hiring practices to address the driver shortage.
"Typically, we want to see drivers with a certain number of years of driving experience and a clean motor vehicle history. If an operator hires a driver who is 21 years old and only has one year of commercial driving experience, normally that would be something we'd be leery of, but we might be willing to make an exception if they're generally a strong account in a good venue, have a thorough driver training and onboarding program, solid risk management practices, and they have great loss history."
Read next: Amwins CyberUP - A unique umbrella solution for silent cyber no man's land
Amwins Program Underwriters offers one of the only insurance programs focused exclusively on the waste hauler industry. It is underwritten by a team with over 25 years of experience, who have successfully navigated the ebbs and flows of the commercial auto market through tailored underwriting, loss prevention, claims management solutions, and most importantly, by establishing and maintaining long haul relationships with carriers, retail agents, and waste haulers.
Over the past few years, as the driver shortage has intensified, Andrews has observed waste hauler operators implementing various strategies to address staffing issues. He said he's seen many operators build out robust driver training and oversight programs to help younger and less experienced drivers through their learning phase. Some operators also have a probationary period where new drivers are supervised by a more experienced colleague until they've gained enough credibility to drive on their own.
"We've also seen operators make use of telematics solutions and other things like in-cab cameras and GPS tracking within their vehicles, so that they can more proactively monitor their drivers," Andrews added. "If there are any bad behaviors being exhibited based off the data being captured, the operators can take corrective action as soon as possible, and use that data as a teaching opportunity to get drivers back to higher standards from a safety perspective."
Telematics allow companies to gather data about vehicle location, driver behavior, and real-time engine diagnostics, in turn potentially helping them to reduce their insurance premiums by minimizing risk and encouraging safer driving. Insurance companies are encouraging fleet operators to engage with telematics, especially if they've had to take on more risk to stay operational amid the driver shortage. In those cases, insurers may require telematics before they will renew a policy or quote new business.
Read more: SMIC on how schools, sports and rec have fared through COVID-19
In addition to mitigating risks associated with inexperienced drivers, telematics solutions and in-cab cameras can also help waste haulers and other commercial auto companies to resolve another big problem: distracted driving.
Andrews commented: "One thing that we're adamant about is if a driver has prior cell phone violations, that's a big red flag. We want to make sure our insureds have strict policies in place that say their drivers will not have their cell phones out while operating a vehicle, or they're at risk of termination. Distracted driving is a huge issue. It's not just exclusive to waste haulers, but we've all got to do our bit to prevent it."
Distracted driving is just one of the issues that plaintiff attorneys are eagerly pouncing upon. According to Andrews, they're also focusing on vehicle maintenance, driver data, and any information collected by the Central Analysis Bureau (CAB) - which turns data from the Federal Motor Carrier Safety Administration (FMCSA) into actionable intelligence – to portray commercial fleet operators as being negligent in disputed claims. This has resulted in a significant uptick in the frequency and severity of commercial auto claims, which, in turn, has impacted the longevity of many insurance programs for wheels-based accounts, including waste haulers.
"We're all playing in the same sandbox when it comes to the claim environment," Andrews told Insurance Business. "Commercial auto, in general, has been tough for the past couple of years, where we've had to deal with the impacts of social inflation and nuclear jury trends. There was a claim recently where the plaintiff's attorney focused in on one vehicle inspection with one violation when, from an industry standard perspective, the account was actually better than average. The attorney was trying to make that one inspection enough to paint the entire account as being a terrible operator.
"That's another thing that comes into play with the driver shortage. If you've got somebody who's a borderline risk, do you want to roll the dice and put them on the road? If they get in an accident, the plaintiff's attorneys are going to say: 'Oh, this person has a history of speeding. That's a limit loss. We want a million dollars.' These are the things that you have to consider when you're dealing with the commercial auto space."
To find out more about the Amwins Program Underwriters waste haulers program, click here.