Why do only a quarter of organizational change initiatives succeed? | Insurance Business America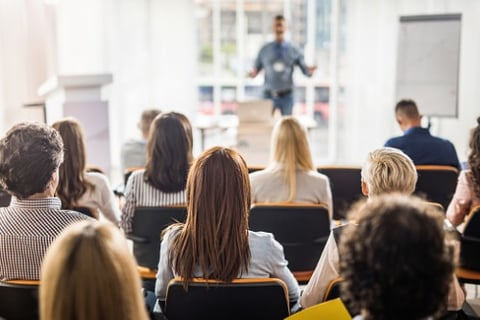 The process of implementing organizational change can be daunting for a company's managers and employees. In fact, only one in four companies view their change initiatives as successful. However, with the right leadership training program in place, frontline managers can be the stewards of change within a firm and get employees on board with updates to policies and procedures.
"When it comes to operational change, most breakdowns occur during the implementation process – whereas senior managers set direction, it's the frontline supervisor who is responsible for change," said Woody Collins, program manager for AEU LEAD, a leadership development consulting firm. "Most supervisors aren't prepared for their role in making change happen."
Without having the skills needed for frontline supervisors to get buy-in and gain support from employees, companies will struggle to make needed transitions to remain competitive or to respond to shifting client demands.
Let's take, for instance, a cell phone policy implemented by a company that dictates employees are not allowed to use their phones in the workplace. Nonetheless, employees still sneak in their phones, leading to an unsuccessful implementation of the new policy. If the executive level of the company had directed frontline supervisors to speak with employees and get their input on the policy, they might have learned that a compromise could be reached, where cell phones could be used at lunch time or during other breaks.
"Not having those conversations upfront is where you have a lot of controversy because you don't get the input from the employees," said Collins.
The need to get buy-in and support isn't limited to changes involving policies or work practices. According to Collins, it also involves changes involving equipment used by workers.
"We see it all the time. A company will phase out equipment and select alternate products or materials without involving those that operate or use the equipment daily. When this happens there's a natural tendency to push back and resist the changes being forced into place."
To address these and other issues in the organizational change process before they arise, AEU LEAD works with traditionally labor-intensive companies and provides their managers and supervisors the skills they need to be effective leaders in their organizations. AEU LEAD provides structured training and development workshops to outline and demonstrate many aspects of leadership, such as tailored advice on how managers can engage their employees.
Training frontline staff is crucial considering that management might be running a company based on a five or 10-year plan, but supervisors are running its day-to-day operations.
"That's where the rubber meets the road. At the end of the day, supervisors are getting things accomplished with their team today, but when management is asking or looking for direction down the road, they're relying on supervisors to go out and lead that change," said Collins. "When we don't prepare our supervisors, they often struggle with that."
Collins knows the importance of leadership training first-hand.
"As an individual employee, I was always promoted because of what I accomplished as an individual, but when I became a supervisor, I had no idea how to lead people. My sole job was to get things accomplished through my team and I was being judged and graded based on [that]," he said. "If we don't have those simple leadership skills, like building rapport, establishing credibility, knowing how to coach your employees, it leads to all sorts of problems."
One of the problems it can create is turnover; studies have shown most employees that voluntarily leave do so to escape their boss. "Slowing this turnover down makes business sense and it starts with giving supervisors the people-oriented skills needed to deal with ongoing challenges they face," Collins explained.
When supervisors get to know their employees and understand what motivates them, those team members are then more motivated to speak to their supervisors and provide key feedback. Establishing a rapport where employees feel comfortable sharing their insight on organizational change sets the stage to be able to establish credibility and ensure the process is a smooth one. As a result, companies can reap the benefits.
"In today's business climate, supervisors represent the liaison between the management and the workforce. In addition, many also serve as the primary point of interface between companies and customers. That means they have a significant impact on employee morale and customer satisfaction – two critical measures of an organization's health," said Collins. "The key to unlocking an organization's potential involves its people. Preparing supervisors for the people-related roles they have and challenges they face is one of the most important things an organization can do to drive bottom line performance."