Female consumers increasingly support cannabis industry in the US | Insurance Business America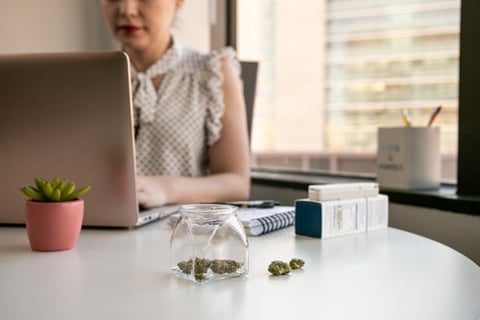 The cannabis industry increasingly has an important demographic on its side. In 2019, 61% of women surveyed in the US said that they supported marijuana legalization, which showed a jump from the 44% who supported the move back in 2012, according to a Quinnipiac University National Poll. In turn, the cannabis industry can reap the financial benefits of this group's interest in its products, according to Norman Ives, broker and cannabis practice leader at NutraRisk, a division of Worldwide Facilities.
"Today, women drive 70-80% of all consumer purchasing through a combination of their buying power and influence," he explained. "With the legal cannabis market expected to surpass $25 billion by 2025, this spending power will no doubt expand further into the cannabis industry in states where it is legal."
There are a few key ways that female consumers of marijuana differentiate themselves from their male counterparts. A 2017 consumer report by New Frontier Data revealed that women are much more likely than men to use marijuana for its health and wellness-related properties. In fact, women tend to use marijuana to reduce stress (45%), relieve anxiety (38%), manage chronic pain (31%), enhance sleep quality (35%), and prevent nausea (14%), while men will typically use marijuana to enhance social experiences and to relax. Women also use marijuana to help relieve gynecological issues and improve sexual health, according to a study in the journal Sexual Medicine.
Moreover, women are more likely than men to try different types of marijuana products, such as capsules, topical creams, and sprays, revealed a 2019 report by Headset. In the same study, the majority of women surveyed said they were more interested in how CBD could help them with various health and wellness issues than in the psychoactive effects of THC.
Besides their unique reasons for consuming cannabis products, women have already had a hand in helping to grow this burgeoning industry. In 2019, the total number of women in California purchasing cannabis almost doubled from the previous year, according to a report by the San Francisco-based marijuana-delivery software platform Eaze, which used data from 450,000 customers and 4,000 survey respondents.
However, to get women interested in buying cannabis, companies have to use different marketing tactics. The Journal of Business and Management reported that these consumers aren't driven to buy cannabis through hard-sell tactics, and are more likely to respond to advertising messaging that has more of a conversational dialogue. This messaging then helps them to better understand how the drug can address key issues, and to decide on which product will meet their needs.
Finally, women are more than just users of cannabis products, making up 36% of the cannabis industry workforce – and their presence in this sector continues to rise. Their contributions are in turn helping to guide important strategies on marketing cannabis products to their own demographic.
Insurance clients in the cannabis industry can take advantage of this powerful group of consumers and grow their business, in part by working with an experienced wholesale broker who knows the ins and outs of the cannabis space.
"If you are a retail agent or broker with clients in the cannabis, hemp or nutraceutical industry, it is important to work with a wholesaler that has expertise in this space and stays on top of current trends," said Ives. "At NutraRisk, a division of Worldwide Facilities, we have liability insurance programs serving a wide range of business types and target markets."