Hurricane Katrina: A defining moment that showed the critical importance of flood insurance | Insurance Business America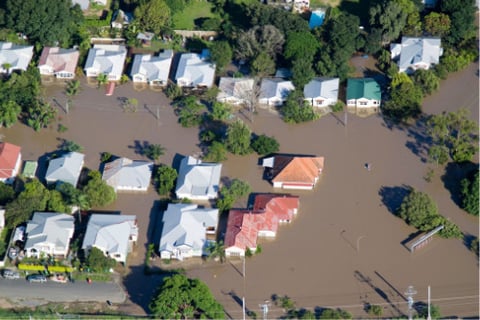 Career-defining moments come in all shapes and sizes. For Lindsey Erickson, chief executive officer of National Flood Services, the week of August 29, 2005, will always stand out as a moment she could confirm, without a shadow of a doubt, the critical importance of flood insurance.
It was the week that Hurricane Katrina made landfall as a Category 3 storm off the coast of Louisiana, battering much of the US Gulf Coast with winds reaching speeds as high as 120 miles per hour. The storm is considered one of the worst in US history, after causing approximately 1,200 deaths and an estimated $108 billion in property damage.
When Katrina struck, Erickson was working for National Flood Services as a customer service representative. Reflecting on the experience, she told Insurance Business: "It was such an emotional event for everyone involved. I remember walking up and down the aisles with boxes of Kleenex because everyone was on the phone hearing stories of devastation from our customers, and people were crying.
"I took a call from someone and I asked: 'Do you need to report a loss?' He replied: 'No, I just need somebody to talk to. I'm sitting on the roof of my house, my family has been rescued, and I'm waiting to be rescued.' And then he described the flood waters and the things that were floating by, and it really struck me and grounded me in just how important this business is."
Read next: AGCS report predicts an above-average 2021 hurricane season
Erickson joined National Flood Services, a flood insurance solution provider and National Flood Insurance Program (NFIP) partner, in 2001 on the customer service team. Since then, she has been focused on the service delivery side of the house over her 20-year tenure.
Prior to her new role as CEO, which she took on April 30, 2021, Erickson most recently served as managing director of strategic initiatives, and, before that, she was managing director of operations. She has developed client engagement strategies resulting in some of the highest NPS scores in the industry, built industry partnerships with the Federal Emergency Management Agency (FEMA) and the NFIP, and served as a go-to regulatory and compliance strategy resource.
What's driving Erickson is the "monumental impact" that insurance can have to minimize the devastating losses that people experience from flooding and natural catastrophes. She said: "I have supported people through some of the biggest storms the US has faced in the past 20 years – Hurricane Katrina, Superstorm Sandy, and Hurricanes Harvey, Irma, and Maria in 2017 – and I've always done so in a position where I get to work directly with our agents and directly with the insured survivors.
"When we're not responding to a storm, our focus has always been on how we can make the experience better so that our agents can sell more flood insurance policies and we can protect more people when they're faced with these devastating flood events. That's always been what has driven me; I have a passion for making this business better so that we can reduce the devastating impacts of flooding."
Read next: Hurricanes are coming – and there's a new insurance solution
Through her 20 years with National Flood Services, Erickson has seen significant change in the flood insurance industry. National Flood Services was initially created for the NFIP's newly formed Write-Your-Own (WYO) program in the 1980s, at which point, WYOs had quite a backseat role, serving the small flood insurance market.
"There came a time in the last decade where FEMA really started to get focused on the customer experience and trying to simplify this product, and, at the same time, the WYOs also recognized the impact of flooding, and really wanted to protect more people," Erickson commented. "When you have an industry where FEMA, partners like National Flood Services, and the end insureds are all coming together, and everyone's seeing the same vision of: 'We really have an opportunity to make a difference, and serve the public, and provide a program that can be really valuable,' that's when things started to change.
"At that point, National Flood Services went from being a behind-the-scenes player to being a true partner, and then we transitioned to being a leader in this space. Our goal is to figure out how to cover more people and properties with flood insurance, and we're achieving that growth with technology-enabled solutions. That really has been the big evolution of this business."
The buzzword behind much of the innovation in the flood insurance industry is 'simplicity'. Everybody's goal, according to Erickson, is to make flood insurance simpler so that more insurance agents can sell it and more people will buy it. "It's quite a simple message really," she commented.
How National Flood Services has gone about it is to use technology to offer a simple and intuitive user interface that takes the guesswork out of the flood insurance application process for insurance agents. Its cloud-based solution is a one-stop-shop for all policy and application tools, from the initial submission to claims management, and it includes self-service features to enable customers immediate access to address their needs.
"We're leading with innovation, we're leading with technology, we're leading with education, and those things are all very intentional as we move forward with our mission to minimize the devastating losses that people experience with flooding," Erickson stressed. "Our goal is to make the entire flood insurance ecosystem better - and it's working. More people are being covered by flood insurance, and we're incredibly grateful that we have an opportunity to be a part of this process."